The Scaly Screamer | Highlands NC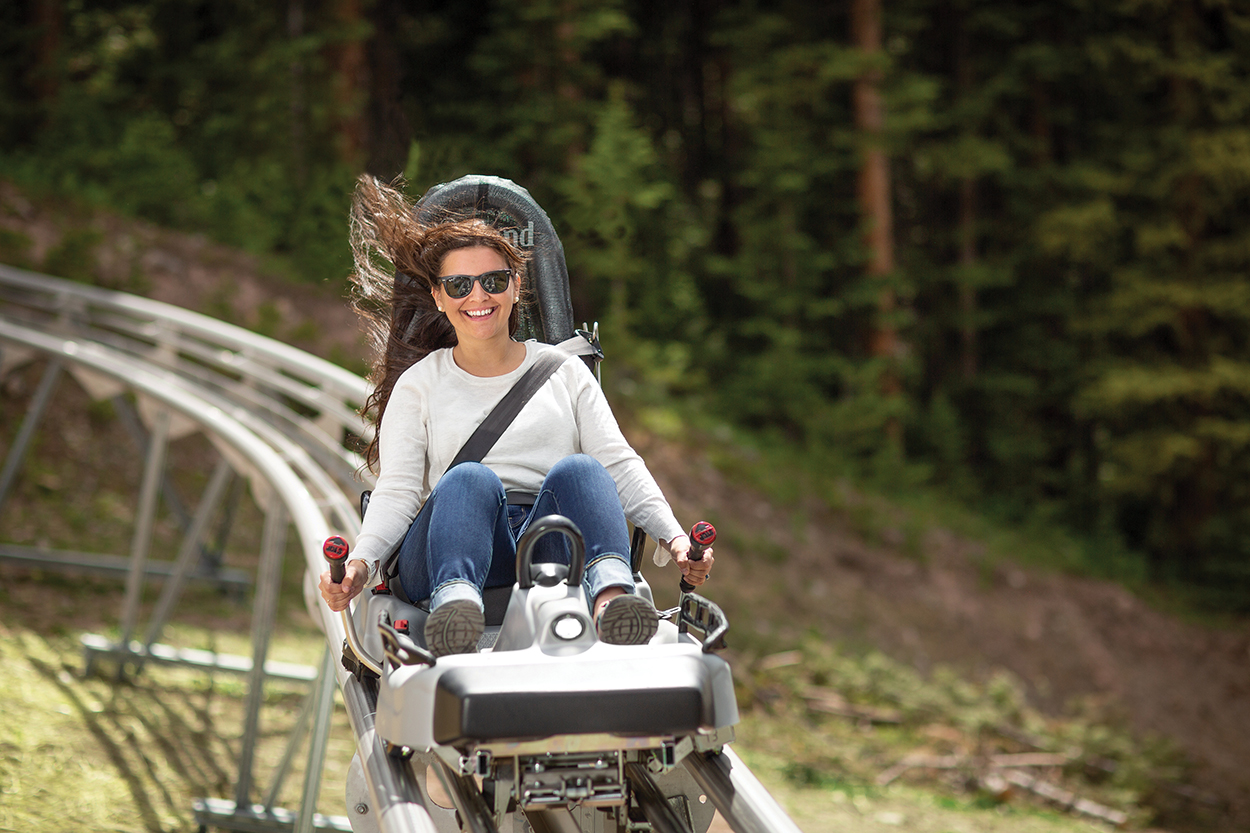 Written By: Marlene Osteen | Issue: 2021/12 – December
Highlands Outpost's new Scaly Screamer promises a unique adrenaline-fueled mountain-touring experience. For more information go to scalymountain.com.
---
There's a new wave of coaster enthusiasts – not devotees of old school roller coasters, but acolytes of Alpine Coasters. 
At Highlands Outpost on the Dillard Road (formerly Scaly Mountain Outdoor Center), the recently installed Wiegand Mountain Coaster is now one of the main attractions.
The center initially opened in the 1980s as Ski Scaly, a down-home version of a ski slope during the winter months and a cabbage patch for the owners during the summer.  When it became apparent that there was not enough snow for skiing, snow tubing was introduced, and then gradually other activities were added – ice skating in winter, trout fishing, and gem mining in warmer months.  When it became evident that there was room and demand for more activities, the idea for the mountain coaster was born.
The new Mountain Coaster – also known as the Scaly Screamer – which takes riders down the mountain on an elevated steel track much like a roller coaster, was introduced over the fall and runs all year. Outpost manager Jason Sawin explained that, "It's an aesthetically pleasing stainless steel coaster, built on the side of the mountain, so it's mostly gravity-powered."  Instead of the experience of regular coasters, participants in an alpine coaster sit upright in sled-like carts that can accommodate one or two riders.  Each cart has a hand brake to slow it down or speed it up. In other words, the participant controls the ride.  
The Scaly Screamer ride, according to Sawin, lasts an average of six minutes.  
"We expect it to be a great addition to the center," he said. "The mountain coaster is a great way to get into nature.  The forest encloses it like a tunnel, so people will see and encounter things they wouldn't normally see and experience while on the ground.  And it's not so fast that everything will be a blur." 
Sawin, a recreational industry professional, believes that our lush scenic part of Western North Carolina is "ideal for people who want to be outdoors in the natural environment, get fresh air and sometimes, participate in something thrilling."  
The center provides plenty of fun for everyone – locals and visitors, including dining at the center's Annie's Café and exploring the wares at the Bartram Market. And whether it's mountain coasting or trout fishing, or snow tubing, there's plenty to do outdoors.
More information can be found at scalymountain.com.
---
---