The Last of the Mohicans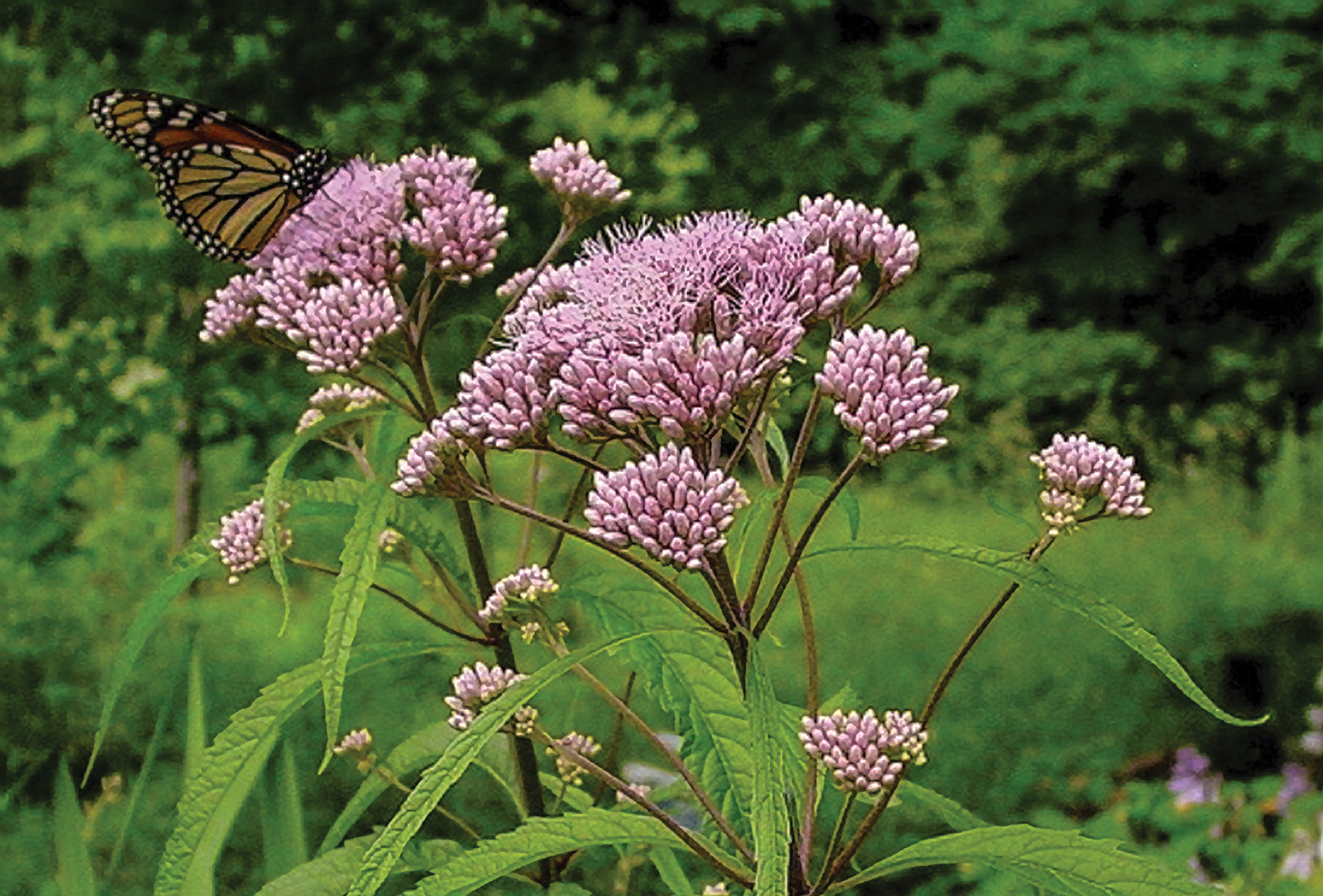 Written By: Jeannie Chambers - The Accidental Gardener | Issue: 2016/09 - September
Joe Pye Weed (Eupatorium Puprureum) probably should've never been called a weed at all.
When I first started researching for Joe Pye, I'd thought it more of a James Dean type "Rebel without a Cause" flower, but in fact this "weed" has a worthy cause.
First about the plant – Joe Pye Weed is something you probably want, but you may want to try to keep him on the outskirts of your landscape. He can't help but get attention. Humans love the statuesque plant because of its beautiful pinkish-purple, lightly scented flowers but also because when the rest of the garden is starting to die away, Joe Pye takes center stage. Pollinators, like butterflies and bees love the sweet nectar the plant produces.
This plant can grow towards five to six feet tall and likes a fairly wet, but well-drained soil. It can tolerate drought much better if you mulch it heavily. They prefer full sun, and are great in cut flower arrangements. Joe Pye Weed is considered a native in most of Eastern North America.
Joe Pye, the Legend: First labeled as "Joe Pye" in 1818 by New England botanist Amos Eaton, but the plant's history preceded the legendary name with "proof" some four years later. It is also known as King (or Queen) of the Meadow, Trumpet Weed, Gravel Root, and Purple Bone-set. This plant was used medicinally for years before Eaton put the label on it that seemed to stick. Leaves were made into a tea used to "cure" typhus, kidney stones (that's why it was called gravel root), and other urinary tract ailments.
There was a medicine man, a Mohegan Indian (also spelled Mohican) with the given name Shauquethquet; a displaced New England Indian. He settled in Stockbridge, Massachusetts, and took the Christian name of Joe Pye. One idea is that the grandson of the medicine man was the Joe Pye that gave President Moore of Williams College the tea that "cured him" from his fever, as written in Eaton's Third Edition of "Manual of Botany" in 1822. Incidentally, the Mohegan name for fever may have been Jopi, which introduces a chicken and egg effect, but the fact remains Joe Pye Weed is a legend unto itself.
The next time you see Mr. Joe Pye on the side of the road, or in your yard, give him the respect he deserves. He's got quite a history.
---
---