Highlands-Cashiers River Otters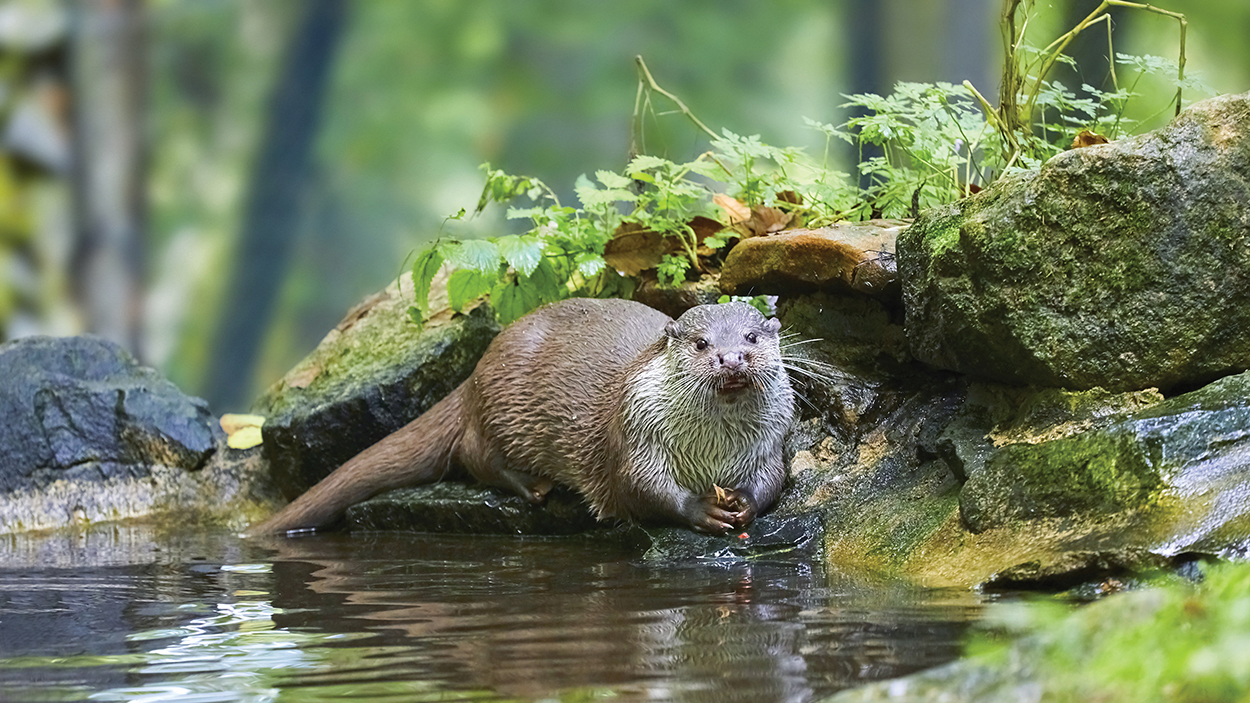 Written By: Luke Osteen | Issue: 2021/10 – October
River Otters are enjoying their status as the Plateau's friskiest arrivals. You can spot them at Lindenwood Lake, and possibly other aquatic spots in Cashiers and Highlands.
---
If you're like me, you were electrified by last year's announcement that River Otters had been spotted at Highlands Nature Center's Lindenwood Lake.
Their arrival was a surprise, since otters had been missing from the Highlands-Cashiers Plateau for decades.
"As a biologist, I'm excited to see River Otters because they were extirpated in most parts of the southern Appalachians due to over-trapping and water pollution including excess sedimentation reaching streams because of poor farming and development practices," says Nature Center Associate Director Jason Love. "Reintroduction efforts began in the 1980s to try and re-establish populations and in the early 1990s otters were successfully re-introduced to Great Smoky Mountains National Park." 
Despite their active, playful lifestyles, the Lindenwood Lake otters have been particularly elusive, their presence only noted by tracks on the sandy shore, scat along the boardwalk, random splashes, and quick dashes captured by wildlife cameras. 
And they've been spotted elsewhere on the Plateau, with reports of glimpses at Cashiers Lake. Tricia and I have witnessed a pair of otters on Mirror Lake, though we haven't been able to get close enough to get a decent photo.
Love says that despite their overwhelming charm, otters still have their detractors.
"Otters are carnivores and eat fish, crayfish, mussels, frogs, rodents, and birds," he says. "There is a misconception that otters can deplete wild trout and other game fish, but research in the Smokies showed that there was no discernible impact on otter reintroductions to wild trout populations in the park.
"In the past couple of decades, River Otters have made their way back to the Plateau, affording lucky visitors a chance to see the return of this sleek and playful hunter to local streams and lakes."
That's where you can help – if you've witnessed River Otters here on the Plateau, please report your discovery to Love at [email protected] or me here at Laurel, [email protected]
Oh, and don't worry about the little guys as our cool October weather shades into the bluster of winter.
"Even as the weather turns colder, we expect to still play host to these rambunctious animals," says Nature Center Education Specialist Paige Engelbrektsson.  "They are perfectly adapted to continue fishing, swimming, and playing all winter long. What we see as long, brown fur is actually a layer of essentially waterproof guard hairs. Underneath this is another layer of shorter fur that traps heat."
---
---