Co-Existing with Wildlife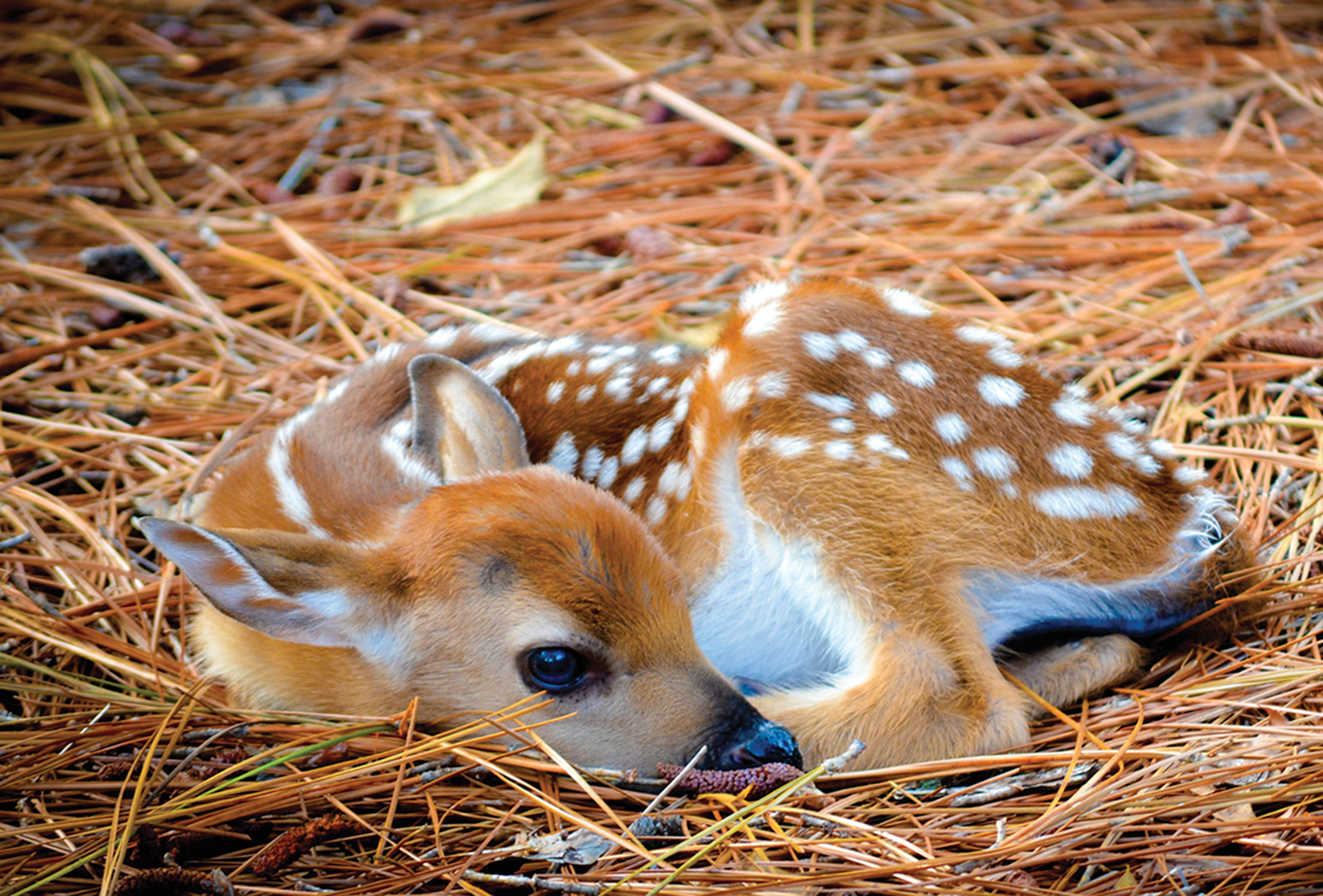 Written By: Donna Rhodes | Issue: 2015/03 - March
A wounded buck limped into my yard last week. I recognized his distinctive rack. He was part of a small herd that frequents the wooded ridge on which I live.
Deer have been scarce since last year's logging of adjacent property. It was unusual to see him at all, let alone solo in broad daylight.
His rear left leg was bleeding. He tri-podded along foraging lowgrowing shrubs.
There is a hunter's creed: if you wound an animal, track it — don't leave it to suffer. I'll give this hunter the benefit of the doubt and assume the deer out-maneuvered him/her. I'm kind of glad. I have grown fond of that buck and his herd. Maybe I feel kinship because it is my yard he frequents. And maybe that is why I felt so compelled to help him.
I found no phone book category for wildlife rescue. I dialed the wildlife office listed in the government pages. The responder said as long as the animal is moving and eating, there's not much to do but let Nature take its course.
But the receptionist did put me in contact with Mark Ray, a North Carolina Wildlife Enforcement Officer who operates out of the Franklin/ Highlands area. This article serves as an introduction to Officer Ray and his North Carolina wildlife co-worker, Justin McVey. Over the course of the next few months, Officer Ray and District Wildlife Biologist McVey will share significant ways in which we can improve our co-existence with wildlife in the region.
So what do you do if you see a wounded animal in the wild? Here are some guidelines:
For lost and wounded domesticated animals such as livestock, dogs, cats, and chickens, call Macon County Animal Control at (828) 349-2126.
"If you find a domesticated animal in a trap, simply release it with caution," says Officer Ray. "The traps are designed for easy-release. Do not destroy the trap. Licensed trappers are legit on public land or private property by permission and it is illegal to disturb a trap in North Carolina."
If you find a severely wounded wild animal such as a deer, elk, bear, coyote, or coon, call Officer Ray at (828) 200-2836 and he will either come and dispatch it or advise you as what to do.
"Animals were here long before we built our houses in their backyards, made a habit of disposing our delicious-smelling refuse in convenient, easy-to-open giant green "picnic-boxes," and tantalized them with black oil sunflower-seed bait," he says. "Animals are just doing what they do. They are two- and four-legged eating machines. If we feed them, they will come. We have to stop inviting them to dinner if we are going to co-exist without incident."
Fawn and bear cub season is just around the corner. April and May's entries will discuss what to do should you happen upon one. In the meantime enter Officer Ray's and Biologist McVey's numbers (McVey, (828) 273-7980) in your phone along with animal control contact info.
And follow the story of my wounded buck. Biologist McVey said he saw a wounded elk, which lost its leg below the knee. It was tagged so he kept track of it for months. It has since recovered and is doing just fine. I'm hoping my buck will, too.
Officer Ray or District Wildlife Biologist McVey would be delighted to talk to your club or organization. Just give either a call. Mention you read about them in the Laurel.
---
---