Make a Run For It – Twilight Runs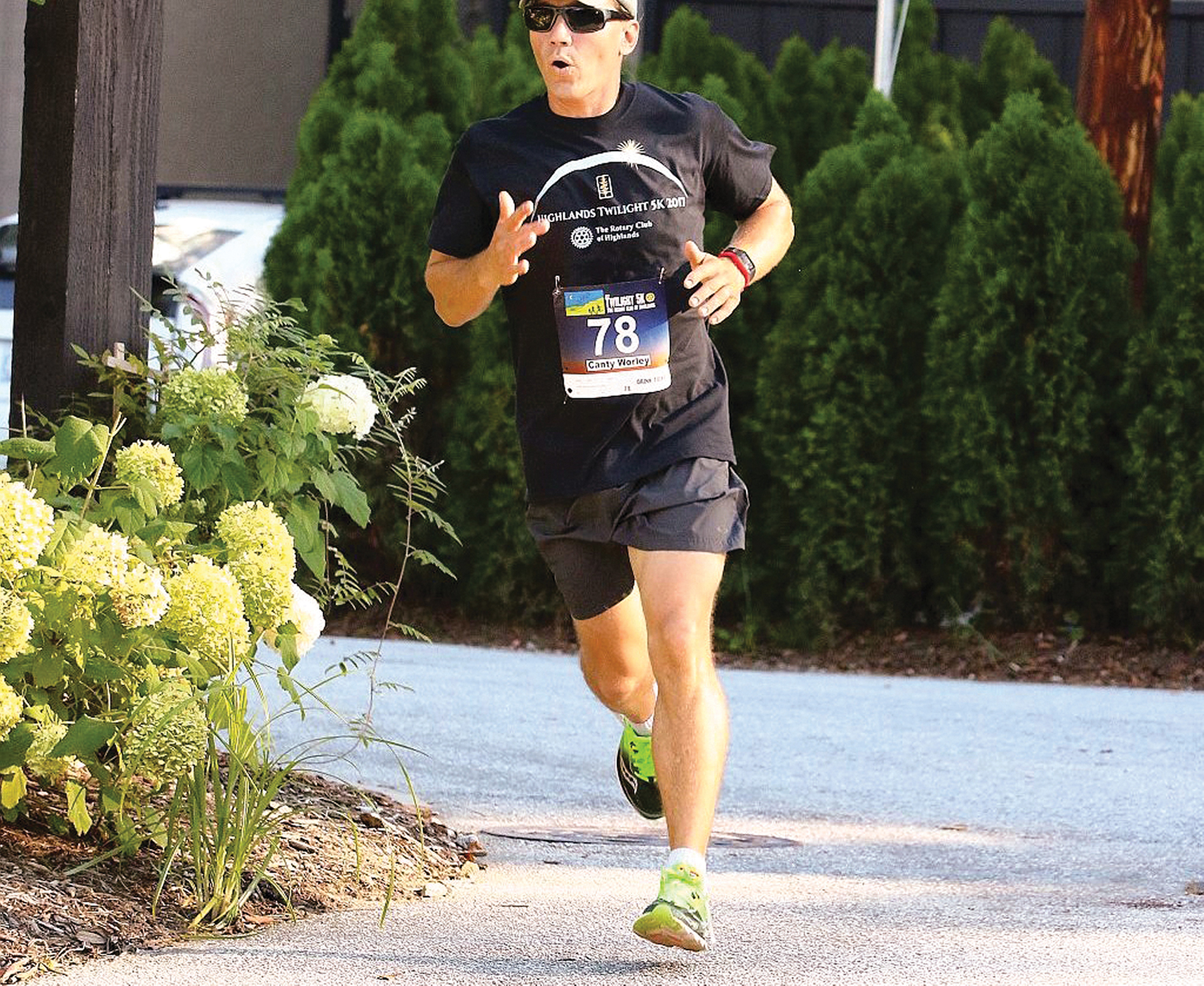 Written By: Deena Bouknight | Issue: 2020/10 - October
Highlands Mayor Patrick Taylor has been a competitor in the annual Highlands Twilight Race since its inception eight years ago. 
Mayor Taylor pointed out that although the race has had to adjust to the pandemic, he and many other local and out-of-town runners look forward to its challenging but beautiful course. 
The Twilight takes place November 28 and will start at 9:00 A.M. The eighth annual Rotary Club of Highlands-sponsored event will adhere to ongoing precautions related to COVID-19. 
The 5K and 10K races start at Kelsey-Hutchinson Founders Park at 483 Pine Street and end at Fifth Street. The 5K is described as  "undulating and friendly" for beginners or walkers, yet "challenging" for experienced runners. The 10K course is more grueling and climbs Bear Pen Mountain. 
"A lot of people in the neighborhoods urge runners on," said Mayor Taylor, who – pre-pandemic – ran in approximately one race each month spring through fall. "A lot of other races don't have the variation in the landscape that this one does. Since the pandemic has broken out, I haven't been able to run in a race so I'm looking forward to this opportunity."
Mayor Taylor credits Derek Taylor of Highlands Decorating Center with overseeing "a very well organized race." He added, "It's a first-rate road race." 
Last year, at least 350 runners participated and more than $25,000 was raised for local nonprofits, according to Derek Taylor. 
Said Mayor Taylor, "The race always has a tremendous impact on the community … one of Highlands' premier events, like the car show, that give a boost to our nonprofits, supporting very important causes in the local area." 
Interested participants can register at highlandstwilight5kand10k.com/ or runsignup.com/Race/NC/Highlands/HighlandsTwilight5kand10K. Early packet pickup is Friday, Nov. 27, from 4:00 to 6:00 P.M. at Highlands Recreation Park. 
Participants should allow time to get checked in before the race begins at 9:00 A.M. the following morning. Parking will be available around the Kelsey Hutchinson Park, Highlands Recreation Park, Highlands Ballfield, and Highlands Post Office.
---
---