Holidays on Ice | Highlands NC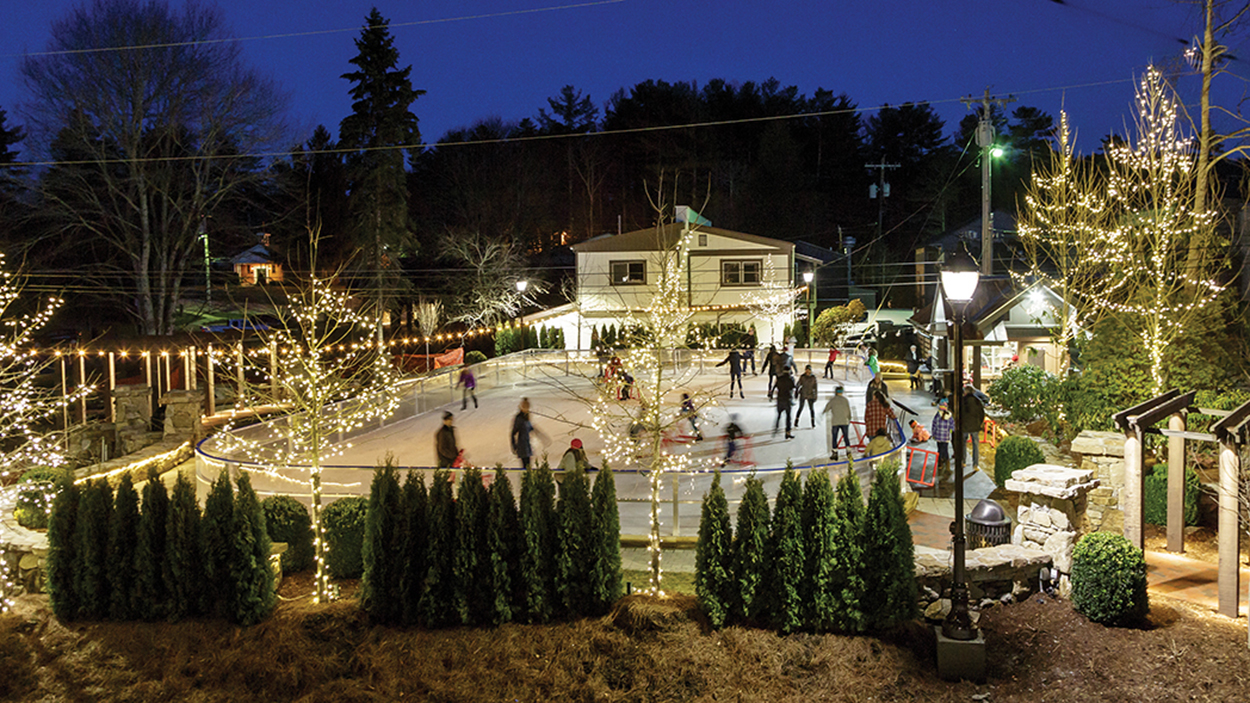 Written By: Deena Bouknight | Issue: 2020/12 - December | Photograph By: Susan Renfro
No matter what the rest of the world offers this Holiday Season, you can still find a measure of peace and a dash of excitement and heaps of unadulterated joy at the Town of Highlands Ice Rink, located at Kelsey-Hutchinson Founders Park.
---
Whether Highlands becomes a winter wonderland this Christmas season or not, the ice skating rink at Kelsey-Hutchinson Founders Park is a festive, fun-filled, cold-weather activity many look forward to annually. The Town of Highlands Ice Rink opened Thursday, Nov 19, for the 2020-2021 season.
"This is our sixth season," said Lester Norris of the Highlands Park & Recreation Department. "We have a lot of visitors in town for the holidays and many of them live farther south where the weather is not conducive to real outdoor ice rinks, so that adds to the excitement."
Every week, through March 7, Thursday through Sunday, the rink opens at 1 P.M. Closing times are different for each of those days. However, the schedule changes the week of Christmas, as the rink is open instead Monday through Wednesday and closes Christmas Eve and Christmas day. It reopens the day after Christmas and will stay open every day during the week after Christmas to allow holiday visitors to the area an opportunity to skate. The Thursday through Sunday schedule will resume from January through the planned closing on March 7. 
Adhering to North Carolina pandemic rules and procedures, The Town of Highlands Ice Rink will allow only 30 skaters on the ice at one time, and online reservations are necessary. Temperatures checked; masks required. Masks are available for those who do not have one. Plus, there will be hand sanitation stations. Highlands Parks & Recreation Department is asking that no one plan to skate if experiencing COVID-19 or other virus illness symptoms. 
Private parties can be booked at least two weeks in advance by contacting Lester Norris. 
Pricing for ice skating continues to be an affordable $5, which includes an hour and a half to pick up and return skates and time on the ice. Skate sizes range from youth 8 to adult 14. Coffee and hot chocolate is available for sale. 
Information about parties, times, dates, and other concerns are addressed by calling Highlands Parks & Recreation Department at (828) 526-3556 or by visiting highlandsnc.org/recreation-ice-rink. 
---
---