Camaraderie & Conversation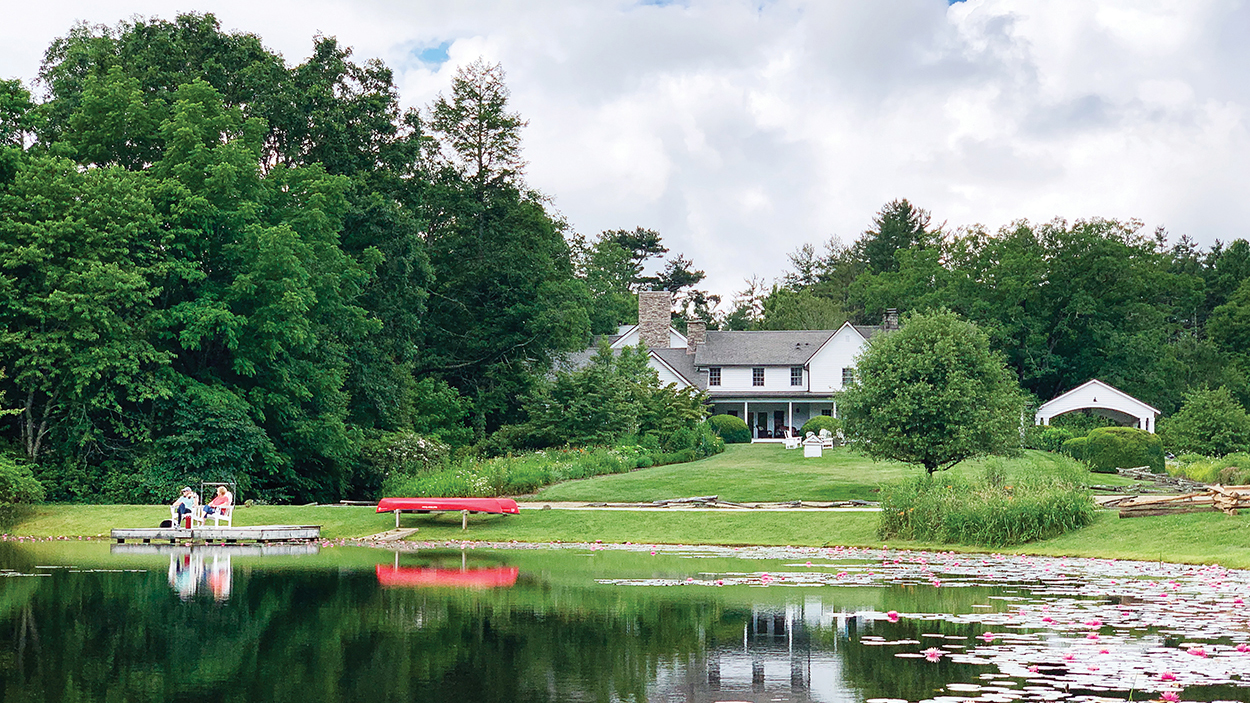 Issue: 2021/08 – August
A gathering at Half-Mile Farm will bring together Southern Writers of the first order and their fans, August 8-10. For reservations, visit oldedwardshospitality.com/calendar-of-events/southernwriters.
---
Five of the best writers in the South will gather at Half-Mile Farm from Sunday, August 8, till Tuesday, August 10, for the first-ever Southern Writers Series. 
The idea for the series had its genesis when travel journalists Cele and Lynn Seldon visited Old Edwards earlier this year.  In conversation with General Manager Jack Austin, they recalled the 2015 OEI event "Word, Wine and Friends"  attended by authors Pat Conroy, Cassandra King Conroy, and Ron Rash.  Charmed by Lynn's remembrance of that time and his recounting that "Pat fell in love with Highlands," Austin determined to launch an annual writers series. 
Although the debate about whether there is a defining characteristic or commonality of the Southern Writer lingers on, it is inarguable that the participating authors are giants among them.
On the lineup are:
Poet and novelist Ron Rash, who Janet Maslin of the New York Times considers, "one of the great American authors at work today."  She is not alone. He has received the Frank O'Connor International Short Story Award, a Sherwood Anderson Prize, two O. Henry Prizes, and a Guggenheim Fellowship, among almost twenty other awards and distinctions.
Cassandra King Conroy, the widow of acclaimed author Pat Conroy, is a New York Times– and Southern Booksellers-best-selling author of five novels and one book of nonfiction.  Her latest release is a memoir, Tell Me a Story, My Life with Pat Conroy. 
Charleston-based Mary Alice Monroe is a New York Times-best-selling author of more than 27 books, including The Beach House, which was made into a movie starring Andie MacDowell.   Monroe has earned numerous accolades and awards, including induction into the South Carolina Academy of Authors' Hall of Fame. 
Cele and Lynn Seldon, a Beaufort, South Carolina-based couple, are prolific freelance travel journalists and have published hundreds of articles in magazines, including Southern Living.  They co-wrote two books entitled 100 Things to Do Before You Die and the coffee table book Our Vanishing Americana, a SC Portrait.  Lynn is also the author of Virginia's Ring.
Billed as a "few fun days of camaraderie and conversation," the series is a complimentary experience for guests of Half-Mile Farm. 
In the course of three days, participants will have an extraordinary occasion to engage with the writers in intimate and casual settings, including Sunday and Monday social hours hosted by the writers, with live music and casual eats.  Books will be available for sale and signings.  Also on the schedule, a Monday afternoon writers' roundtable and book signing. On Monday and Tuesday mornings, breakfasts with the novelists will feature recipes from Cassandra King Conroy's soon-to-be-published cookbook.    
Guests will be treated to swag and gifts from the Pat Conroy Literary Center and cheese biscuits from Mary Martha Greene, author of The Cheese Biscuit Queen Tells All.
---
---