Holiday Wine Guide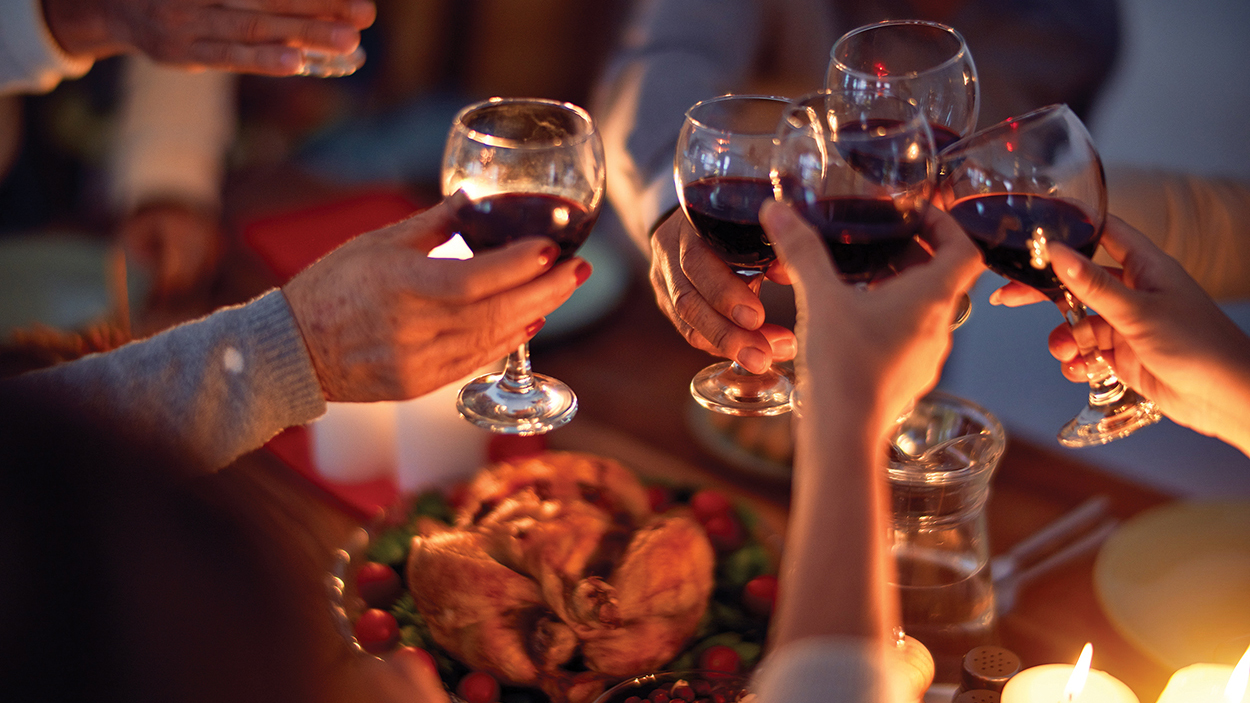 Written By: Marlene Osteen | Issue: 2021/11 – November
The correct wine choice can work beautifully when paired with the Thanksgiving Feast (it also makes the preparation of the Feast more fun).
---
There are food holidays and drinking celebrations, and then there is Thanksgiving.  It is the day of The Dinner. 
For many, it's the most important meal of the year. It's planning and preparation, and anticipation and celebration.  It's a family extravaganza with exuberant quantities of food and wine – a feast worthy of its history.  
And, alas, for some, it also arrives with a hefty side of stress – picking the menu, deciding on the tabletop, gathering ingredients.  
Pairing wine with food can be tricky, even for the simplest of menus.   And, given the range of flavors on the Thanksgiving table, it can feel downright befuddling. 
What follows is a fundamental guide to selecting wines that go with a variety of foods.  Recommended are energetic wines, lively enough to refresh over a long meal, with good acidity, and a low alcohol content. Plan on a red and a white and have plenty of both – one bottle per drinking adult.  (Truth is, the only thing you can do wrong is to run out.)
Lively white wines:
Sauvignon Blanc – These easy-going, lively wines with fine minerality are always crowd pleasers.  Especially delightful are ones from the Loire Valley – from Sancerre or the nearby and more moderately priced appellation – Quincy.  If you want to drink American, look to Napa Valley – Honig, Frog's Leap, and St. Supery exemplify the region's best.  Fans of the tart grapefruit taste that characterizes New Zealand will enjoy the zippy offering from Matua.
Chardonnay: Still the world's most popular grape variety. Perhaps the best all-purpose white is from France's Macon region – on the periphery of Burgundy.  A top name among smaller producers is the Comte Lafon.  More prominent brands, Joseph Drouhin and Louis Jadot, make good wines at lesser prices.  From California, consider Lioco and the fan-favorite organic Chardonnay from Matthiasson.
What else:
From Napa Valley, the Pine Ridge Chenin Blanc/Viognier Blend is low in alcohol, easy to drink, fresh, and fruity.  For its ability to cut through the fat and richness of the spice, nothing beats a dry Riesling.  Superb choices from NY's Finger Lake region include bright, balanced, and delicious selections from Ravines Wine Cellars and Herman J. Wiemer.  France's esteemed Alsace region is celebrated for its vibrant, minerality-driven Rieslings, such as those from the centuries-old Hugel and Trimbach wineries.
Light to Medium Bodied Reds
Beaujolais: Low in tannins and an appealing tartness, Beaujolais is the traditional star of the Thanksgiving table.   Dupeuble, a terrific producer from the Kermit Lynch portfolio, offers a juicy Beaujolais-Villages at around $16 a bottle.
Pinot Noir:  The grape's high acidity and classic flavors of red cherry and cranberry make it an ideal companion for holiday fare. Good, medium-priced Pinot Noirs can be found from Oregon's Willamette Valley – look for Four Graces, Montinore, and Reference Point.  Another reliably outstanding bottling comes from A to Z Wineworks in Newberg, Oregon.   Though French Burgundies tend to be pricier, Joseph Drouhin, the Burgundy négociant, makes LaForêt, a drinkable and well-priced option.
What else: 
The juicy red from Italy's Veneto region, Allegrini Palazzo Della Torres, has soft tannins and lush fruit.  Also from Italy,  Barbera from Piedmont – manages to simultaneously taste rich and light-bodied – such as those made by Vietti and Damilano.
Discover these wines and more in Highlands at Bryson's, The Wine Shoppe, The Wine Shop at Highlands Fine Art & Estate Jewelry, Historic Toxaway Market, or Mountain Fresh Grocery. In Cashiers, visit  the The Wine & Provisions Shop at Hotel Cashiers. And to all, a happy and joyous Thanksgiving!
---
---