A Cultural Classic | Catfish Stew From Hugh Acheson
Written By: Marlene Osteen | Issue: Winter 2022
Hugh Acheson's classic Catfish Stew comes drenched in history, with a hard kernel of pain at its core.
---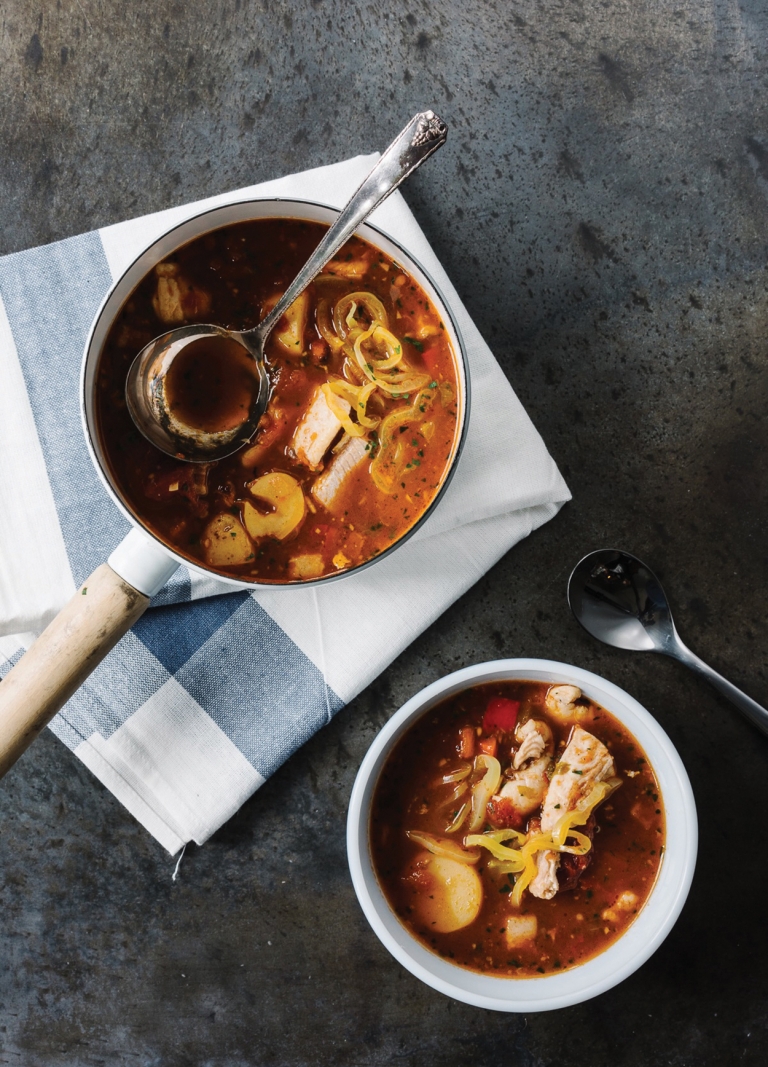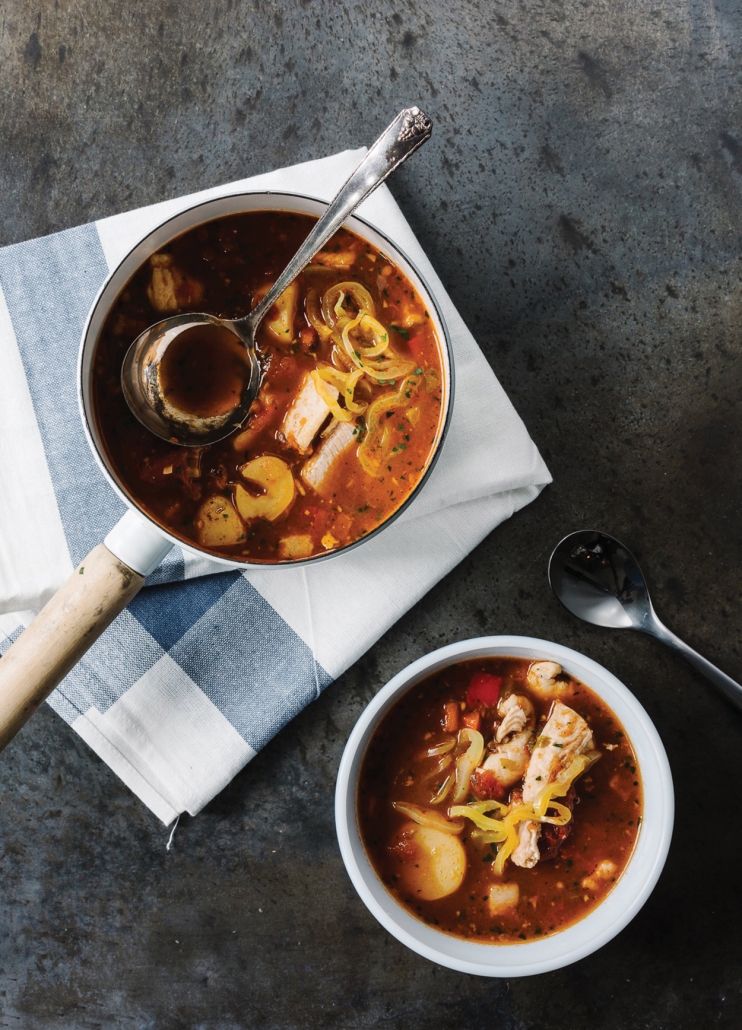 Perhaps you landed on another page in this month's issue about Hugh Acheson, featured chef at The Farm at Old Edwards, and were intrigued and tantalized by his flavors and history.  
The recipe here for Catfish Stew, reprinted from his book, The Chef and the Slow Cooker, will give you a glimpse into his unique slant on the South's culinary history and a taste of the bold flavor that catapulted him to stardom.
Catfish Stew From Hugh Acheson
Serves 4 – 6
  "Is it Southern? I mean, what is Southern food? You got six months for a chat over a number of cases of bourbon? There will be some tears and some wrestling of emotions and probably real wrestling, too. The short of it is that the idea of a catfish stew is widely found in western Africa, particularly Nigeria, and the very similar method and results of that stew has been around before George Washington's parents ever got to first base. So yes, it is a Southern recipe, because it exists in our tome of Southern food, but it had a different cultural significance long before that and only exists here because of slavery. That is true for much of the Southern culinary canon and the time is right to acknowledge where a lot of our treasured gastronomy comes from and the pain that brought it to the table.  So go make some food and gather round the table, and talk about where all of these flavors come from and what that all means. 'Cause it means a lot."
Ingredients
1 28-ounce can Italian Plum Tomatoes
½ pound Slab Bacon, diced
1 large Sweet Onion, diced
1 large Red Bell Pepper, cored and diced
1 branch of Celery, diced
4 cloves Garlic, minced
4 whole Cloves
1 teaspoon Ground Mace
1 teaspoon ground Allspice
2 cups Clam Juice
2 cups Fish Stock or Vegetable Stock 
1 pound Fingerling Potatoes, cut into 1-inch long rounds
Kosher Salt 
2 tablespoons Worcestershire Sauce
1 teaspoon Hot Sauce
1½ pounds Catfish Filets, cut into 1-inch pieces
2 tablespoons (1/4 stick) Unsalted Butter
¼ cup minced Parsley 
½ cup Pickled Banana Peppers, thinly sliced
Freshly ground Black Pepper
Directions
1. Preheat a slow cooker on high for at least 15 minutes. 
2. Place the can of tomatoes and their liquid into a food processor and pulse to break them down a bit.
3. Set a large skillet over medium heat, add the bacon and cook for 10 minutes or until most of the fat has rendered. Add the onions, peppers, and celery and cook for 2 minutes, then add the garlic and cook for 1 minute more. Remove from heat and add the mixture to the slow cooker.  
4. Add the tomatoes, cloves, mace, allspice, clam juice, stock, potatoes, and 1 teaspoon of salt to the slow cooker. Cook for 4 hours on low heat. The potatoes should be fork-tender at this point.
5. Add the Worcestershire, hot sauce, and half-teaspoon of salt. 
6. Season the catfish pieces with half-teaspoon of salt, then add them to the slow cooker and cook for 20 minutes. Add the butter to the pot, stir gently, then ladle the stew into a soup tureen or individual bowls. Garnish with the parsley, banana peppers, and finish with a grind of black pepper and additional salt to taste.
by Marlene Osteen
---
---