Painting With the Master: Artist Cynthia Kinard
Written By: Zach Claxton - Art League of Highlands-Cashiers | Issue: 2020/12 - December
Artist Cynthia Kinard's transcendent works are testament to a lifetime of study and relentless refinement.
---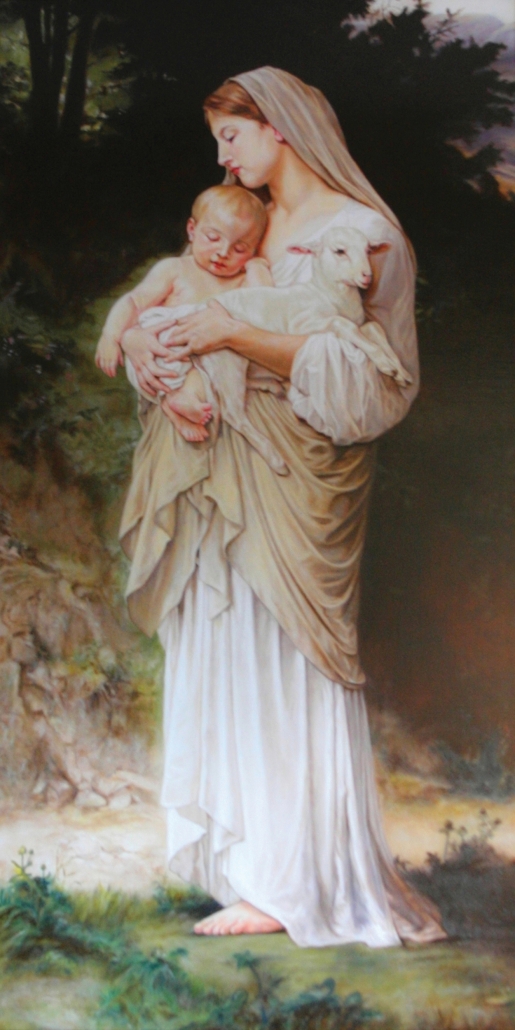 The Art League of Highlands-Cashiers is the original formal organization of artists on the Plateau. 
Its roots date back more than 50 years when a group of area women, art lovers to-the-core, took turns hosting brown bag lunches for artists. 
Today, its artistic legacy may be seen in four unique installations in area buildings.
The Highlands-Cashiers Hospital's seven panel petit point installation was designed by an Art League committee and exquisitely rendered by The Sapphire Valley Needlepoint Guild stitchers. The Recreation Park lobby and hallway art was done by the Art League's summer campers. The Rhododendron Mural found at the Highlands Historical Society was done by J. Jay Joannides.
Perhaps the piece most appropriate for the December issue of the Laurel is found in the Episcopal Church of the Incarnation. Art League member Cynthia Kinard painted L'Innocence, a 25-by-49-inch oil on wood panel, after the original of the same name by William Adolphe Bouguereau (1825-1905), a French academic painter. 
The painting represents Mary holding the baby Jesus in one arm and a lamb in the other. This beautifully rendered painting reflects Cynthia's background in the 16th- and 17th-century old master's style, a skill she acquired during her studies in Italy at the Angel Academy of Art under Maestro Michael John Angel. 
Cynthia is an early member of the Art League, and her paintings continue to inspire.  Her work has been accepted into many juried national and international shows and her awards are many. 
She says of her work, "My goal from early on has been to capture those special moments in a person's life that illustrate joy and happiness."
For more information about the Art League, visit its updated website at artleagueofhighlands-cashiers.com. 
---
---