Woman with an Ibis: Cover Artist, Mase Lucas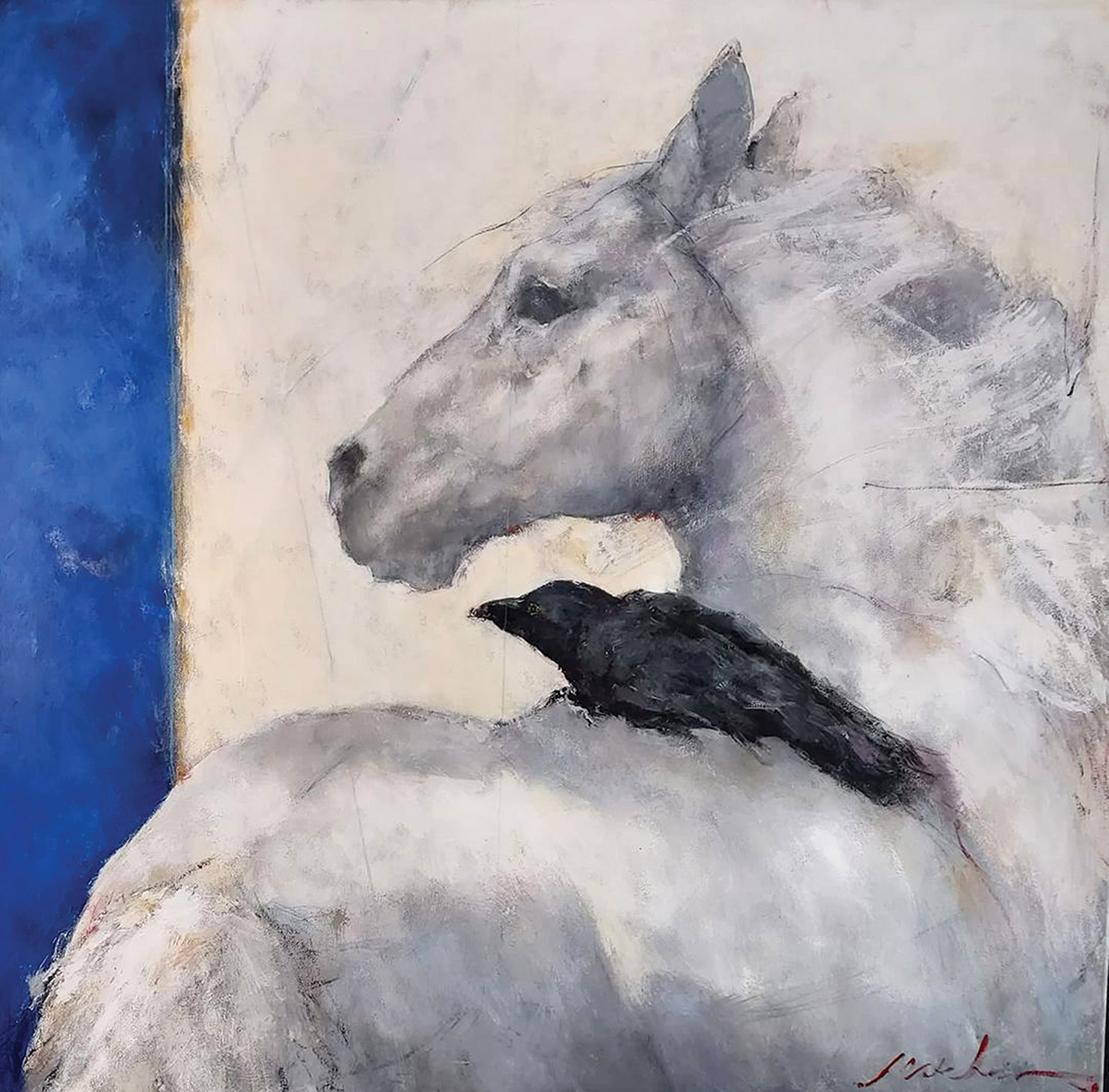 Written By: Donna Rhodes | Issue: April - 2022
Take a closer look at the artistry and profound mystery embedded within our Mase Lucas covers.
---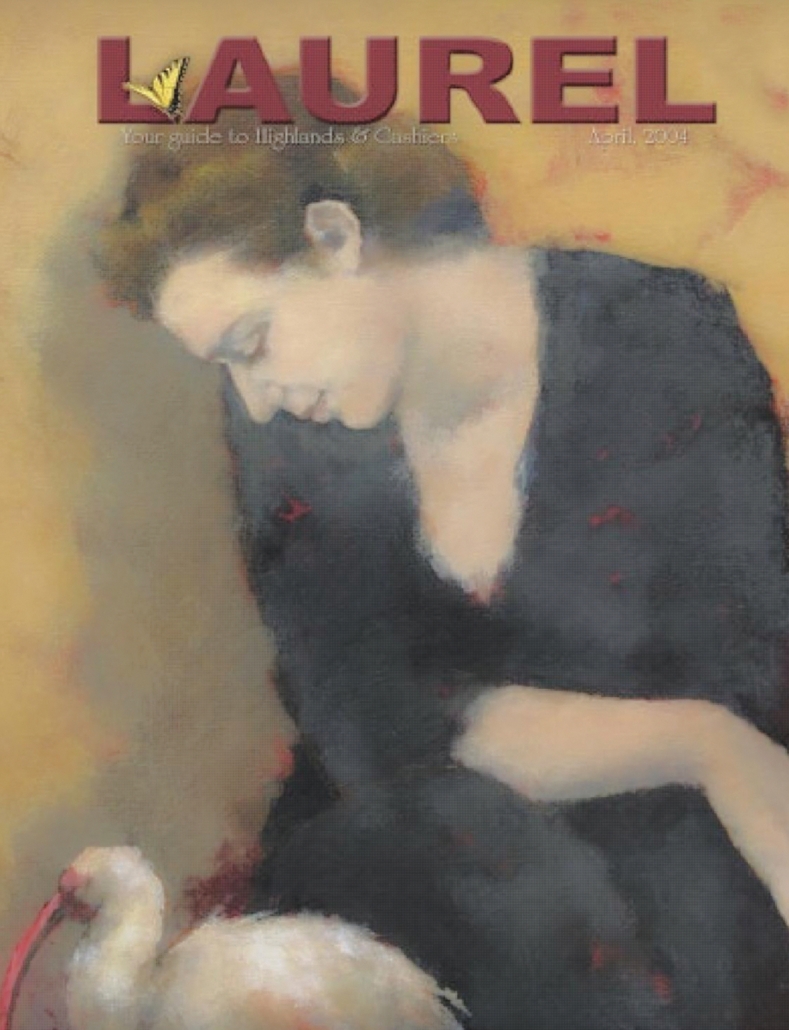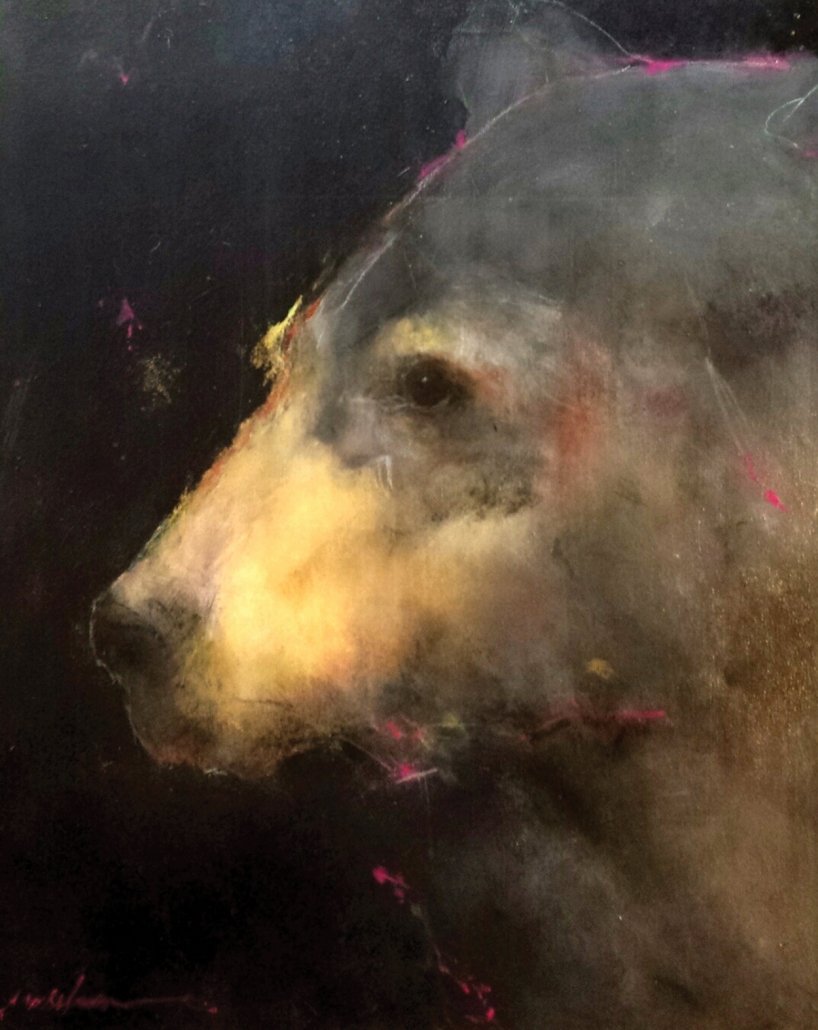 In celebration of The Laurel's 20th anniversary, we invite you to take a retrospective tour of Mase Lucas's Laurel contributions over the years. 
She's known for her transcendent paintings of iconic horses like the one on the Laurel cover of May 2006 (you can find it in our online Laurel archives – thelaurelmagazine.com/archives). 
While you're revisiting it, look for the Mase feature in the April 2019 issue. The April 2004 cover, Woman with an Ibis, shown here, provides an opportunity for readers to critique Mase's exceptional work. And her latest cover, Two Lambs, is a perfect representative of her strength as painter and creative master.
Take a few moments to enjoy Woman with an Ibis. What part of the painting first pulled you in? The ibis? Follow its curved bill as it swings your eye around head and neck in a serpentine, backward S. Continue, up and around the bird's curvilinear back. With your finger, trace the tip of the bill to the end of the tail. Feel the motion in your arm as if the line were a calligraphic pen stroke. 
As your eyes travel around the rest of the painting, see how shapes relate, how colors repeat (creating continuity), how the woman's eye and the ibis' eye form a relationship – or do they?   
When finished, recount three or four elements/ideas you take away from the painting. 
Compare your observations to mine:
The textural feel of the painting struck me first. Edges were soft and inviting. The only tension I felt was the juxtaposition of wild and human. That gave the painting, for all its softness, just the right amount of edginess. Is the ibis going to fly away? Will it strike at the woman? What's its connection to her? What keeps the ibis there?
I felt a loving look from the woman, Madonna-like. Her body is relaxed, arm draped across knee. She's focused on the bird as though it were a child. Her expression registers empathy. The background, while abstracted, has a warm, impression of sun and flowers. Perhaps it suggests nurturing/balancing the world and all things in it. 
Everyone has a life metaphor or theme. My theme is compassion blended with safety, perhaps why I saw mothering in the images. Another viewer might think the painting is simply a portrait of a woman who likes waterfowl. A few might feel a vague reference to Leda and the Swan. The intrigue of art is that its message/story is unique to every viewer based upon their catalog of experience. 
Now that you and I have made our observations, here are some of Mase's comments about her work.
Content: "Early on, my subject matter was almost entirely the figure and I'm so glad for a chance to revisit Woman with an Ibis. This painting is a quintessential example of the work I was doing at least 20 years ago, and well before that even.  But horses captured my heart and eventually my work became identified with equine themes."
Style: "I don't think my style has changed much, although my recent work attempts to show some of the preliminary drawing. I like seeing glimpses of the history of a painting. And it keeps the work from becoming too precious. For me, leaving in some of the work-up is a reminder that first and foremost a painting is about the use of paint on a substrate, of mark makers. More than subject, that is what I find most compelling."
Conceptual expression:  "This goes to the heart of creativity. I will excerpt here from every artist statement I've ever written regarding my own work: My work generally expresses commonality and narrative. Commonality if there's more than one identifiable subject, which is usually the case; and narrative because there is an implied story going on usually outside the picture plane, unstated and open to interpretation." 
---
---