Shop for the Cure | Acorns Boutique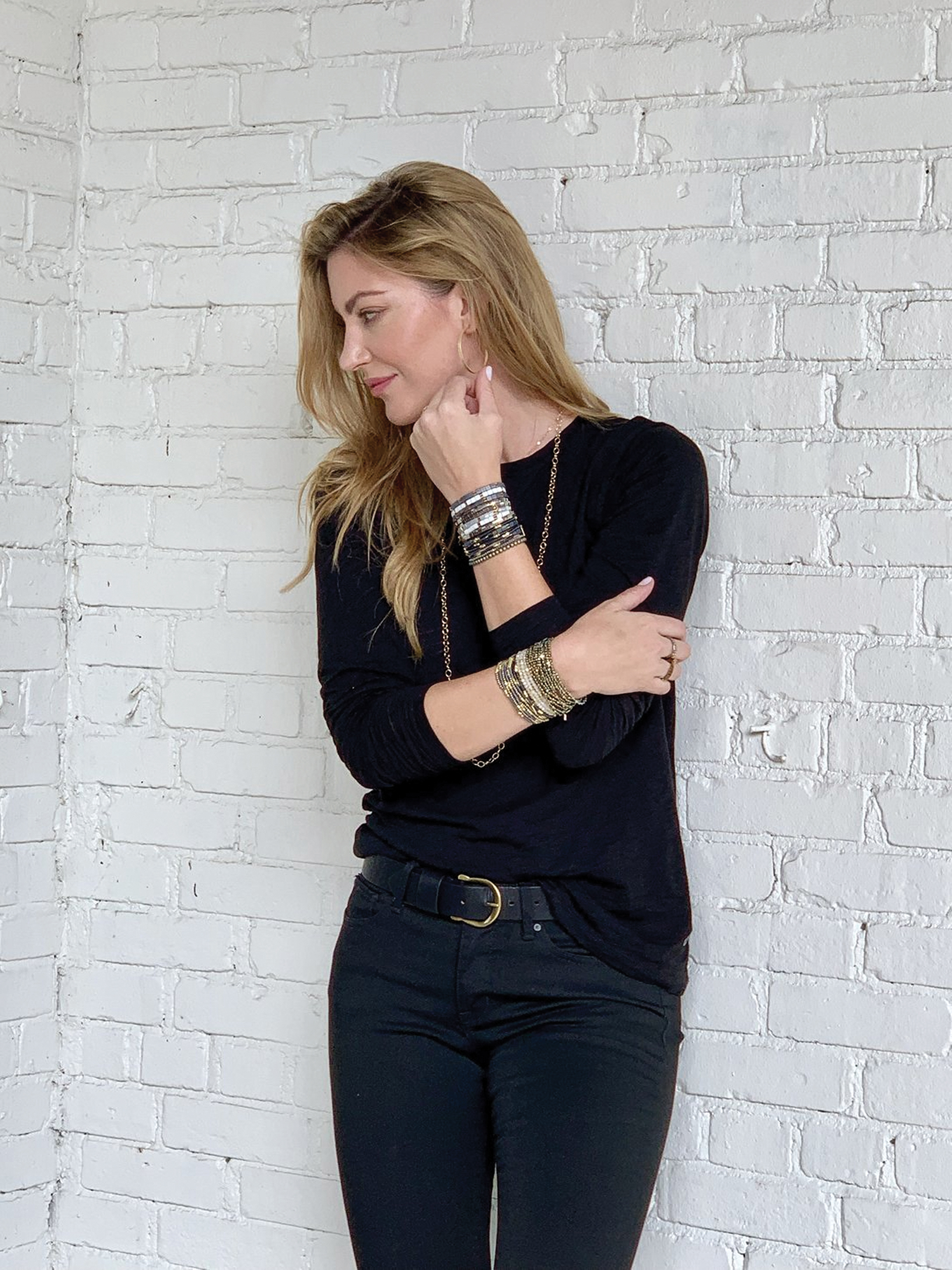 Written By: Marlene Osteen | Issue: 2020/10 - October
The story of designer Erin Gray Morton stretches from the corporate world of TV, entertainment and product marketing to the tragic deaths by cancer of her mother and stepmother in-law.  
Those sorrowful deaths magnified  the need she had been feeling to turn her creative energy into a business. But "giving back and making people feel good about themselves became paramount."  
She discovered the solution in the fashion industry that had always intrigued her; founding her label only after extensive study and trying her own hand at design.  Her elegant line of modern, high quality, natural classic jewelry and the Perfect White Tee collection became an immediate success, and annually provides meals to over 500 hospitalized children and their families, through CURE Childhood Cancer.  (CURE is dedicated to conquering childhood cancer through funding targeted research while supporting patients and their families.)                                                                                                        
From October 9 through 11,  Acorns Boutique hosts a  showing of  her  designs. As savvy shoppers know, trunk shows are a first chance to get an intimate look at what designers are presenting for the coming season. It's also a chance to meet the designer's representative, gain a personal interpretation of the designs and see an expanded selection.  And what better way to get an early start on those Christmas gifts?  
As the transitional workplace of the pandemic era calls for a new kind of hybrid dressing, Gray's designs fit effortlessly into the need for easy attire, and the search for versatile items of unfussy elegance. The collection captures Gray's love for the beauty of nature in nature-inspired neutrals and naturals to create a "stylish yet carefree line that is finished but not fussy, smart but laid back, functional and gorgeous."  There is something soft, yet classic and edgy about Gray's jewelry, designed in metals of silver, gold-filled and vermeil with natural stones and leather.  
The Perfect White Tee, her most recent collection, was launched when she couldn't find the perfect tee that did not shrink, torque or pill.  Designed in Atlanta and ethically produced in Peru using the highest quality 100 percent Pima cotton, the super comfy shirts have become a wardrobe staple for her many fans.
The show will be open for viewing from Friday through Sunday, October 9–11, from 10:00 A.M. to 5:00 P.M. Masks are required.  For more information, visit acornshighlandsnc.com.
---
---