Jubilant Illumination | Highlands NC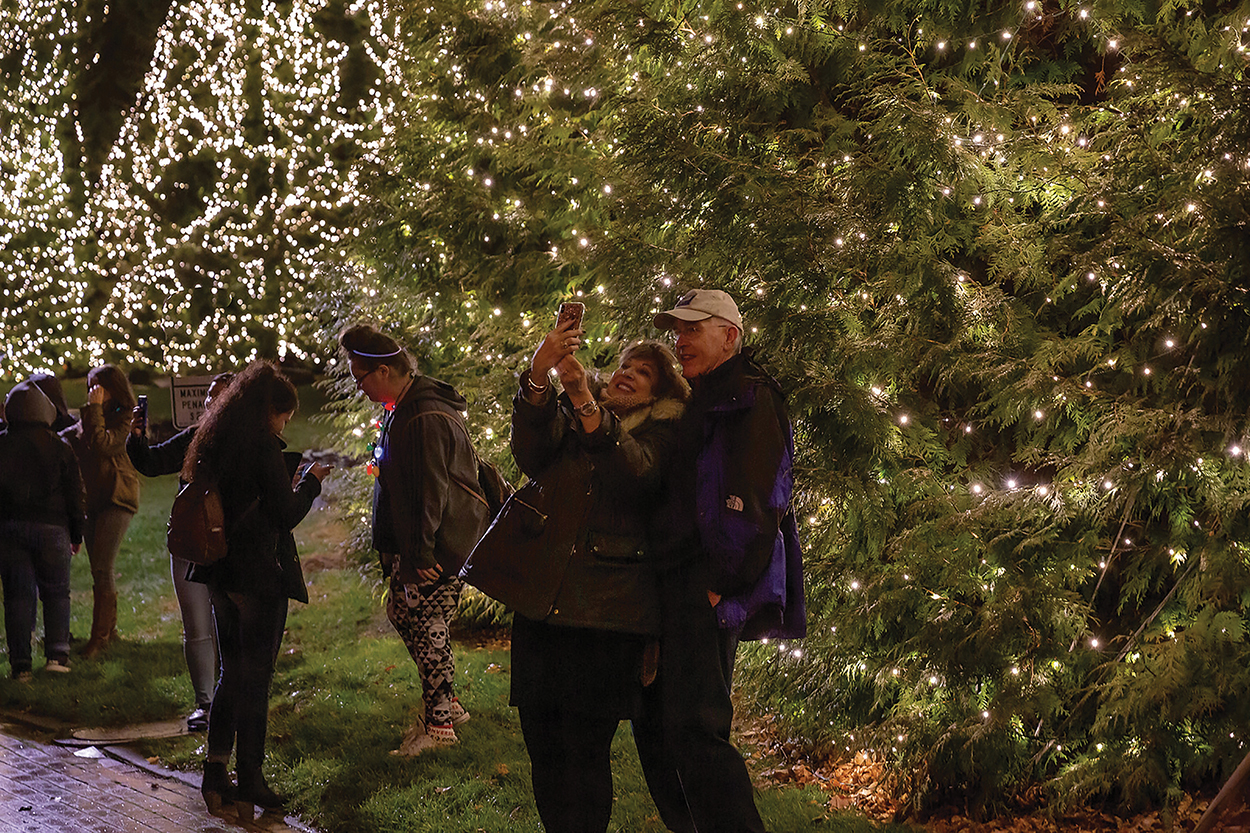 Written By: Deena Bouknight | Issue: 2021/12 – December
Decked out in jubilant illumination, Kelsey-Hutchinson Founders Park sets the stage for a joyous Holiday Season.
---
We have 19th century inventor Edward Johnson, a friend and partner of light-bulb inventor Thomas Edison, to thank for the tradition of electric bulbs on Christmas trees. Johnson does not get the credit for initial illumination on a tree; that goes to 16th century Protestant reformer Martin Luther, who came up with the idea of adding small, lighted candles to the branches of an evergreen. 
But Johnson's idea was "… to replace the candles with a string of colored electric lights, which he did with eight bulky, pear-shaped bulbs on a single wire," shared a Time 2015 report.    And, as occurs in many American communities, lighting a main tree has been a long-standing Christmas tradition in Highlands.  
 Plus, "since 2019 we have been lighting the entire Kelsey-Hutchinson Founders Park and the trees on Main Street," explained Kaye McHan, director of the Highlands Chamber of Commerce. "Lighting the tree is the moment children who are young and old have been waiting for all year!"
With people waiting, talking, and drinking hot chocolate and coffee in the dark of the park, the main tree suddenly bursts forth its holiday brilliance the evening of November 27. Then, afterwards, for many weeks while people visit and gather during the December holiday seasons, the lights present a sense of magic for anyone driving by, walking through the park, enjoying the ice skating at the park, and more. 
"Evenings set amongst the softly lit trees of the park, and joy and laughter from the ice skating rink, it's all available throughout the holiday season – and into January,"
 explained McHan.
She credited not only chamber staff, but multiple contractors and numerous volunteers for planning and carrying out the annual Christmas tree and park lighting. "We are always trying to work a year in advance in order to improve the event each year and be flexible in the event delivery as needed," she said. "The lights are intended to encourage community gatherings and to warm the heart and celebrate the season."
---
---