Shopping with a Soundtrack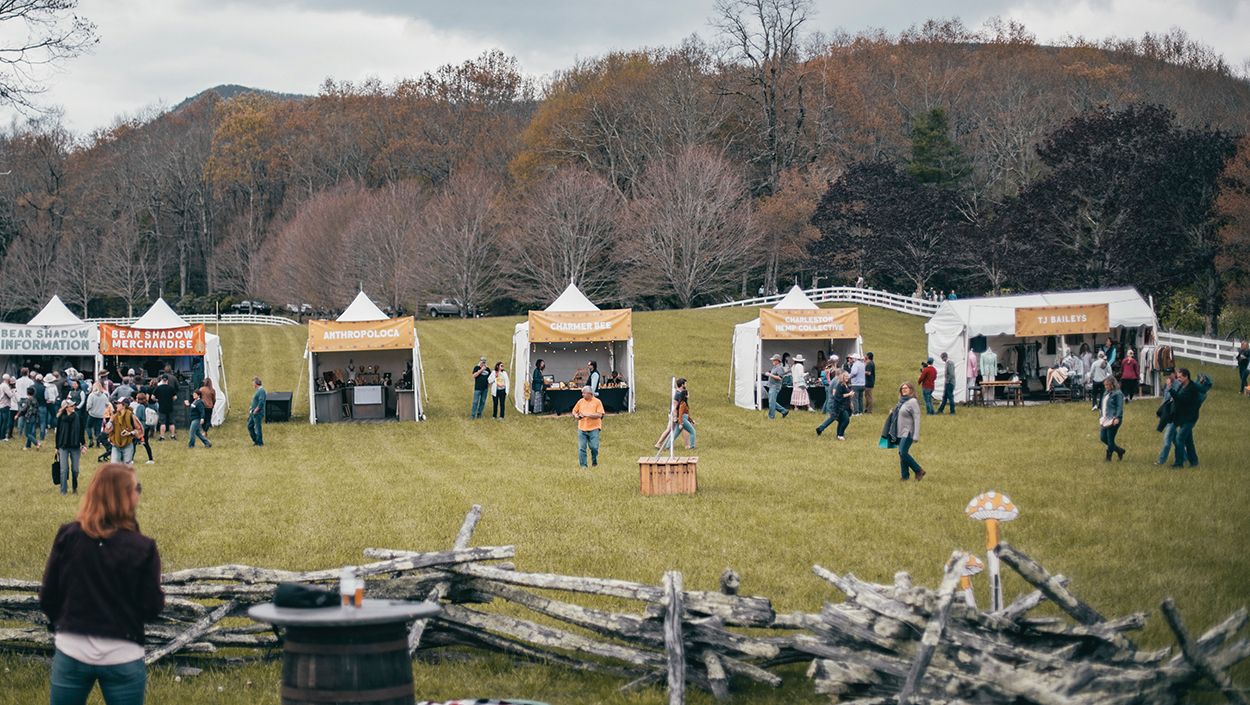 Written By: Marlene Osteen | Issue: April 2023
The inclusion of select vendors into the mix gives Bear Shadow Music Festival its own exclusive bazaar, complete with an irresistible soundtrack.
---
The Bear Shadow Music Festival kicks off the weekend of April 28 through 30. Known for its heavy-hitting musical line up, boasting headliners Spoon, The Head and the Heart, Jason Isbell and the 400 Unit, Bear Shadow has, in just three short years, became a cultural event.
Much more than just about the music, Bear Shadow has grown into a melting pot of fashion, food, drink – both booze and non-booze – and brand experiences.
These days the festival is equally well known for its lineup of stores from independent retailers in Highlands and beyond. In fact, during the festival the sprawling festival grounds of Winfield. Farms will turn into a shopping hub for area artisan makers and boutiques.
Among the many good reasons to be excited this year, is the presence of Highlands' T.J. Bailey's, renowned for being one of the most fashionable places in town. Where else can you buy coveted brands like Peter Millar to Brackish?
One of the most beloved spots in Highlands and Cashiers is The Highland Hiker, where you can shop for apparel and gear from Barbour to Patagonia and let them help you plan a hike or a fly fishing outing. You can find a curated selection of native American jewelry at Highlands Silver Eagle and select the perfect festival fashionable hat from Highlands Hatter. Pop into the Charmer Bee Company for hand-crafted beeswax candles and balms. Snag handmade leather bracelets and feather earrings from Wilmington, NC's Dust & Sunshine. Handmade metal belt buckles inspired by nature are the unique appeal at Charleston's HookNHide.
Venture to Shannon Whitworth Art from Brevard to view a gallery of visual art anchored in the dual landscapes of the NC mountains and SC Lowcountry. Asheville's Maadli Collective features artisan baskets made in Uganda – designs that have the potential to both alter a dwelling and the life of the woman who made it. And don't leave without taking home a wearable souvenir of the weekend – one of the artfully designed t-shirts, hats or blankets available at the Bear Shadow Festival Merchandise booth.
Visit the Highlands Chamber of Commerce site to discover everything Highlands has to offer and why any season is a good season for visiting. Stop in and chat with the good folks at the Highlands Cashiers Land Trust and learn why it has become the largest landowner in Highlands. Stay tuned as more retailers join the Bear Shadow shopping hub! For more information, and tickets visit bearshadownc.com.
---
---