Nature-themed Designs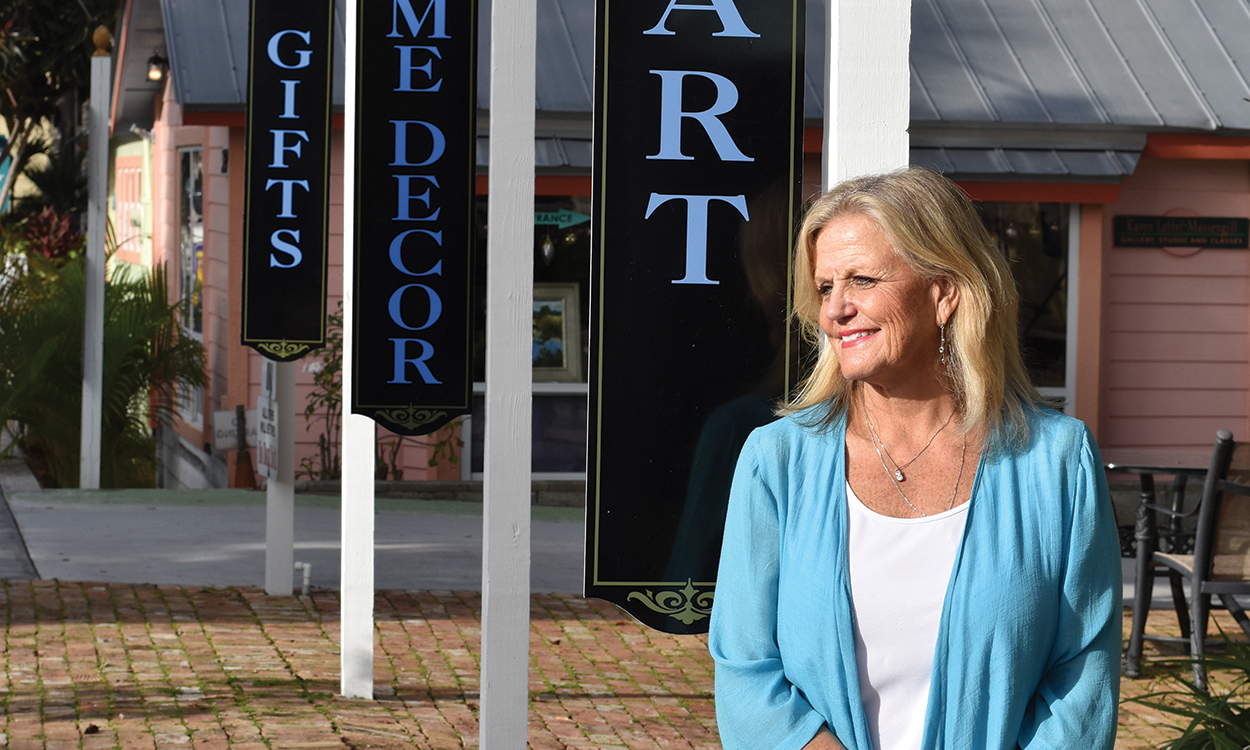 Written By: Marlene Osteen | Issue: June - 2022
On Friday, July 8, and Saturday, July 9, Sally Eckman Roberts will be at Main Street Gifts in Highlands NC showcasing her products and welcoming visitors to explore the full spectrum of her works.
---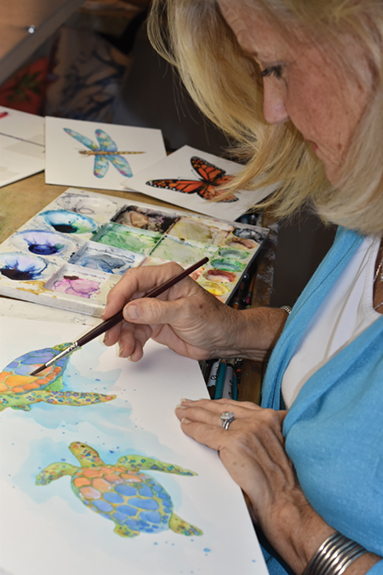 In my personal utopia, my home would be filled with flowers and butterflies, botanicals of every manner and come December an unrestrained assortment of Christmas fancies.  
Such is the world of artist and designer Sally Eckman Roberts. A Florida-based product designer specializing in pillows, rugs, prints, pouches, tea towels, tableware, and more, Roberts paints images depicting nature in a traditional manner with a contemporary feel. Using watercolor and pencil and through her delicate blending of rich color, she creates designs that reveal art and nature are one.  
On Friday, July 8, and Saturday, July 9, Roberts will be at Main Street Gifts showcasing her products and welcoming visitors to explore the full spectrum of her works.  
Roberts has been working in art and illustration since graduating from college in 1978, and her career has taken a most captivating path.  From her first job as an illustrator for the Saturday Evening Post, she went on to work in a corporate environment as an art director for Simon Malls and then as a creative director at a design firm in Indiana. 
It was when her children were born that she decided to start her own home-based business – beginning with botanical art and posters.  She also found work creating posters and art for big happenings in her hometown of Indianapolis. She recalls with fondness designing the graphics for Mikhail Baryshnikov's visit to town.  
It wasn't long before national companies like Oneida, started knocking on her door asking to license her designs for their products – coasters, outdoor flags, rugs, pillows, and dinnerware. Twenty Five years later she continues to work on behalf of many of these companies.  
Now recognized as a national brand, Roberts has attained countrywide recognition for the nature-themed design accessories she creates for the home.  Her prints of blooms, blossoming greenery, Oceana, and nature have become coveted gifts, featured in catalogs and stores including Pier One and Charleston Gardens.  
Four years ago, she started her own line of eco- friendly bamboo dinnerware that is sold today in Neiman Marcus and gift stores throughout the nation.  
It was a fortuitous and happy coincidence when owners Suzanne and Dan Young met Roberts at the Atlanta Mart last year.  For it was only earlier in the day that they discovered her work.  Enchanted by the artist's wildflowers and botanical renderings, so reminiscent of Highlands, they knew immediately they wanted "to be the space that introduces Sally Eckman Roberts to the area home design world."  As discerning curators, the Youngs recognize that the bounty of colors, and patterns that explode on to every one of the products bearing Roberts' designs offers a salve for our differing design itches.  As Dan said, "Sally's vivid designs fit into a multitude of home design schemes.  I think the truly adventurous will want to acquire multiple elements and pile them all on at the same time."
Main Street Gifts is located at 366 Main Street, Highlands.  For more details, please contact Suzanne and Dan Young by email at [email protected].
by Marlene Osteen
---
---