Good Foods Finalist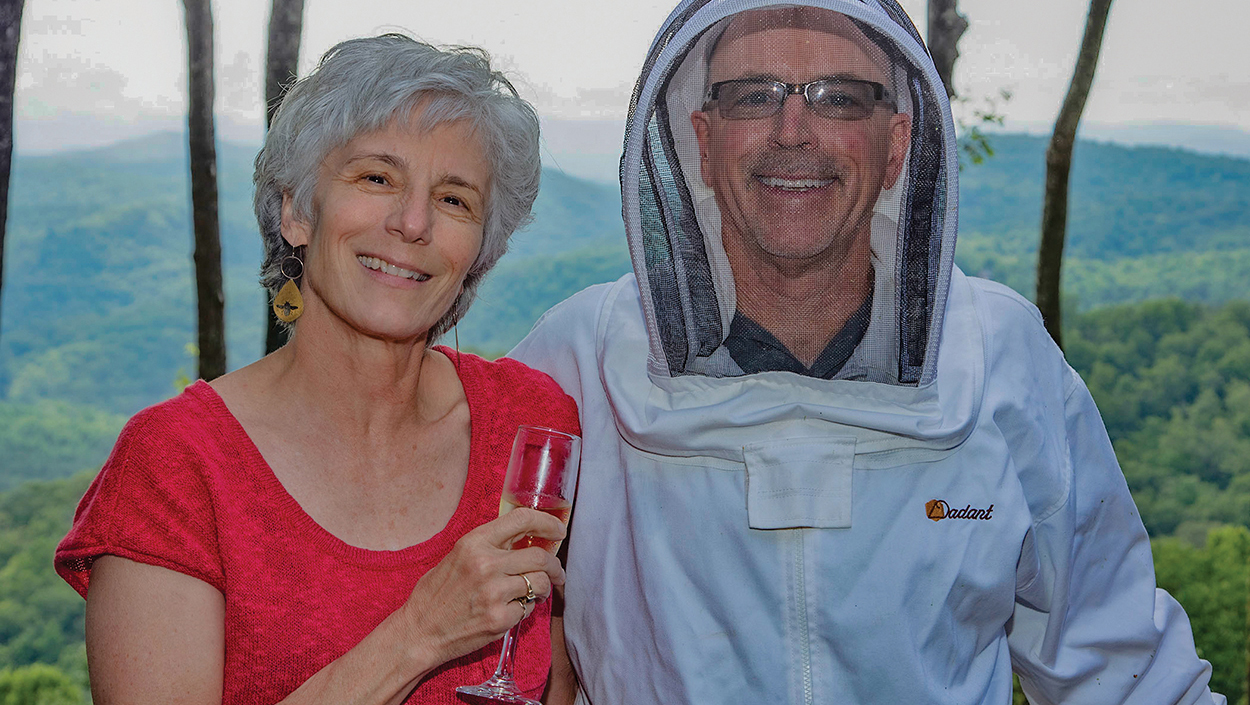 Written By: Luke Osteen | Issue: April 2023
The hardworking bees at Killer Bees Honey have won national recognition for their sweet labors.
---
For the last five years, we've been raving about Killer Bees Honey, the Lake Toxaway apiary owned by Denise Altay and her beekeeper husband Sean Collinsworth, and operated by, of course, a million Italian Honey Bees.
Although the company's dramatic name may be a bit surprising, it's not accurate.
"The actual killer bee does exist, but that's not what we have because those bees, commonly known at Africanized Bees, are actually illegal in most states. Our bees are gentle and hardworking.
"Killer Bees' apiary is surrounded by Pisgah National Forest, which is key to the purity and complex nature of the honey produced."
All of that care, all of that healthy living has paid off, with Killer Bees' products developing a rabid international customer base in the course of five years.
In fact, Killer Bees' Sourwood Honey has been nominated by The Good Foods Foundation as a 2023 Good Foods Finalist. The Good Food Foundation exists to celebrate the passionate and engaged, yet often overlooked, players in the food system who are driving towards tasty, authentic and responsible food.
Killer Bees' honey is tested by third-party, independent labs to ensure that it is 100 percent unadulterated and toxin-free. They corroborate the results obtained by Collinsworth, one of a handful of Americans certified with both the Italian Registry of Honey Sensory Experts from the CNR Institute out of Bologna, Italy.
"We are the only American beekeepers to do so and publish the results on our website," Denise added.
If you'd like to get to know more about this buzzing business that's captured the palates and imaginations of the foodie cognoscenti, you can schedule a private honey tasting upon request and at the location of your choice (not the farm, though).
"It's a full presentation of the life of a hive and the crazy things that go on, along with a full honey tasting-pairing, like a light lunch – along with champagne of course," Denise says. It's two hours and does not include the main attraction…the bees (they have to stay at the apiary and work). Minimum $750 for up to 10 people – we bring everything. Call us at (312) 909-5878."
Killer Bees' honey is available at such locales as Acorns Boutique and Calders Coffee Cafe in Highlands; Cashiers Farmers Market and Crossroads Custard in Cashiers; Sapphire Valley Resort Gift Store in Sapphire; Historic Toxaway Market, Bear Tracks Travel Center, and Headwaters Outfitters in Lake Toxaway.
---
---