Diamonds will Light Your Way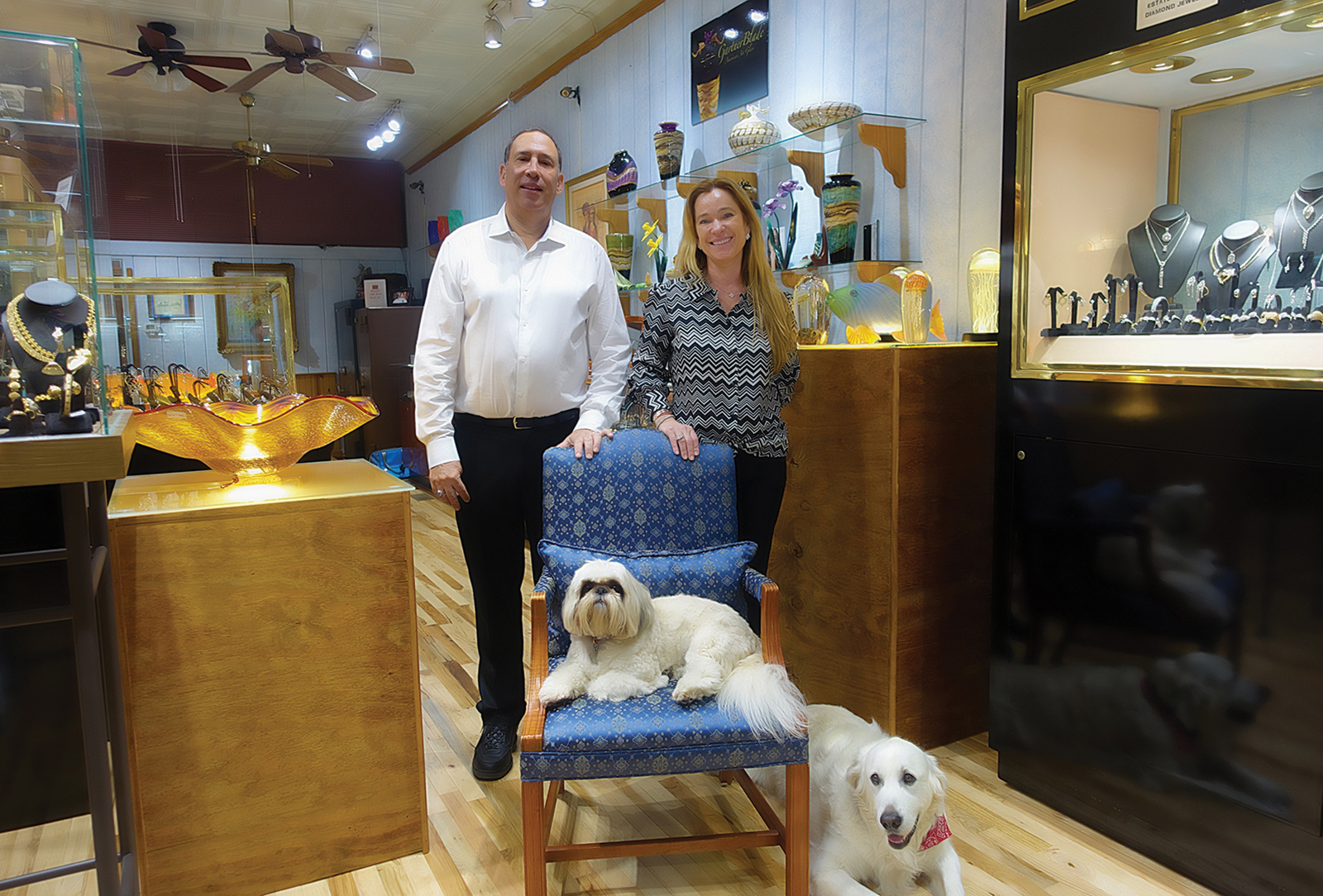 Written By: Courtney Scarborough | Issue:
Highlands Fine Art & Estate Jewelry is celebrating their 19th season bringing the finest jewelry and timepieces to Highlands, as well as the area's largest selection of art glass.
Owners Joe and Claudia Lazow take pride in their business and welcome each customer as friends. With each new season, they continue to provide the optimum in hand-picked estate and modern jewelry, diamonds, precious and semi-precious stones, pearls, as well as platinum, and gold. They also have an extensive selection of timepieces such as Michele, TW Steel, and preowned luxury watches from Rolex. Their new glass gallery displays art glass from European, Canadian, and American artists.
Highlands Fine Art & Estate Jewelry also specializes in the purchase and sale of estate and modern jewelry.
Joe, who is a graduate gemologist, enjoys working with customers building relationships through the beauty of jewelry. Joe's wife, Claudia, loves sharing her extensive knowledge of gems and art glass, working to find each customer the exact piece they were seeking.
It is vital to Joe and Claudia to ensure each customer's shopping experience is one of fun and enjoyment. You may enter as a customer, but you will leave as friends. Shop dogs Mozart and Sylvester work equally as hard to greet each person who enters with a tail wag and a friendly lick. Highlands Fine Art & Estate Jewelry is the true definition of a family business.
On August 21, all eyes will look to the sky when for the first time in 99 years, a total solar eclipse will bisect the entire continental United States. Highlands has a front row seat for this spectacular, once-in-a-lifetime event. Join Joe and Claudia on August 21 from noon to 5:00 P.M. to witness this spectacular event. Enjoy food and beverages, live music, special giveaways, storewide sales, and optimal eclipse viewing. When the sky goes dark, let Highlands Fine Art & Estate Jewelry's diamonds light your way.
Visit Monday through Saturday 10:00 A.M. to 5:00 P.M.; and Sunday from noon to 5:00 P.M., located at 388 Main Street in downtown Highlands. For appointments, call (828) 526-0656. Visit HighlandsFineArt.com to see their extensive collections.
Highlands Fine Art & Estate Jewelry, where your diamonds are waiting.
---
---