Your Favorite Sunrise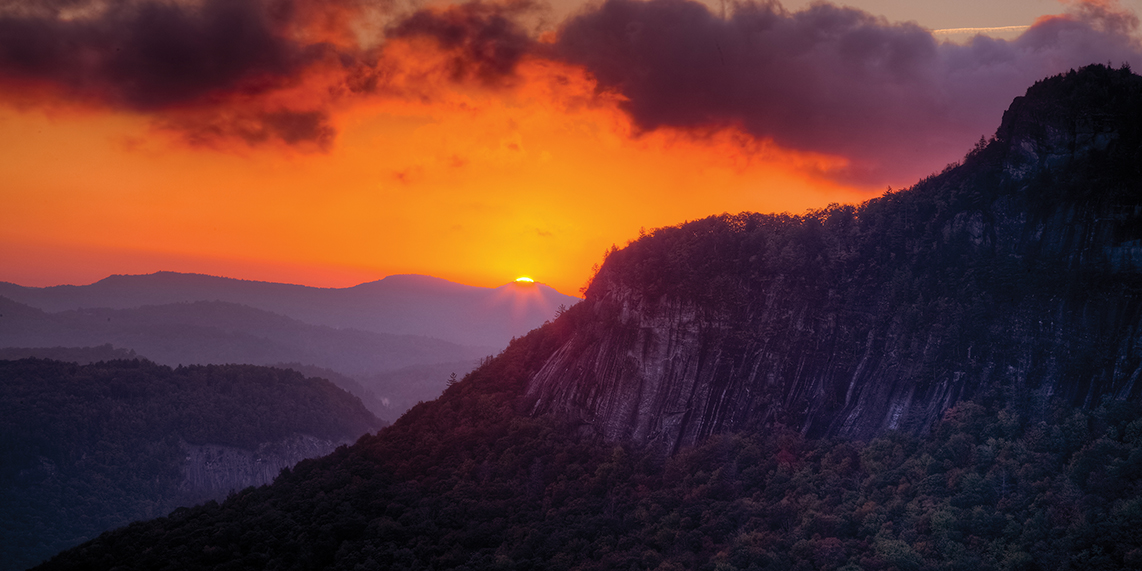 Written By: Jenny King | Issue: 2015/11 - November
Last month we asked where you saw the best leaves.
Now, with the mountain vistas opening up again, it's time to catch that perfect sunrise. Yes, it is indeed worth getting up for! If you're lucky enough to have the perfectly situated home, you may need no more than to step out on your deck with a cup of coffee. However, there are many spots where knowing photographers set up tripods to catch those first morning rays.
Like Sunrise Rock. You didn't know about Sunrise? It's just across from Sunset Rock. As you reach the summit of the hike to Ravenel Park, turn left rather than right and follow the trail. The views of Horse Cove and Whiteside are spectacular. Head east on Main Street and park across from the Nature Center then walk up.
Set your alarm and get up early enough to warm up your car, then head east toward Cashiers. The famed Rhodes Big View (home of the Bear Shadow) on 64 East is one of the most accessible spots for that spectacular sunrise. Parking is available alongside the road, but please remember it's a major thoroughfare and cars may not see you. Be careful.
The Mountain Retreat and Learning Center atop Little Scaly Mountain off Highway 106 is special for many reasons, not the least of which is the view of Blue Valley from what is known as Meditation Rock. While it's privately owned, they do welcome visitors and braving the twisty-turny road up to the top is well worth it. Stop by the Registration Office to plan your adventure and they'll tell you all you need to know about the best place to catch that awe-inspiring photo, or simply to bask in the serenity.
Visit our Facebook page at facebook.com/TheLaurelMagazine and vote on your favorite sunrise location. How about posting your photos so those of us who might not make it up that early can appreciate the fact that you did?
---
---