Where the Wild Things Are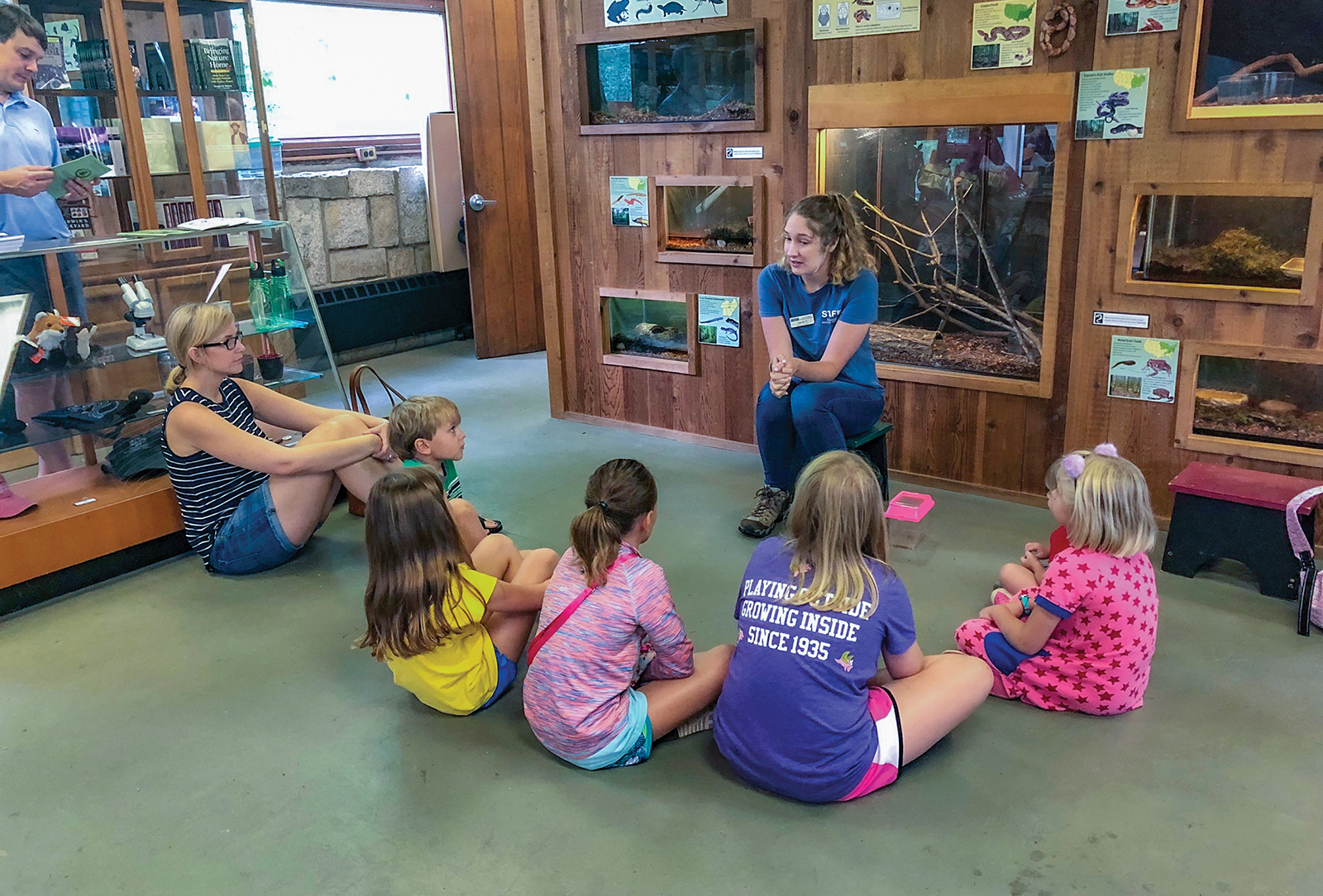 Written By: Charlotte Muir - Highlands Biological Station | Issue: 2019/12 - December
This summer, the Highlands Nature Center's programming celebrated the rich natural history of the Plateau.
Our campers explored wild spaces ranging from the HBS Meadow to Panthertown Valley, digging into topics like geology, ecology, and gardening along the way. At Nature Center Nights, attendees searched for fluorescent millipedes in the Botanical Garden, meandered for salamanders, and listened for bats over the lake. Regularly throughout the summer, visitors to the Nature Center met "featured creatures," toured the Botanical Garden, and performed "mad science experiments" under the guidance of our Assistant Naturalists.
We added several new exhibits and more signage at the Nature Center. Early in the summer, visitors searched for clues in a rotating Critter Scene Investigation Display. Now, with an interactive screen at our Research at the Station exhibit, you can hear directly from researchers who work out of the Highlands Biological Station.
The Nature Center also received much-anticipated upgrades with the support of the Highlands Biological Foundation. We have installed an energy efficient heating and air conditioning system that will keep even the largest crowd cool at a Zahner lecture. We replaced the overhead lighting with a new LED system that provides improved, energy efficient lighting. Other facility improvements will continue over the winter.
Our public hours will be winding down for the winter. There is no "off" season in the natural world, however, and our programming will reflect this. Watch for new events in the coming months!
Highlands Nature Center was founded as the museum of the Highlands Biological Station in 1927, and was originally housed as an annex to the Hudson Library. Its present home, the Clark Foreman Museum building, was constructed between 1939 and 1941 by the Works Progress Administration (WPA) using native granite from the local quarry and wormy chestnut salvaged from the Nantahala National Forest. Highlands Nature Center offers exhibits and year-round educational programming focusing on the biodiversity of the southern Appalachian region.
For more information about Highlands Nature Center or other programming at the Highlands Biological Station, visit our highlandsbiological.org or call us at (828) 526-2221.
---
---