Tree Toppin' Thrills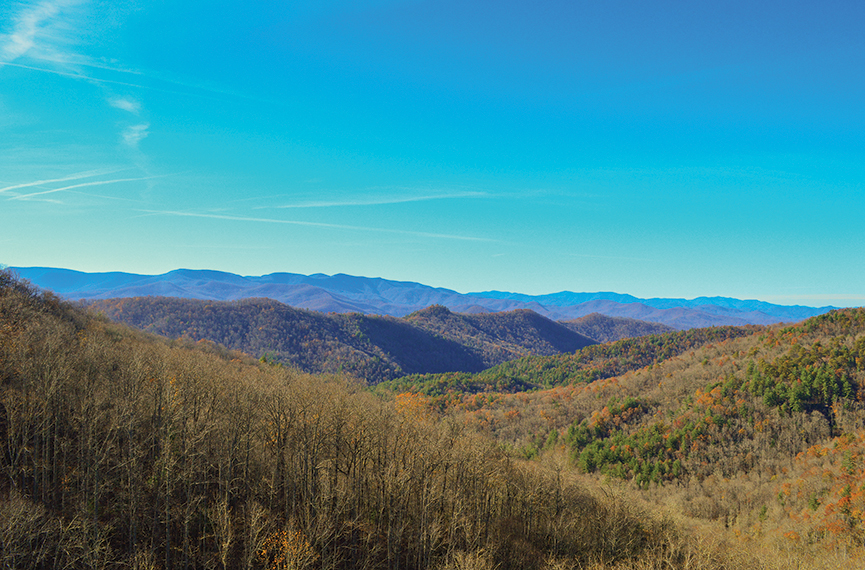 Written By: Alex Foltz | Issue: 2015/12 - December
Sitting atop the luscious High Holly Mountain, the Highlands Aerial Park is a perfect choice for those with a desire to mix the gorgeous scenery of the Appalachian Mountains with a thrilling ride through the treetops.
The Aerial Park features zip lines, a family challenge course, an oversized swing, and several nature trails offering a little something for everyone, whatever your desired level of excitement is. While it is late in the year, any time is a good time to make a trip to the aerial park as every season holds its own unique characteristics. Winter provides an exceptional experience as the lack of foliage allows views to open up, creating infinite views while traveling from treetop to treetop.
Located just 8.5 miles down highway 106, the Aerial Park is a short trip from downtown Highlands. With its variety of activities the Highlands Aerial Park has something to offer anyone of any age range. The nature trails on site are open to all guests and contain a wide variety of habitats that house a vast array of plants and wild life. The brave Indian family challenge course accommodates anyone who is five and up, as well as any family members that may want to join. New this year, the Aerial Park has just installed an 80-foot swing that allows anyone standing over 48 inches to ride. The swing is perfect for a quick boost of excitement for those who do not have the time required for the longer courses.
For those who seek the most excitement and incredible views that the Aerial Park offers look no further than the mountain top and canopy zip line tours. The mountain top tour consists of the first three lines of the full canopy tour and is milder than the remainder of the course, offering a good introduction for anyone who is new to zip lining. For the most adventurous route and most spectacular scenery that the aerial park has to offer, the full canopy tour is a must. With its signature line the squealing mare, riders are taken over 200 feet above the ground on this quarter mile ride. As you emerge from the canopy, the view opens up and the Smokey Mountains are visible for many miles providing an incredible and irreplaceable view hard to come by anywhere else.
With it variety of activities and its impressive scenery it is no surprise that the Highlands Aerial Park is a popular destination. In order to secure your adventure at the aerial park, it's important to make reservations as far ahead of time as possible. So hang on and enjoy viewing these mountains as never seen before!
---
---