The Hooded Warbler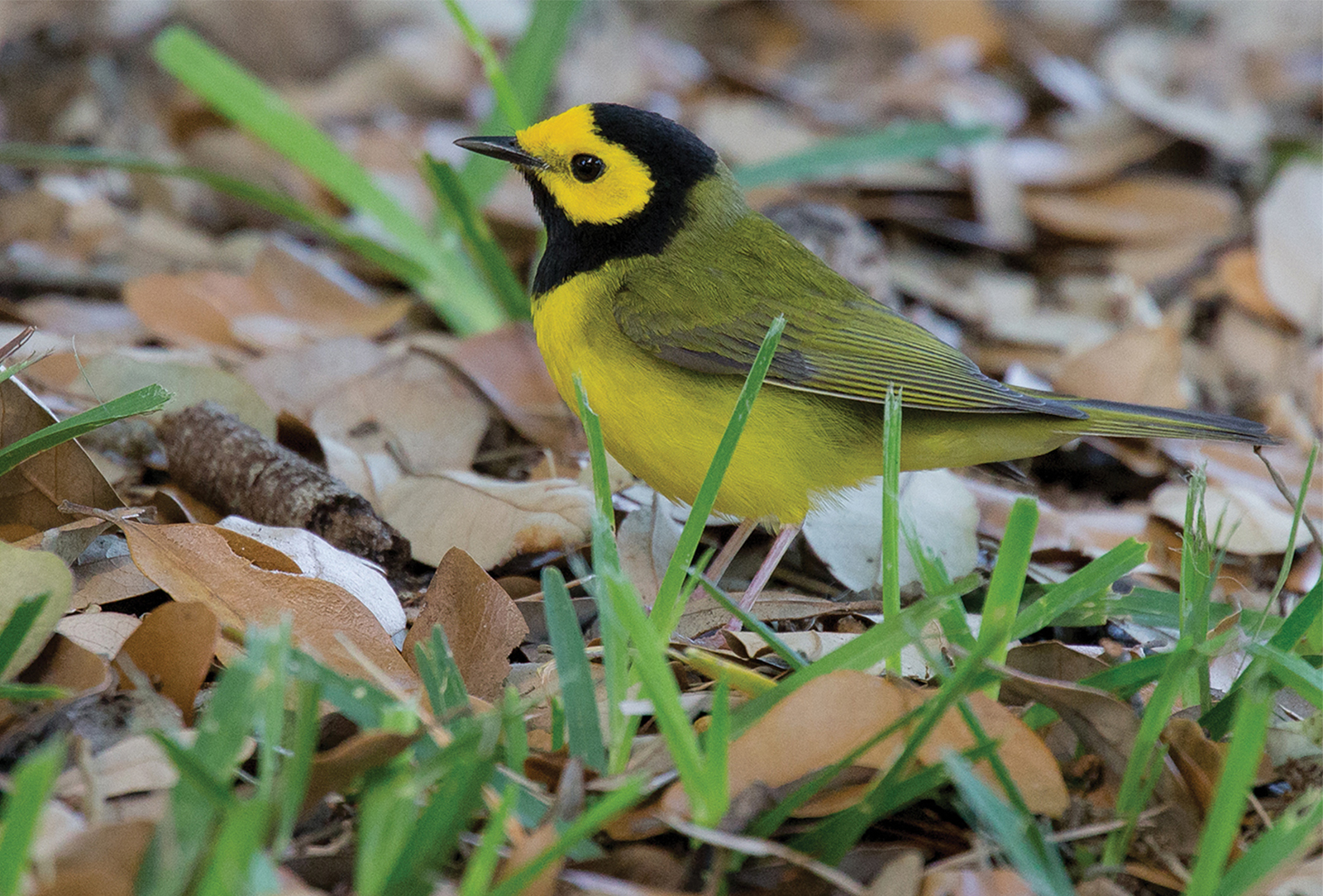 Written By: William McReynolds - Highlands Plateau Audubon Society | Issue: 2017/06 - June | Photograph By: Ed Boos, Photographer
New World warblers comprise more than 50 species of perching birds, migrants that winter in Central and South America and whose summer nesting grounds include the Highlands Plateau.
These small insectivores have varied plumage and songs that range from the plain to the spectacular. Collectively a group of warblers is called a "bouquet" or sometimes a "confusion" or "fall."
The Hooded Warbler (Setophaga citrina) is found locally in the moist, shady undergrowth of our deciduous forests, part of a vast breeding ground that ranges from Iowa, Michigan, and New England to the north and Florida and the Gulf Coast to the south. The male sports a bright yellow face with a contrasting black hood while the female is more modestly attired with muted color and just a trace of the hood. Both have white spots on their tails, which they frequently flash by raising and fanning the tail.
Hooded Warblers feed on caterpillars, moths, grasshoppers and beetles, among other insects and spiders. They are also good fly catchers. Nests, near the ground, are small open cups of dried leaves, bark, grass, spider webs, and animal hair that hold three or four creamy white, spotted eggs. The eggs are incubated for 12 days by the female. Although the female builds the nest and incubates the eggs, both parents feed the hatchlings.
The parents divide the fledglings when they take to the ground and care for their contingent separately. The male returns to the same breeding ground year after year. The female tends to migrate to new breeding grounds each year. Hooded Warblers have been observed to live for more than eight years.
The song of this brightly colored summer resident is a melodic tawee tawee tawee-teeoo. Its call is a flat squeaky tiip. Because they sing from the treetops, they can be easier to hear than to see.
Happy summer bird watching from the Highlands Plateau Audubon Society. To join the weekly outings hosted by Audubon check the local website at highlandsaudubonsociety.org. Beginners are welcome.
The mission of the Highlands Plateau Audubon Society is to provide opportunities to enjoy and learn about birds and other wildlife and to promote conservation and restoration of the habitats that support them. HPAS is a 501 (c) (3) organization, a chapter of the National Audubon Society.
---
---