The American Crow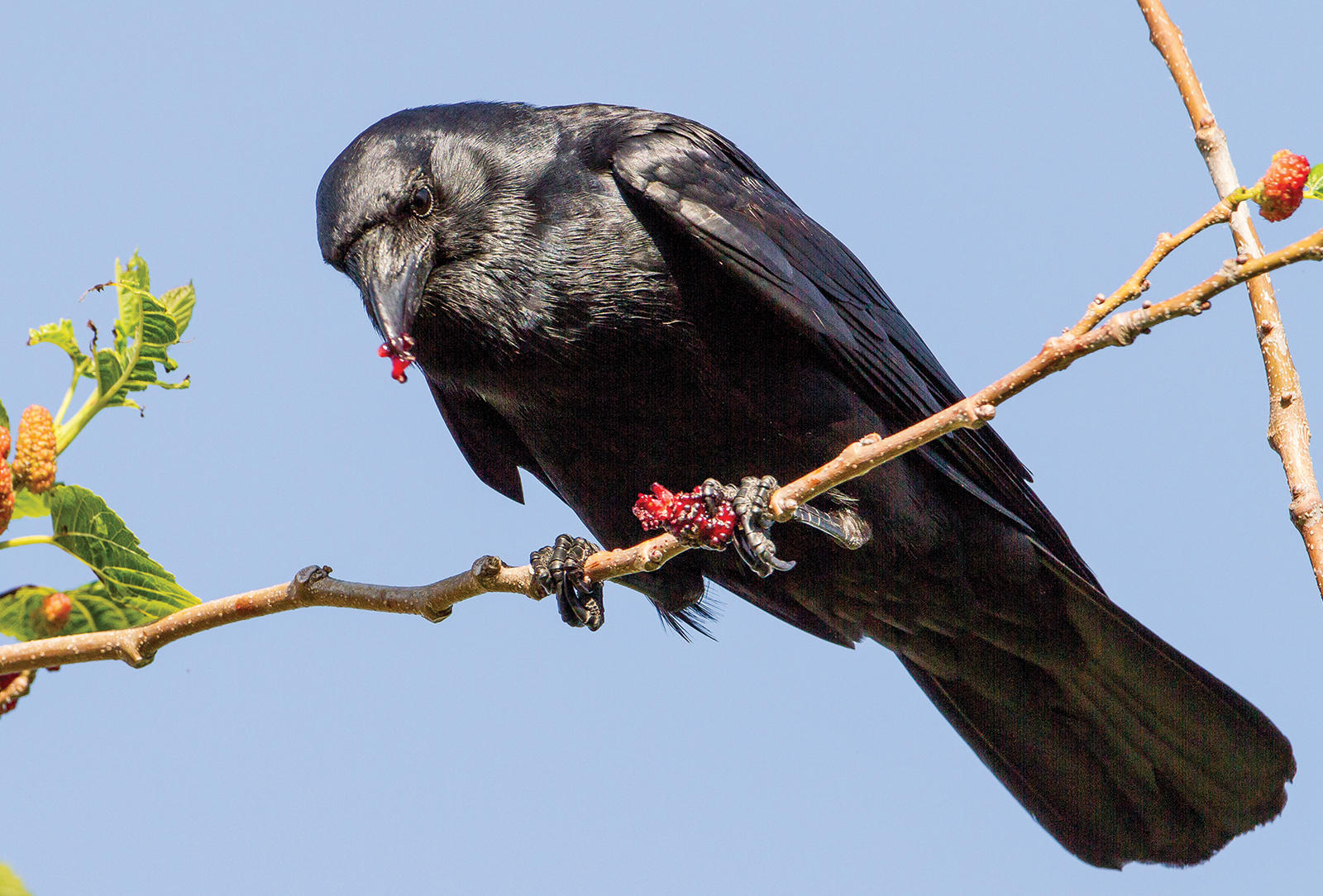 Written By: William McReynolds - Highlands Plateau Audubon Society | Issue: 2016/10 - October | Photograph By: Ed Boos, Photographer
This large venerable bird is widespread and common in North America, a large passerine or songbird, second only in size to the equally venerable Common Raven.
Crows like what people like, clearings with surrounding trees. They are omnivorous and will eat anything from insects to eggs to small animals and carrion. They like our diet and go through our garbage looking for discarded pizza and fries.
Crows' fabled intelligence is illustrated in Aesop's "The Crow and the Pitcher" about a thirsty Crow that could not reach the low level of the water in a pitcher so he dropped stones in the pitcher to raise the water level. Their enlarged avian brain underwrites keen visual, auditory, and conceptual skills. They are clever problem solvers, can form and use twigs as tools, and know their environments well enough to be accomplished opportunists. Crows take birdbrain to the next level.
They are very social and communal: pairs mate for life, families stay together across generations, and their roosts can number in the hundreds of thousands. They play amongst themselves and observe what some have called avian funerals for a fallen comrade. Crows communicate actively with each other, sending signals via loud calls and throat gurgles. One investigator found 260 different Crow vocalizations, each signaling something about the changing environment.
Although their 39-inch wingspan is impressive, Crows rarely soar. Their flight is a rhythmic pumping of two strong, full-featured wings. Some migrate to Canada yearly but most are year-round residents across the continental U.S.
The oldest known Crow, a captive, lived 59 years. In the wild 10 years would be a long life. They nest high up in the trees in opportune crooks and branches, incubating as many as nine eggs. Offspring develop slowly and don't reach full maturity until four years old. Only after that extended period of dependency on the mother and family would a male or female crow mate. They live within an extended family structure and even if they independently join a large roosting Murder (the collective noun for a flock of Crows is murder, a murder of Crows), they reform and rejoin their families after leaving the much larger collective. They are loyal to their own.
Behold the noble American Crow!
The Highlands Plateau Audubon Society, focused on enjoying and preserving birds and their habitats, is a Chapter of the National Audubon Society and a 501(c) (3) organization. For information on all our activities and membership, please visit highlandsaudubonsociety.org.
---
---