Sunset & Sunrise Rocks at Ravenel Park
Written By: Brendon Voelker | Issue: December - 2022
A new map serves as a handy guide to the Wild Places hidden on the edge of downtown Highlands.
---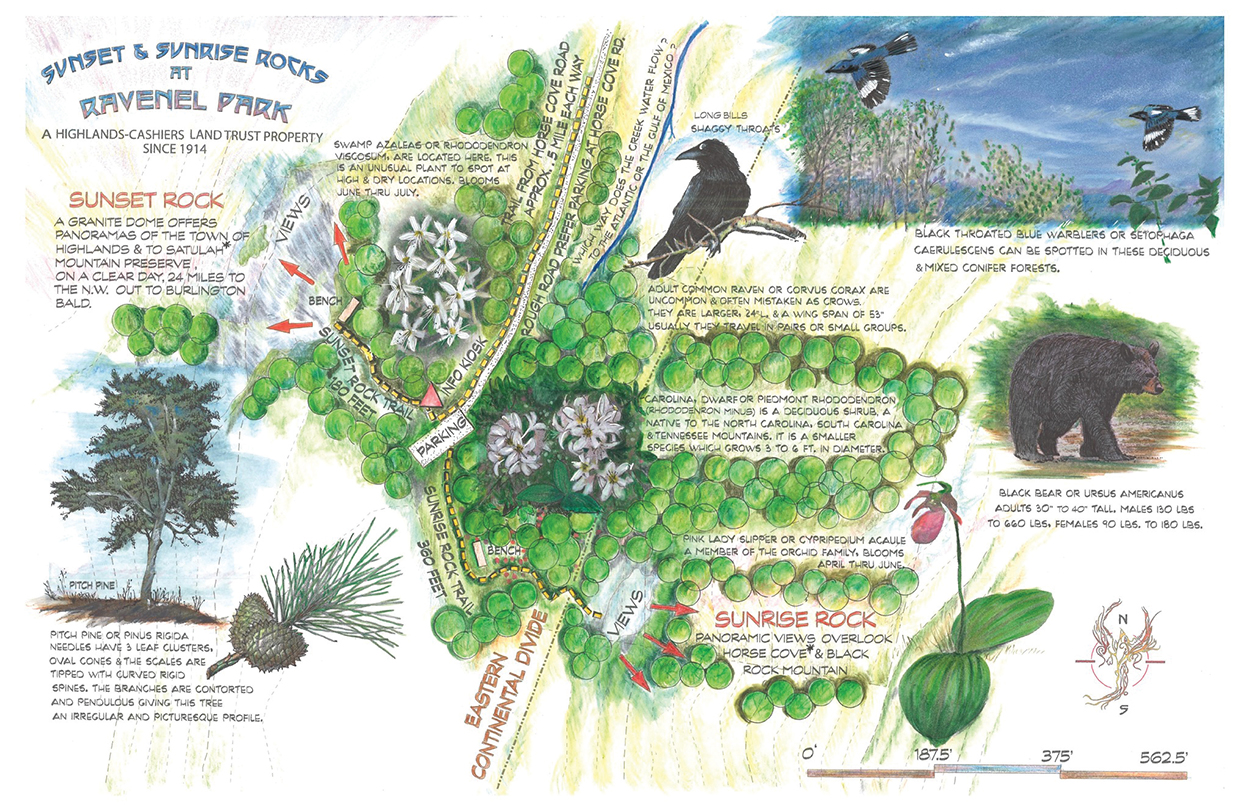 Have you ever experienced the long-reaching views from Sunrise or Sunset Rock of Ravenel Park in Highlands? 
Since before the arrival of Winter, the Highlands-Cashiers Land Trust has been working tirelessly with professional illustrator, cartographer, and certified Blue Ridge Naturalist Ken Czarnomski to introduce a new print and electronic trail guide. Within the brochure you can find detailed information on native flora and fauna, a curated map of Ravenel Park and even directions to the area if you have yet to explore it yourself! Now more than ever, take the opportunity to explore one of Highlands' most coveted hikes in detail.
A printed version of the map is available at the HCLT offices in the Peggy Crosby Center, or you may download it online at hicashlt.org to use even when offline. Mere weeks ago, the red maples were contrasting the deep green hues of gnarled pine and hemlock, while the leaves of popular, birch, and hickory began to illuminate your vantage points with a stunning array of yellows and gold. As leaf season comes to an end, the commanding views from the mountain's cliffsides offer exuberant views that entice the artist in all of us. 
For those new to the granite dome rock outcrop ecosystems at Sunset and Sunrise Rocks, the guide highlights mountain oak and hickory forests, rare plant species and some of the inhabitants that abide within the ecosystem. While black bears forage though the park for wild edibles, both the National Audubon Society and Bird Life International have designated the area as one of the most important bird areas in the world, the guide notes. Unique species include Black-Throated Blue Warbler and Red-Breasted Nuthatch. Other species with conservation statuses can also be found nearby.
Highlands-Cashiers Land Trust wouldn't exist without our incredible business partners, generous donors, and volunteer support who help us conserve and care for over 3,700 acres including our beloved Sunset and Sunrise Rock. As a fully accredited 501(c)(3) nonprofit charity, we rely on the support of friends like you to help us preserve the quality of the air we breathe, the water we drink and healthy habitats for all who live here. Join us in protecting some of the oldest mountains in the world by visiting hicashlt.org and consider visiting one of our public access properties this season.
---
---