Stroll to the Narrows, A Highlands NC Hike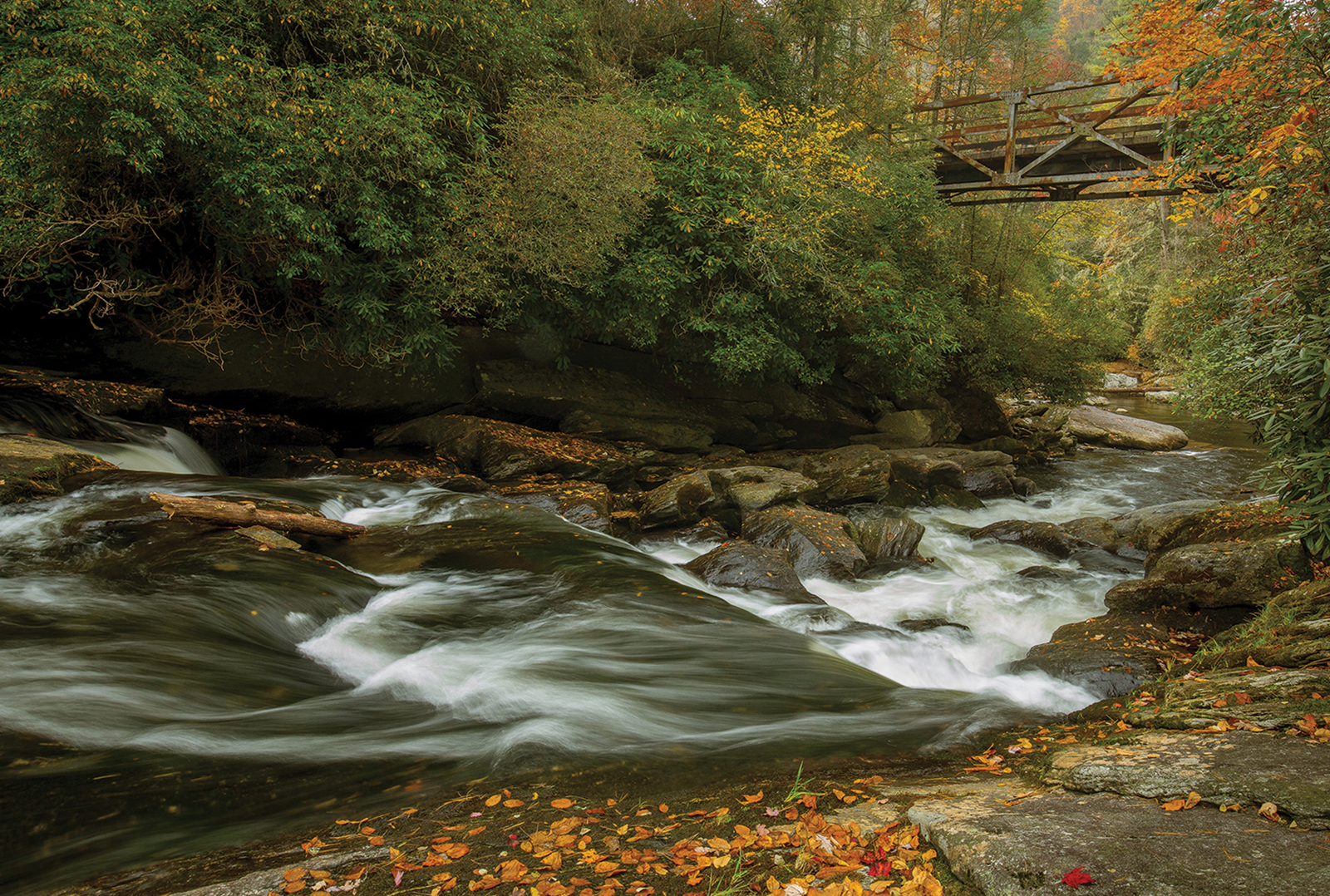 Written By: Emily Crowell | Issue: 2017/12 - December | Photograph By: Terry Barnes
Hiking to the Chattooga River Narrows from the National Forest Service trailhead on Whiteside Cove Road is a rejuvenating way to spend a sunny morning or afternoon. The moss-covered tree stumps at the beginning of the trail seem to warmly glow, giving the green light to go ahead and leave your stresses behind and reconnect with nature, at least for a few hours.
At a little over five miles round-trip, it's a perfect half-day hike that takes three to four hours (not including time for lunch and a nap!). To reach the trailhead from Cashiers, drive 1.8 miles from the Crossroads, take a right onto Whiteside Cove Road, and drive 5.8 miles to the well-marked parking area on the left. From downtown Highlands, follow Horse Cove Road for 8.1 miles to the trailhead on the right (keeping left at the fork as it becomes Whiteside Cove Road).
This section of the Chattooga River Trail doesn't follow the river the entire way. It starts out uphill over roots and pine needles, and then begins a downhill meander that meets up with the river at around mile two. Mountain laurel, mosses, ferns, and galax provide a healthy dose of greenery, even in the so-called dead of winter. At certain points on the trail, the river can be seen in the winter months, but when the trees have their leaves, its presence below can be noted by an ever-present distant roar. Close to a mile in, the trail forks – stay left to continue on to the river.
At around mile two, after a few short but steep ups and downs, the trail finally reaches the Chattooga. From here there are several opportunities to get close to (or in) the river. Hikers will know that they have reached their destination when they come to a sturdy footbridge over Norton Mill Creek, which tumbles vivaciously into a large pool below. Walk down the rocks to the river, and the Narrows are on the left – so-called because the river constricts to flow through a chute only several feet wide. Be wary of walking up the river next to the Narrows, however – the rocks are quite slippery with moss. I myself almost fell in the river that way once.
The rocks by the pool here are a friendly, relaxing place to have a picnic, take a nap, or just sit quietly by the river, and the pool itself makes a perfect swimming hole in the summer. The hike back to the trailhead is mostly uphill, as can be expected, but there are plenty of spots along the way to stop, take a breath, and appreciate one's place in nature. This trip is a perfect showcase of the natural resources we enjoy in the Highlands/Cashiers area.
---
---