Red-bellied Woodpecker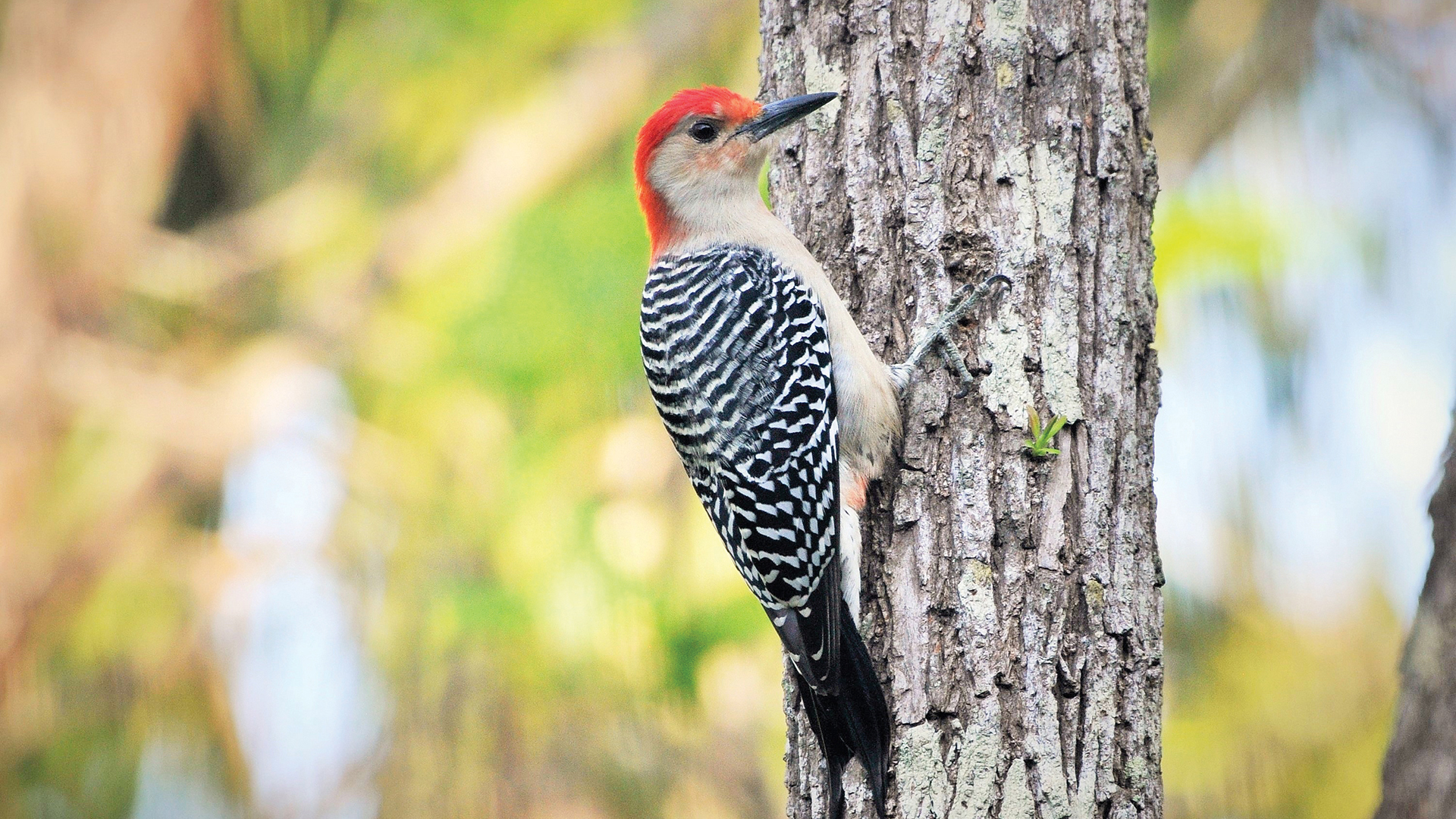 Written By: William McReynolds - Highlands Plateau Audubon Society | Issue: 2020/09 – September | Photograph By: William McReynolds
This relatively large, Robin-sized bird is common year-round on our Plateau and in the eastern U.S. from Canada to Florida. The Red-bellied Woodpecker (Melanerpes carolinus) has a black-and-white barred back and wings with a pale pink belly. The male has a distinct red crown and nape. The female has similar plumage but lacks the red crown. 
Look for these birds on tree trunks picking at the bark. Favoring oak, hickory and pines, they search for insects in cracks and crevasses. Red-bellied Woodpeckers use their stiff tail feathers to support an upright pecking position on trunks. They forage on decaying and dead trees and trunks and store insects and nuts in the bark. 
Males court and attract females with a characteristic woodpecker drumming pattern of pecking. The louder the drumming the better and there is no better place to peck and drum loudly than metal gutters. Females are mightily impressed. The couple is monogamous and breed once in a breeding season. New pair bonds are formed each year.
Nests are located in cavities in deciduous woods, especially those offering soft or decaying trees. Nest cavities are both opportunistically found and dug in soft wood by both members of the pair bond. 
A clutch of 4-8 white eggs is incubated by both parents. Both parents also feed the hatchlings that appear in 12-14 days. Nestlings fledge in another 24-26 days and continue to be fed by both parents for weeks.
Like other woodpeckers, the Red-bellied calls and vocalizations fill the woods. In addition to drums, they "chatter," emit "querr" calls, "chi" calls, and "woika-woika" interaction calls. Sibley identifies a descending "chuckling" series that sounds like "chigchighchchchchchch." Suffice it to say that their calls are loud and varied with much repetition. 
Happy September birding from the Highlands Plateau Audubon Society. Look for these loud, colorful birds on tree trunks in mature forests. Their flight pattern is characteristically scalloped or undulating. Their nests tend to be near openings in woods offering dead trees and decaying stumps. 
The mission of the Highlands Plateau Audubon Society is to provide opportunities to enjoy and learn about birds and other wildlife and to promote conservation and restoration of the habitats that support them. HPAS is a 501(c)(3) organization, a Chapter of the National Audubon Society. Visit highlandsaudubonsociety.org for information on membership and
all activities.
---
---