Rainbow Falls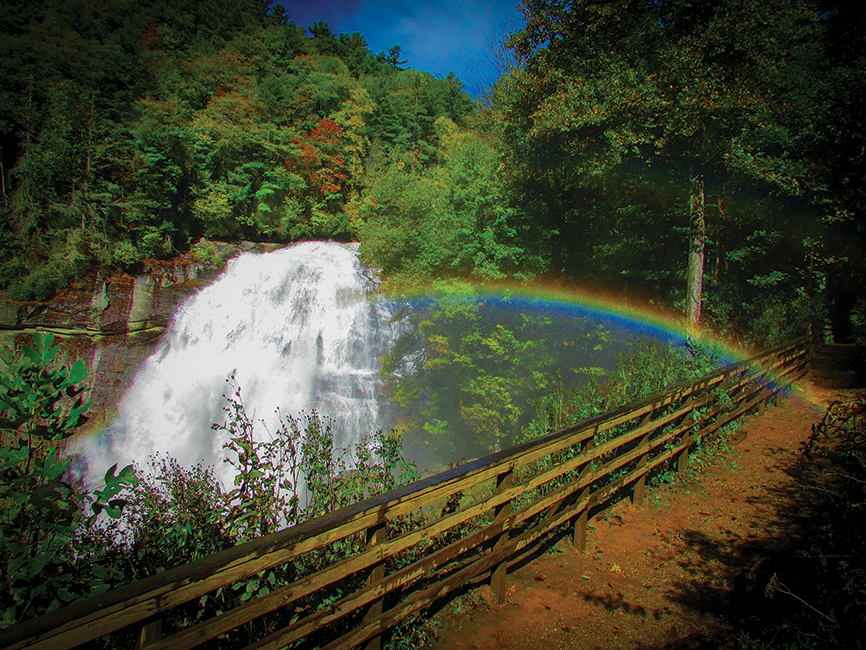 Written By: Alex Foltz | Issue: 2015/11 - November
With a plethora of trails, campsites, fishing spots, and picnic areas, the Gorges State Park serves as an excellent resource for anyone in the area that desires a woodland sabbatical.
In addition to these great opportunities, it also provides access to one of the most impressive waterfalls in the in all of Western North Carolina. As the Horsepasture River pours over this 150-foot drop, it erupts into a thunderous roar and produces a spray that forms a brilliant display of rainbows on a sunny day. The appropriately named Rainbow Falls is well worth the trip alone, but is just one of many falls that are accessible in the park.
Gorges State Park is located less than an hour away from Highlands, in the land of waterfalls, Transylvania County. With more than 200 falls and cascades, Transylvania County is a paradise for any waterfall enthusiast, with Rainbow Falls ranking among the top contenders on the list. In order to get to the park from Highlands you'll first travel to the Sapphire Valley area through Cashiers. From Sapphire, continue on 64E towards Brevard, then you will take a right onto 281S. The park is one mile from the beginning of 281 and will be on your left. Once inside the park you'll find that it is well maintained and there are plenty of signs to direct you to its many recreation areas.
The trail to Rainbow Falls is three miles round-trip and is labeled as a strenuous trail as it has many hills and stairs, but with many breaks. Travelers accepting of the challenge will conquer the hike and redeem their hard work for the incredible view this waterfall delivers. The Rainbow Falls Trail leads to a section of the Horsepasture River that is labeled as wild and scenic, largely untouched by the hands of humans aside from trails that allow access to the falls. This makes for a relatively natural river environment that is hard to come by as it is only one of six sections of river in North Carolina with this designation. On the main trail the first falls you come to is Rainbow, and in order to experience the full magnificence of this falls, it is best viewed on a sunny day after a heavy rain. If you chose to continue further on the trail you'll find Turtle Back Falls and afterwards Drift Falls. These two falls are much smaller but still beautiful and worth the extra walk. With three miles of beautiful trail and easy access to three waterfalls, this trail and section of the Gorges State Park, is an excellent start to any day of waterfall exploration.
---
---