Pothole Falls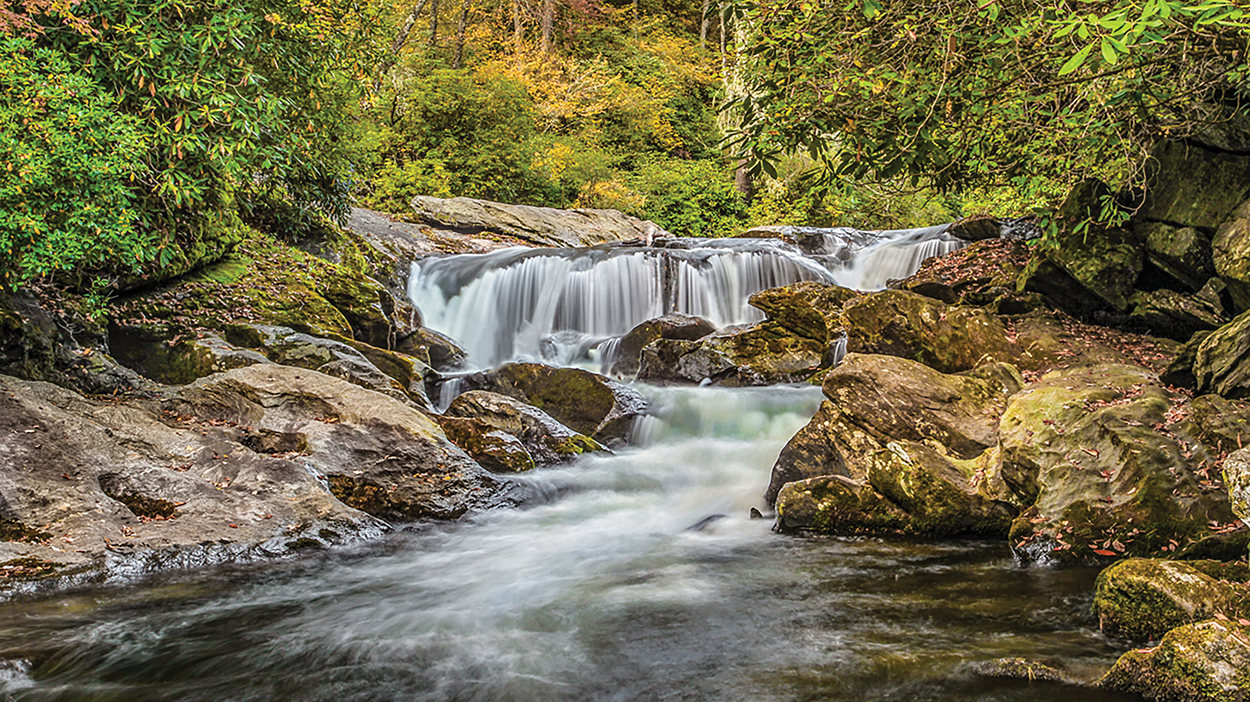 Written By: Ed and Cindy Boos | Issue: October 2023 | Photograph By: Ed Boos, Photographer
Though there's nothing imposing about little Pothole Falls, it exerts a hypnotic charm upon those who seek it.
---
Pothole Falls is a ten-foot waterfall located under Iron Bridge that spans the headwaters of the Chattooga River. There is little or no hiking involved in getting to the three viewing opportunities of the falls. 
The first view is at the top of the falls. It can be accessed from a very short trail next to the parking area west of the bridge. Follow the trail down to the viewing area. From this area, there is also a good view of the bridge.
The second viewing area is from the upstream side of the bridge. From there, the waterfall, with its many potholes, can be viewed.
The third viewing location is just beyond the base of the waterfall from a large boulder in the river. 
Since this short trail is more difficult and requires some scrambling, it would be wise to view the difficult area from the top of the bridge. It can be seen from the downstream side of the bridge. Look for the large boulder and smaller boulders that must be crossed to get there. Only then, should you consider the descent. There are two trails to reach the bottom. They are immediately next to each other just beyond the bridge.
Do not attempt the first one. The second trail consists of steps formed by large rocks. From there you can get to the bottom. The photo shown was taken from the large boulder in the river.
Directions: From downtown Highlands drive east on Main Street. The name of the street will quickly change to Horse Cove Road. Drive 4.5 miles from Downtown to Bull Pen Road on the left. There will be a sign at the intersection pointing toward the Chattooga River. Take Bullpen Road 3 miles to Iron Bridge. There is a small parking area immediately before the bridge on the left. If there is no space available, turn back to a wide spot in the road a short way from the bridge for additional parking. Bull Pen Road is rough but passable for the first two miles. The last mile is paved.
---
---