Plateau's Wildflower Explosion: Highlands Biological Station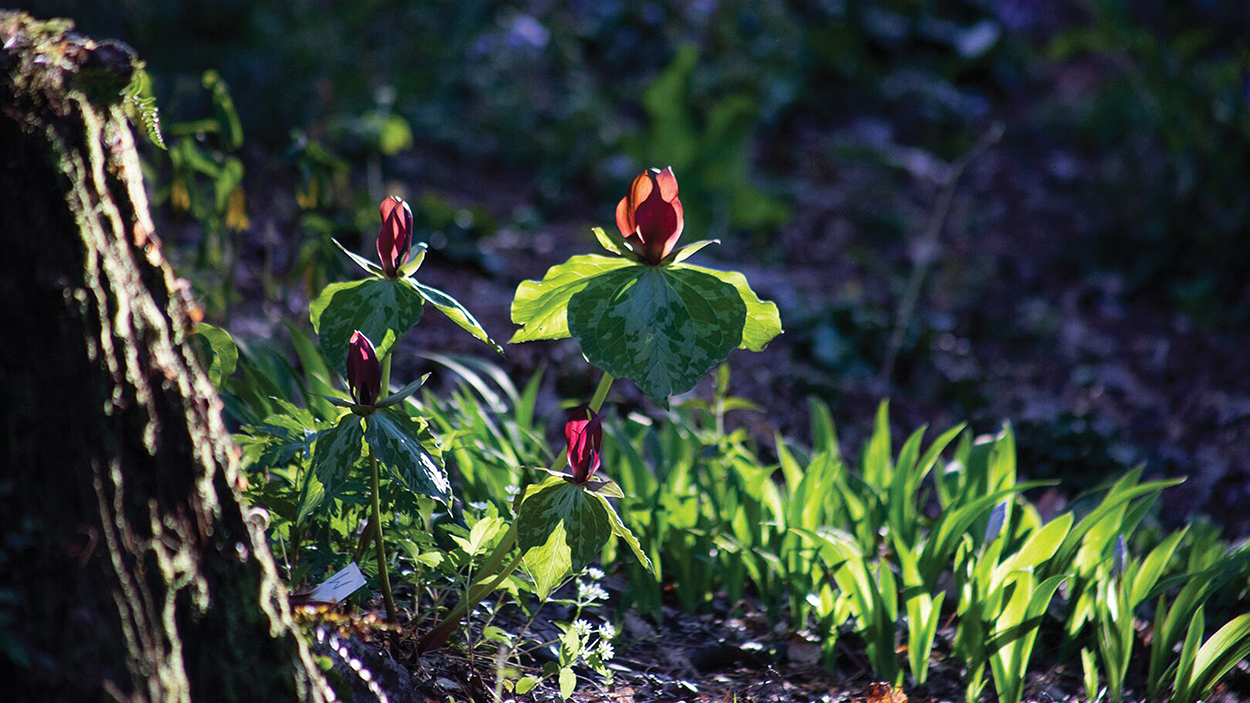 Written By: Winter Gary | Issue: April - 2022 | Photograph By: Dylan Lytle
Forget what you learned in grade school – wildflowers aren't waiting for May to make their Plateau debut. To learn more, visit highlandsbiological.org and participate in the workshops laced throughout the month.
---
Spring has officially arrived on the Plateau! If you're anything like me, you may have the familiar grade school saying "April showers bring May flowers" circulating in your mind as the days grow longer and warmer, and we're reminded just how much rain comes with living in a temperate rainforest.
I'm certainly not denying that the saying holds true, however, it would be a mistake to wait until May to explore our beloved Plateau for wildflowers.
In fact, I've been witnessing signs of spring since late February, when yellow daffodils began sprouting along our winding mountain roads. 
One of the Plateau's most beloved wildflowers, Oconee Bells (Shortia galacifolia), began to bloom recently as March came and went. These daring early-bloomers were just a sneak peak of the flourishing plant life found in our incredibly biodiverse region, and the perfect way for folks to see many of the flowers set to sprout this month is by visiting the Highlands Botanical Garden.
As we move into April, the Botanical Garden will welcome blooms of various trillium species such as Little Sweet Betsy (Trillium cuneatum – pictured) along with Trout Lilies (Erythronium americanum), Pinkshell Azalea (Rhododendron vaseyi), Pinkroot (Spigelia marilandica), Bloodroot (Sanguinaria canadensis), Foamflower (Tiarella cordifolia), and more. Visitors are welcome to stroll through the garden year-round, free of charge, to explore our native blossoms. 
For those seeking to learn about these beauties during their visit, the Highlands Nature Center has several free, educational wildflower programs coming up this month!
Join the Highlands Biological Station's Horticulturist each Thursday in April from noon to 1:00 P.M. as they guide visitors through the Highlands Botanical Garden on spring wildflower walks.  
The Highlands Nature Center will take a deeper dive into our native flowers during their April Nature 101 program "Beautiful Blooms" on Tuesday, April 19, from 1:00 to 2:00 P.M. For those seeking a family-friendly adventure, the Nature Center will be hosting a Flower Fest in the Valentine Meadow (888 Horse Cove Rd) featuring flower-themed games, crafts, snacks, and more on Saturday, April 23, from 1:00 to 4:00 P.M.
The Highlands Nature Center and the Highlands Botanical Garden are part of the Highlands Biological Station is a multi-campus center of Western Carolina University.
---
---