Parkway's String of Pearls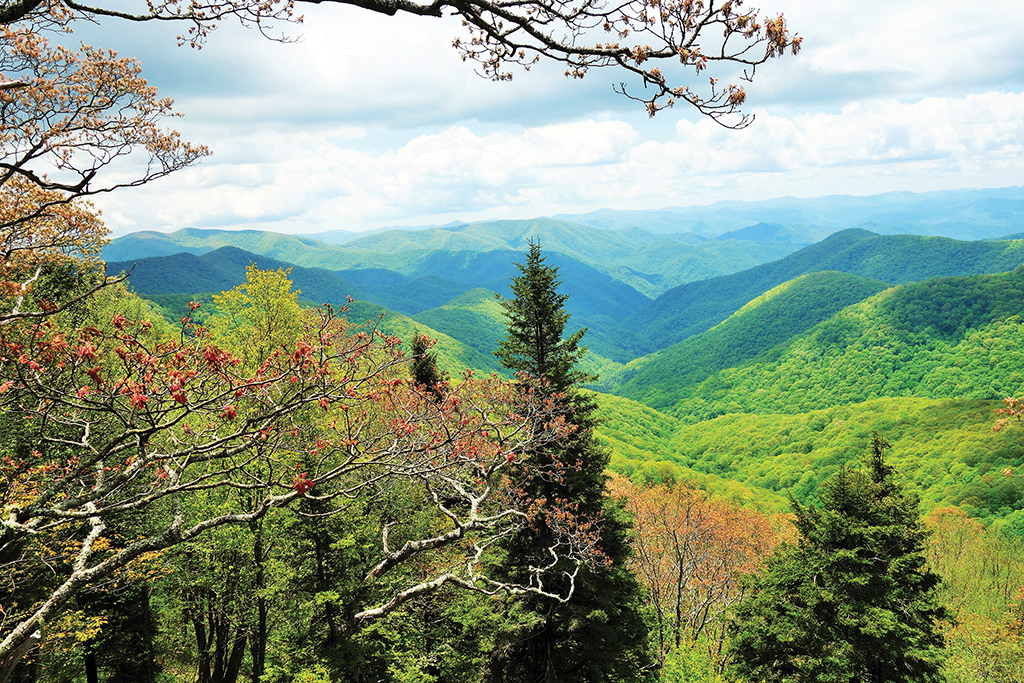 Written By: William McReynolds - Highlands Plateau Audubon Society | Issue: 2020/08 – August | Photograph By: William McReynolds
A few miles north of the Highland-Cashiers Plateau — out State Road 23/74 north of Sylva — is America's most visited national park. Begun in the 1930s and not completed until 1987, the Blue Ridge Parkway runs between the Great Smokey Mountains in North Carolina and the Shenandoah National Park in Virginia. Architect Stanley Abbott designed the BRP to be a simple, safe linear sculpture "in harmony with the natural environment," and presenting a "whole scenic picture."
Part of FDR's New Deal, the massive project provided jobs and income for unemployed workers during the Great Depression. The road bed was graded by local contractors. The Civilian Conservation Corps or CCC constructed visitor centers, viewing sheds, and landscaping. The WPA, Works Progress Administration, was involved.
Graceful arch bridges and 26 tunnels, all with natural stone facades, were built. The stunning S-curved Linn Cove Viaduct took shape last at 4,400 feet of elevation and subsequently won 11 design awards. This beauty of place after place has been likened to a string of pearls.
An easy daytrip along the BRP begins at Balsam Gap near mile marker 444 heading east. About 13 miles down the Parkway at Richland Balsam (431) is the highest point on the BRP at 6,047 feet. Stop here and at other of the many overlooks to photograph the stunning vista, spot singing birds or just bask in the glory thereof. At 422.4 is the Devil's Courthouse, a rugged mountaintop with arresting views of the Pisgah National Forest. At mile marker 413 is route 276 which will take you past the Forest Discovery Center and on to SR 64 to return to Cashiers via Brevard. Continue north instead and you will see Mount Pisgah (408.6) at 5721 feet and the North Carolina Arboretum on Hwy. 191 before soaring past Asheville.
Maps are available from the National Park Service. Important planning information about closures and advisories is available at 828-298-0398. The Blue Ridge Parkway and National Park Service websites offer a wealth of information and guidance. Traffic is lightest on week days in the early mornings.
Pack a picnic. Where else can you achieve social distance in your own car and be immersed in natural beauty that gives wings to your soul? Take flight.
---
---