Northern Parula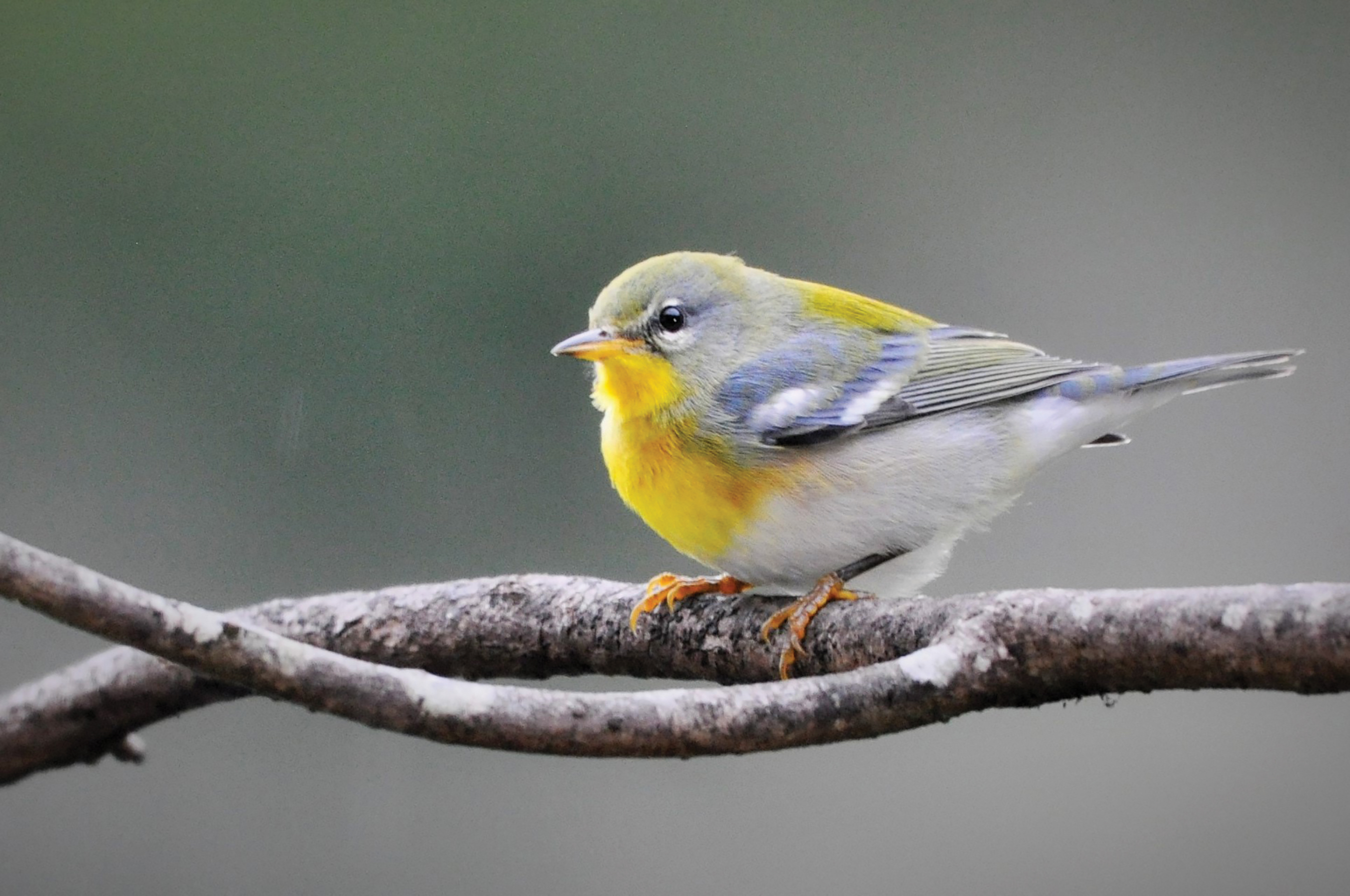 Written By: William McReynolds - Highlands Plateau Audubon Society | Issue: 2021/09 – September | Photograph By: William McReynolds
This elusive, treetop gem of the forest has a sweet, distinctive song.
---
Among the smallest avian presences in our forests, the Northern Parula (Setophaga americana) weighs only 1/3 of an ounce and has a wingspan of only six inches. 
A member of the colorful warbler family, parulas are migratory: They winter in Florida, eastern Mexico and the Caribbean, and navigate by stars at night to their summer breeding grounds in the Eastern U.S. from our southern states to Canada.    
This is a North American bird, called a New World species by ornithologists, appearing very rarely and anomalously elsewhere in the world. 
The adult male Parula sports blue-gray plumage overall with a greenish yellow patch on his back and 2 white wing bars. Breeding males have a bright yellow throat and breast with a chestnut necklace. Adult females lack the breast band and bright yellows. Both males and females have white eye crescents. Unusual in the avian world, the lower mandible is yellow.
Their habitat includes deciduous and coniferous forests where hanging moss or lace lichen is abundant. Nests are built in hanging clumps of moss or lichen, usually high in the canopy or subcanopy at the ends of branches, and often near water. A small, hanging cup is built mostly by the female in four days. As many as seven speckled eggs are incubated 12-14 days. Fed by both parents, hatchlings fledge in 10-11 days. The monogamous couple might raise two broods in a season and return to seasonal nesting sites year after year. 
Parulas feed mostly on insects – flies, caterpillars, wasps, ants, bees, and other insects – as well as spiders and insect eggs. They also eat small berries. Not being seed eaters, these little gems rarely land on backyard bird feeders.
The Parula song is distinctive and highly recognizable. A rapid string of high pitched, rising buzzes usually ends with a singular, lower pitched "cheep." This sequence is repeated in rapid successions from perching branches high in treetops: buzz, buzz, buzzzzz…cheep. 
Happy September birding from the Highlands Plateau Audubon Society. A good pair of binoculars will help you spot these precious birds. Listen for their buzzing song and aim your binoculars in their direction. 
The Highlands Plateau Audubon Society, focused on enjoying and preserving birds and their habitats, is a Chapter of the National Audubon Society and a 501(c) (3) organization. For information on all our activities and membership, please visit www.highlandsaudubonsociety.org.
---
---