Nature Dances Into Spring, Picklesimer Rock House Falls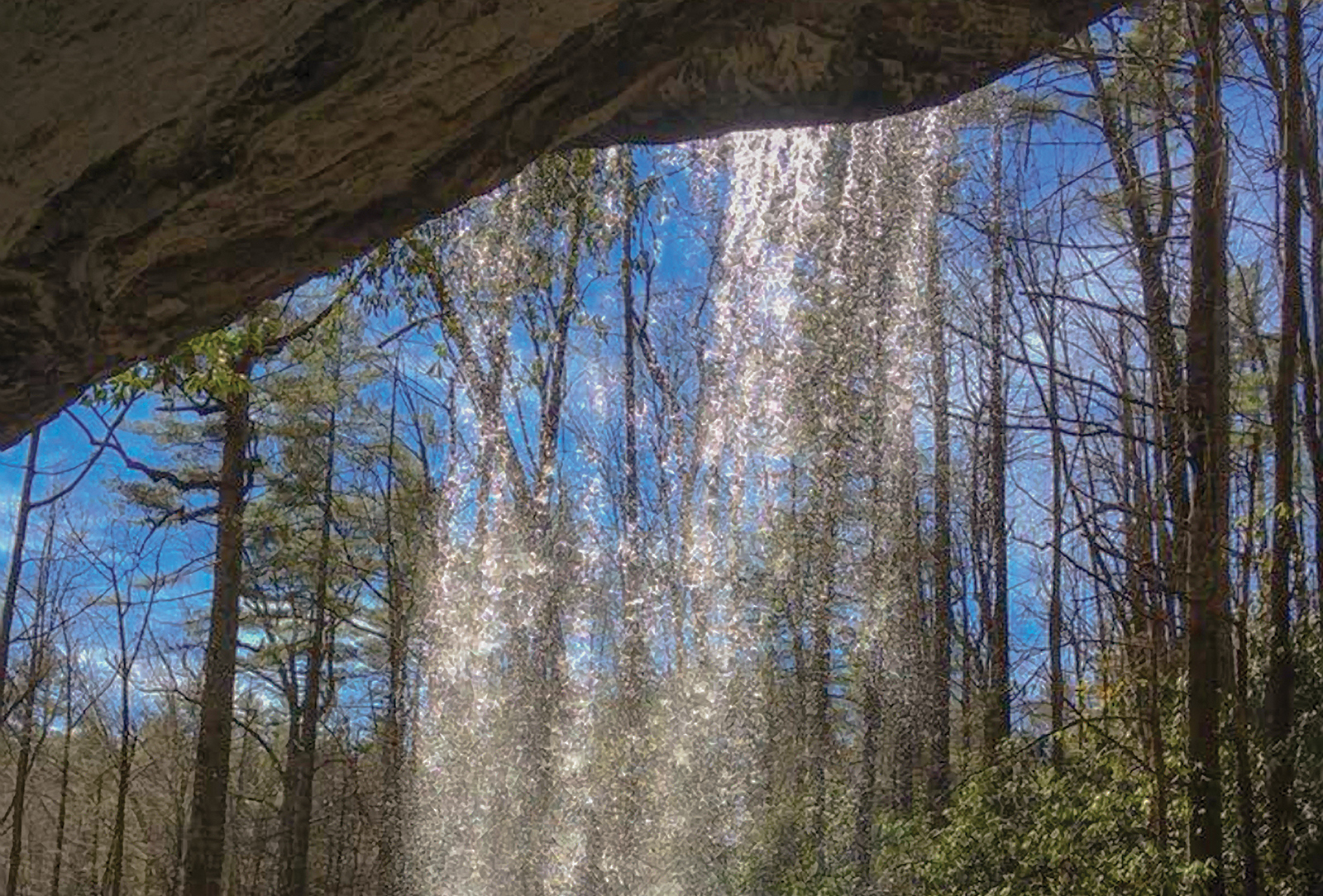 Written By: Emily Crowell | Issue: 2018/04 - April
Toward the end of winter, I always feel like I'm holding my breath, waiting to see if spring is going to come back again. Every year, if I pay attention, I'm given reassurance from the land that yes, spring is still a recurring event, and I need to do nothing but wait and hope to speed along its arrival.
On a blessedly warm and sunny late winter day my sweetheart and I paid a visit to Picklesimer Rock House Falls in Blue Valley. We were going to visit one of the more popular hiking spots around Highlands but recoiled from the crowded parking lot and high-tailed it down the mountain instead, where we saw not another human.
Starting down the wide, level path his attention was directed down at the variety of rocks paving the way while I was looking up at the elegant coniferous forest reaching out to a sparkling blue sky − had there been any clouds my head would have been in them. It was still too early in the season, but in my mind's eye I could see the early spring wildflowers that will soon start popping up as harbingers of warmer seasons to come. Life was abundant anyway, though, on rotting logs that are host to mosses and fungi, and in the muddy puddles incubating eggs of frogs-to-be.
Just beyond a small field the trail narrows to single track before crossing a small stream and ending at the falls. Picklesimer Rock House Falls is a veil of water flowing over a ledge and unceremoniously plopping back into the streambed below, with a large "house" behind it − not really a cave, but it would make a decent shelter in a sudden rainstorm. The flow of the falls can be merely a trickle when it hasn't rained much, but on a spring day it should be a cool and steady curtain. On this day we ate lunch on the steep bank on the other side of the falls, almost losing an orange to gravity, before exploring the rock house itself.
The waterfall is not a big one, but behind it the roar of water engulfs and embraces you. In the bright mid-afternoon sun, the reflection of the dancing, tumbling drops against the swirling rock walls makes you feel like you're moving and dancing along with the earth, as the earth is dancing her way into spring. Occasional individual water drops sink into the dirt below the ledge, sending up an exhalation of steam in the life-giving sunshine.
To find Picklesimer Rock House Falls from downtown Highlands, travel six miles on Highway 28 South and take a right onto Blue Valley Road. Continue straight for 3.6 miles until the road dead-ends at an information sign. Take a left, and the unmarked trail, which looks like a gnarly old road, is 0.7 miles on the right.
---
---