Naturalist & Mycophile Alerts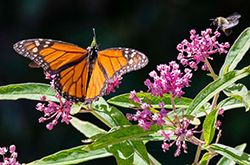 Written By: Charlotte Muir - Highlands Biological Station | Issue: 2020/04 - April
At the end of March, there's been no change in this schedule. We'll let you know if events force a re-scheduling.
This summer, the Highlands Biological Station will offer a variety of workshops sure to interest Highlands residents and visitors These fun and educational courses are geared toward the community with options for all.
One workshop we are especially excited about is Mountains Piled Upon Mountains: William Bartram and Naturalists of the Southern Appalachians with Brent Martin from July 28-30. William Bartram provided Western North Carolina with one of our most important literary and artistic renderings of this landscape with his 1791 publication, Travels through North and South Carolina, Georgia, East and West Florida, the Cherokee Country, the Extensive Territories of the Muscogulges or Creek Confederacy, and the Country of the Chactaws. Participants will explore the Western North Carolina landscape and writings of Bartram through daily field trips, readings, and meetings with authors. At the end of the three days, students will have experienced the landscape of Travels firsthand and will have gained insight into the 18th century literary and intellectual world of Bartram, along with the cultural and natural history of western North Carolina at that time.
Another engaging workshop for our community is Mushrooms of the Carolinas led by Alan & Arleen Bessette along with Mike Hopping. This workshop, from September 14-19, is designed for the beginner who wants a solid introduction to mycology and fleshy mushrooms of the Southern Appalachian Mountains, as well as for those participants looking for the opportunity to pursue their personal mycological interests. This seminar allows for individual guidance in a relaxed group setting with fellow mycophiles.
For more information regarding our full summer workshop schedule, visit highlandsbiological.org or give us a call at (828) 526-2221.
by Charlotte Muir,
Highlands Biological Station
---
---