Narcissist, and Proud of It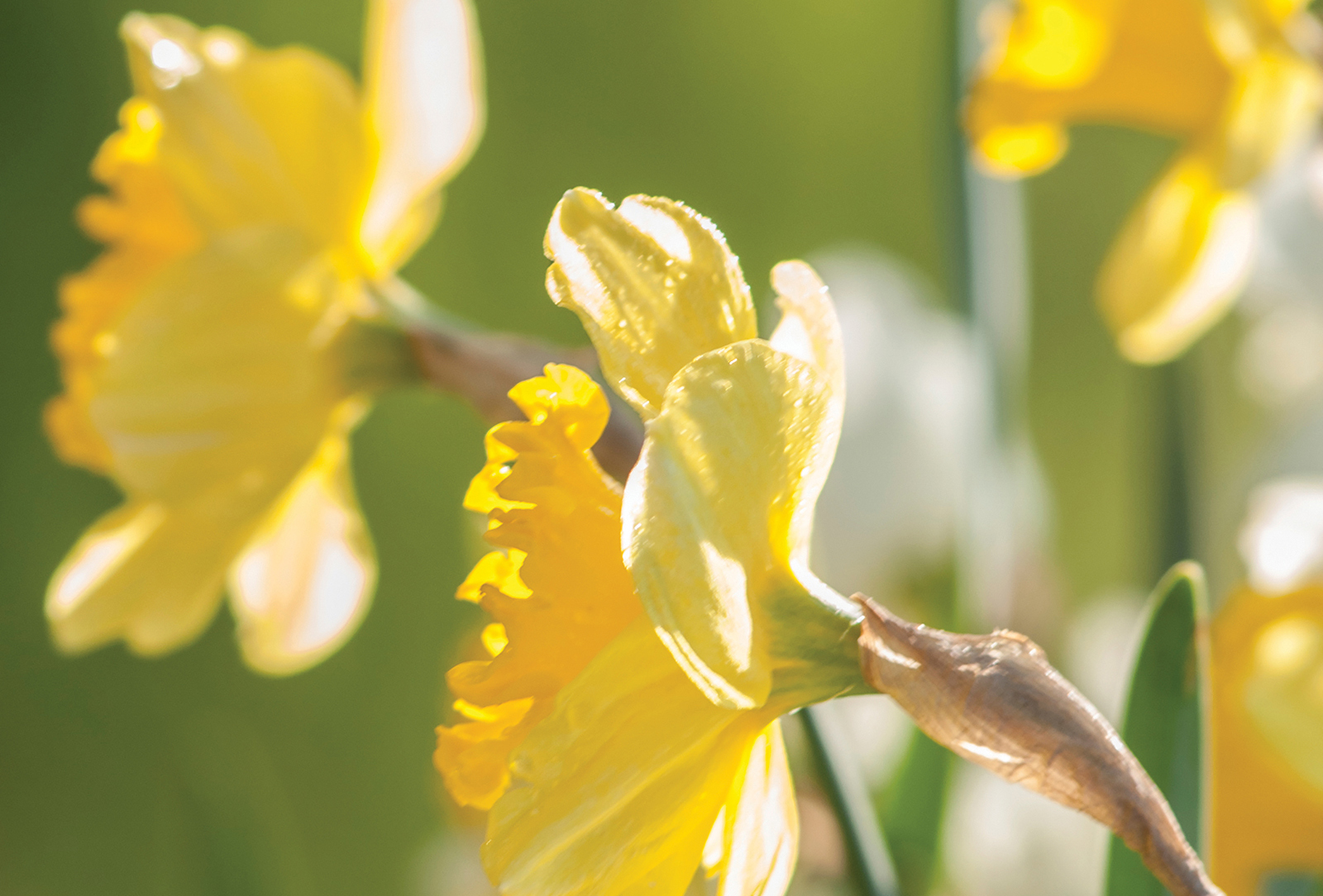 Written By: Jeannie Chambers - The Accidental Gardener | Issue: 2016/04 - April
Narcissus – what a name. These flowers have every right to be a little narcissist – after all, they've got the guts to stick their neck out on a cold Spring day while other flowers are still getting their beauty sleep.
In Greek mythology, Narcissus fell in love with his own reflection in a pool of water, and couldn't tear himself away, and there he wasted away and turned into a flower. (I could think of worse things to turn into.) This is a pretty important plant, and they have their society – The American
Daffodil Society.
There are about 50 different species of Narcissus, and over 25,000 hybrids. They grow here as well as Africa and Japan. (I guess there were Narcissistic people all over the world) These flowers are commonly called Daffodils, or Jonquils, and are all a part of the Amaryllis family. The leaves are sometimes mistaken for blades of grass, and the flower almost always has a trumpet or cup surrounded by 6 petals. These are hearty plants and are willing to share, so you may see them popping up where they weren't intended.
I'm not sure how long a daffodil bulb will survive, but it is known that they can easily live longer than the person that planted them. I have some of those. About 2002-2003, my mother in South Carolina kept asking me to "dig up some of those Jonquils your Daddy planted and take them home with you."
I put it off for a few years, but finally one Spring I did, and each Spring I'm always surprised to see one, then two then several of the sweet little yellow reminders of my parents in my own yard.
You can grow them in pots, you can force them indoors in the dead of winter, or you can "naturalize" them, by letting them grow and multiply. They love woodland areas, and can tolerate our sunny days. Off the mountain, an area with partial shade would probably fare them better bloom times. Some daffodils bloom from six weeks to six months given the right growing conditions.
These bulb plants look best in multiples, and are super easy to grow. With so many varieties, it's hard to decide, but start with one or two, then add a little every year. When the Narcissus family has its family reunion in early Spring, it's always a happy occasion because it means Spring is
finally here.
---
---