Mother Earth Springs Forth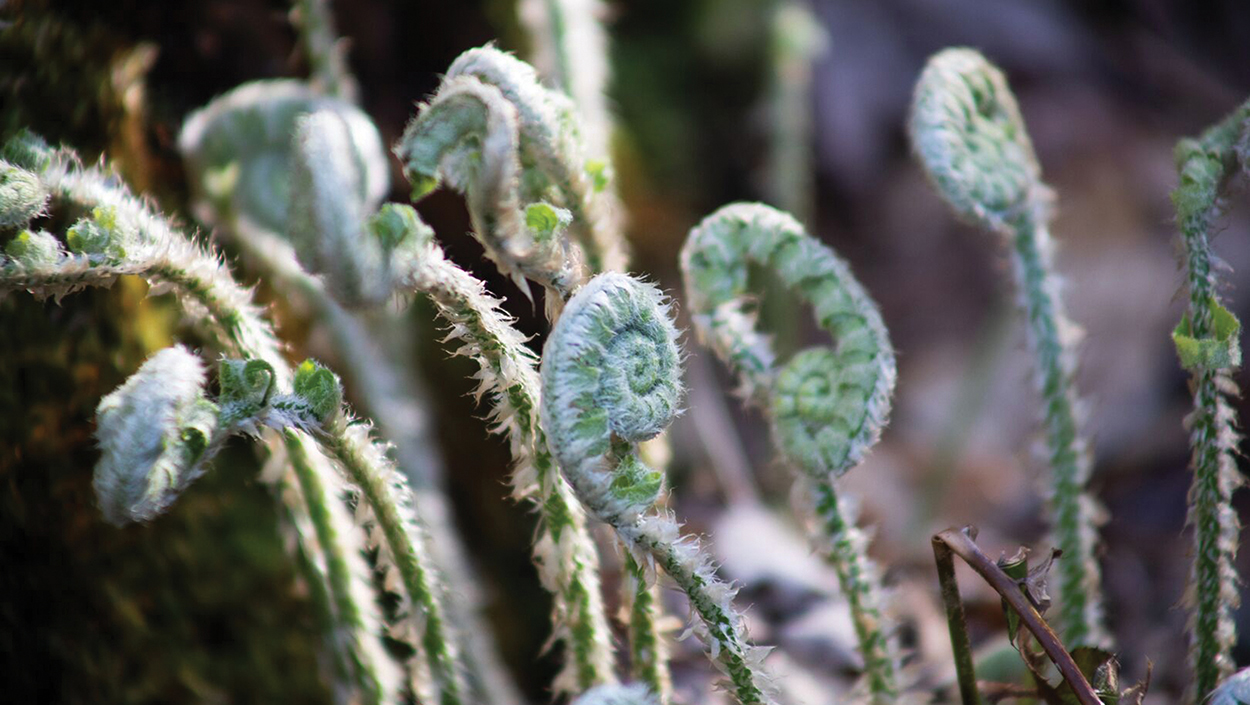 Written By: Winter Gary | Issue: April 2023
Soak up all of the season's goodness – join the experts at The Highlands Nature Center for a Wildflower Walk through Highlands Botanical Garden, or a fun Earth Day celebration.
---
April, to me, feels like a breath of fresh air. Spring is here, sunlight lingers a bit more each day, and slowly, everything is starting to awaken.
Associated with new beginnings, environmental awareness, and cultural celebrations, there is much to look forward to this month. And what better way is there to spend the early weeks of spring than strolling through the Highlands Botanical Garden? The Highlands Nature Center has a schedule of programs that may be just what you need to emerge from winter hibernation.
Beginning on Saturday, April 1, the Highlands Nature Center will be hosting biweekly Wildflower Walks. This is no April Fool's joke. These free, community programs are led by knowledgeable guides that will take you on easy strolls through the Botanical Garden to explore stunning displays of spring wildflowers and learn about their unique characteristics and habitats. You can also learn tips and tricks on how to best curate your home garden using native plants that attract and support our local wildlife, especially pollinators.
These walks will be each Wednesday and Saturday in April from 4:00 to 5:00 P.M., and all are welcome to join in!
A special highlight this month will be Earth Day. Celebrate the beauty and wonders of Earth at the Nature Center's Earth Day Extravaganza on Saturday, April 22, from Noon to 3:00 P.M. Grab your family, and get ready to explore and appreciate the natural world with a scavenger hunt that will have you searching high and low for Earth's treasures throughout the garden. A prize may be in store for participants!
Then, tap into your creative side with nature art and DIY crafts that will inspire you to use recycled materials to make beautiful, eco-friendly creations. Whether you and your family members are budding artists, intrepid explorers, or nature enthusiasts, there's something for everyone at this free, community event.
Also, just a friendly reminder that there is no need to wait for these programs to enjoy the wonders of the Botanical Garden – the garden is free and open to the public each day! Stop by on your own time to explore the diverse collection of native plants and flowers found on the Plateau, there is always something new to discover and admire.
For more information about these and other spring programs, please visit highlandsbiological.org. The Highlands Nature Center and the Highlands Botanical Garden are part of the Highlands Biological Station – a multi-campus center of Western Carolina University. These programs are made possible by the Highlands Biological Foundation.
---
---