Minnehaha and it's Splendor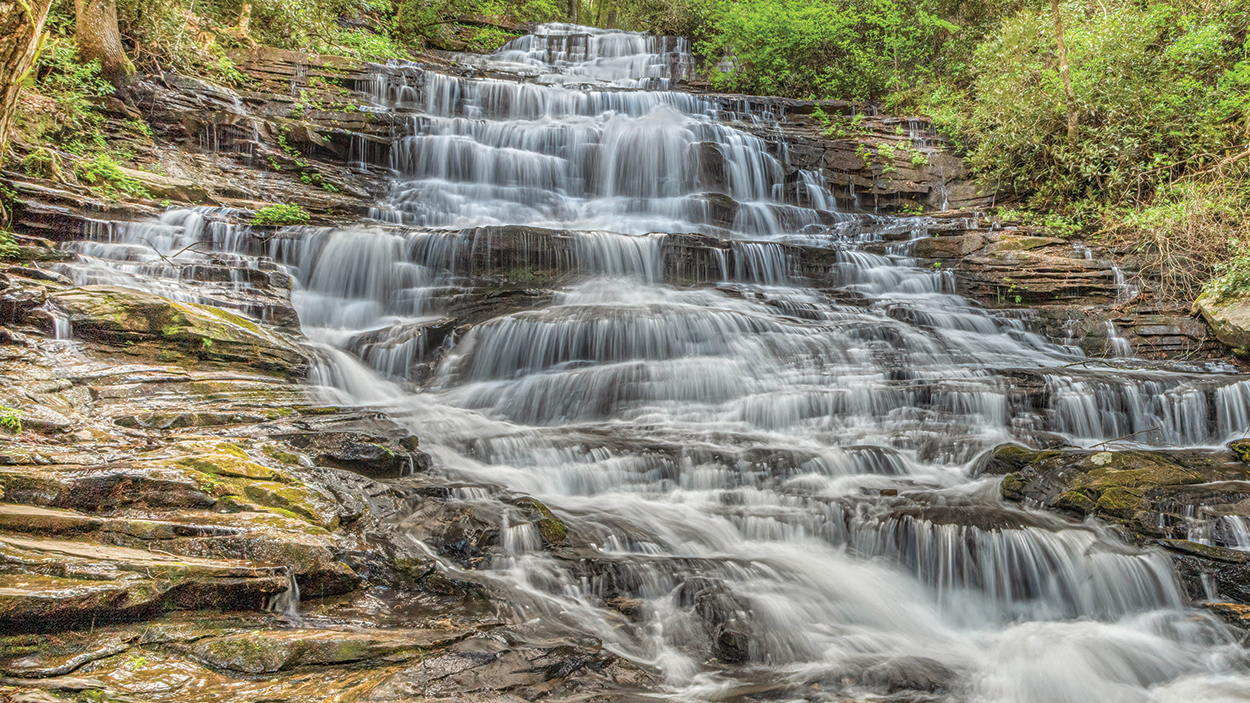 Written By: Ed and Cindy Boos | Issue: June 2023
Minnehaha Falls wows with its multitiered cascade and the most adorable name in the Southeast.
---
Minnehaha Falls is touted by many as the most beautiful waterfall in Rabun County, Georgia. The multitiered 60-foot waterfall is also one of the most accessible falls in the County. Located about 15 miles southwest of Clayton, Georgia, it is an easy 5-to-10-minute hike. Be warned that the falls can be a bit crowded on weekends. To avoid the crowds, hike to the falls on weekdays, preferably in the early morning or late in the day. The falls are at their magnificent best after a good rain, of course, but the hike is still worthwhile in drier periods. Minnehaha Falls was originally on Cherokee land.
Minnehaha is the Cherokee word for waterfall.
Directions to the Trailhead: From the intersection of US 64 and NC 106 in Highlands, near the US Post Office, drive about 14 miles to US 441/23. Turn left and drive 13.8 miles to the Wiley Connector and turn right. There is a honey store at the Wiley Connector. Drive 100 yards to Old Georgia 441 and turn left. In 1.4 miles there will be a split in the road. Keep to the right which is Lake Rabun Road. Drive it 7.7 miles to Low Gap Road on the left. Take it, cross a bridge, and drive a few hundred yards to where the road splits. Keep left to Bear Gap Road and drive 1.6 miles to a wooden staircase on the right. A parking area is located near the staircase.
Hike Description: Walk up the steps to the beginning of the relatively easy, kid and dog-friendly trail. Follow the trail, keeping the river to the right. There are some bumpy patches with rocks and roots that present no real problems. After a few minutes, you will reach Minnehaha Falls in all its splendor.
---
---