Land Trust says, Take a Hike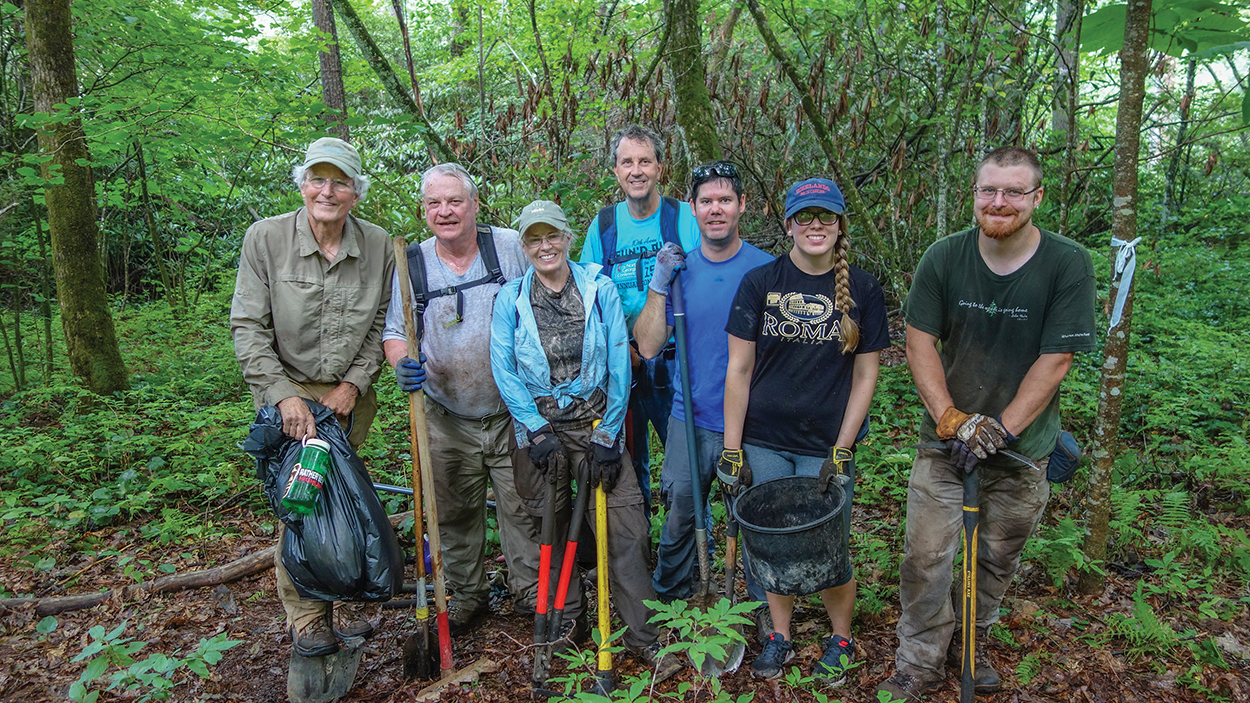 Written By: Kyle Pursel | Issue: 2021/11 – November
Always good advice, "Take a Hike" becomes a lot more enjoyable thanks to the efforts of Highlands Cashiers Land Trust.
---
Now more than ever, the outdoors and natural world have proven themselves to be a refuge from the craziness of the world around us. 
The past year and half, Highlands-Cashiers Land Trust has been working hard and partnering with volunteers to expand our network of public trails. 
Here are some updates on new trails coming to you from HCLT.
Kelsey Trail Preserve: Located at the end of North 5th Street in Highlands, the Kelsey Trail Preserve protects one of the last remnants of the Primeval Forest that stretched from Highlands to Whiteside, including part of the historic Kelsey Trail. The Highlands Plateau Greenway and HCLT have been working to add a loop trail, to be named after the late trail-building guru and conservationist Hillrie Quin, which will bring hikers down the other side of the stream, through an area undergoing forest succession after the death of some large hemlocks. This trail should be completed by the end of 2021.
Brushy Face Preserve: Located off Highway 28 on the southern end of Highlands, HCLT is nearing completion of Phase III of the trails we've been working on here. Brushy Face is a former subdivision conserved by a generous donation to HCLT in 2015. Since then, HCLT has been building a public trail system that wanders through old growth forests with some of the largest and oldest white pines around. The new trail, to be called the West Fork Loop, will bring people along the west fork tributary to Clear Creek and down a ridge, adding over half a mile of trail to the existing system, putting the total trails here to about two miles. Expect this trail to be open late in the Fall of 2021. 
Edward Baker Preserve: This new preserve, located off Laurel Knob Road between Cashiers and Glenville, is 63 acres of forest and wetlands. More importantly, it is flat. HCLT is currently working on a plan to provide a new trail system here. We are still in the planning stages, so stay tuned to learn more about this new gem. 
Little Bearpen Preserve: This 28-acre preserve runs along Highway 64 north of Highlands and includes some pockets of old growth forest.  HCLT is again partnering with the Highlands Plateau Greenway to design a trail system here that we hope to connect into the trail on our Kelsey Trail Preserve, providing a larger loop. 
To learn more, visit hicashlt.org.
---
---