Kudos for Kerria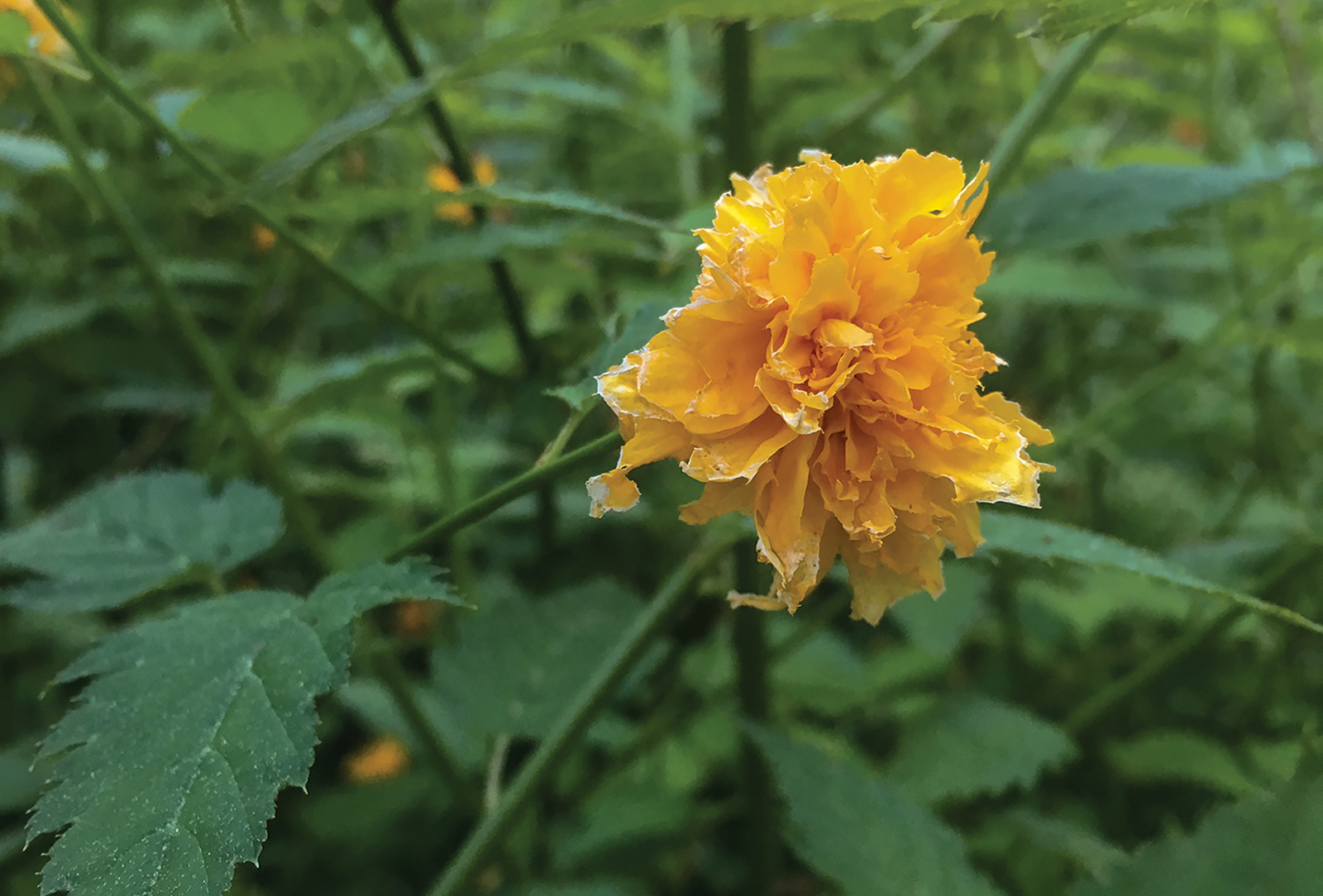 Written By: Jeannie Chambers - The Accidental Gardener | Issue: 2019/07 - July
According to the 70's rock band Three Dog Night, "one is the loneliest number," and Kerria japonica could very easily have that song as its anthem.
It's the sole species of the genus Kerria, with its roots in the huge family tree of Roseaceae.
So why is it the sole species? Is she the black ewe of the rose family?
I was first introduced to this deciduous shrub as Kerria rose japonica, and I gladly took the offered clump of tall, thin sticks to try them out at my house, and they've never failed to spread their golden rays of sunshine from spring through summer.
A rose by any other does not smell as sweet, sorry William. These little golden button flowers don't offer an aroma, and I think they resemble a carnation more than a rose, but that doesn't stop them from joining the superstar cast of other things blooming. A supporting cast can be as important as the star of the show, and the Kerria is a beautiful supporting cast member to a landscape.
Named after William Kerr, a Scottish gardener and plant collector, he found the Kerria in China and it was given the cultivar name Pleniflora. Not sure if that's because each stem has plenty of little flowers or because the number of stems are more plentiful each year. Kerr is also responsible for introducing the Western World to euonumous, nandina, and the tiger lily. Kerria japonica may be lonely in its species, but the Royal Horticulture Society gave it the Award of Garden Merit, not to be confused with the Society's Award Merit, which is given for "Best of Show" type plants. No, Kerria got an award for "Being There." She stood the trial of performing well in garden conditions in the UK, but it's nice to have an award.
This shrub grows three to 10 feet tall, and has small saw-tooth leaves all along each stem, interspersed with deep yellow flowers that are only about one-half inch in diameter. What makes them noticeable is the number of blooms per stem and the way she shows them off. Since she doesn't produce a show-stopping flower, she makes up for it by the stems bursting upward like a fireworks display and falling gracefully, bending the twigs with petite golden sparkles along the way. Bravo Kerria japonica rose, Bravo.
---
---