Institute for the Environment, Highlands Biological Station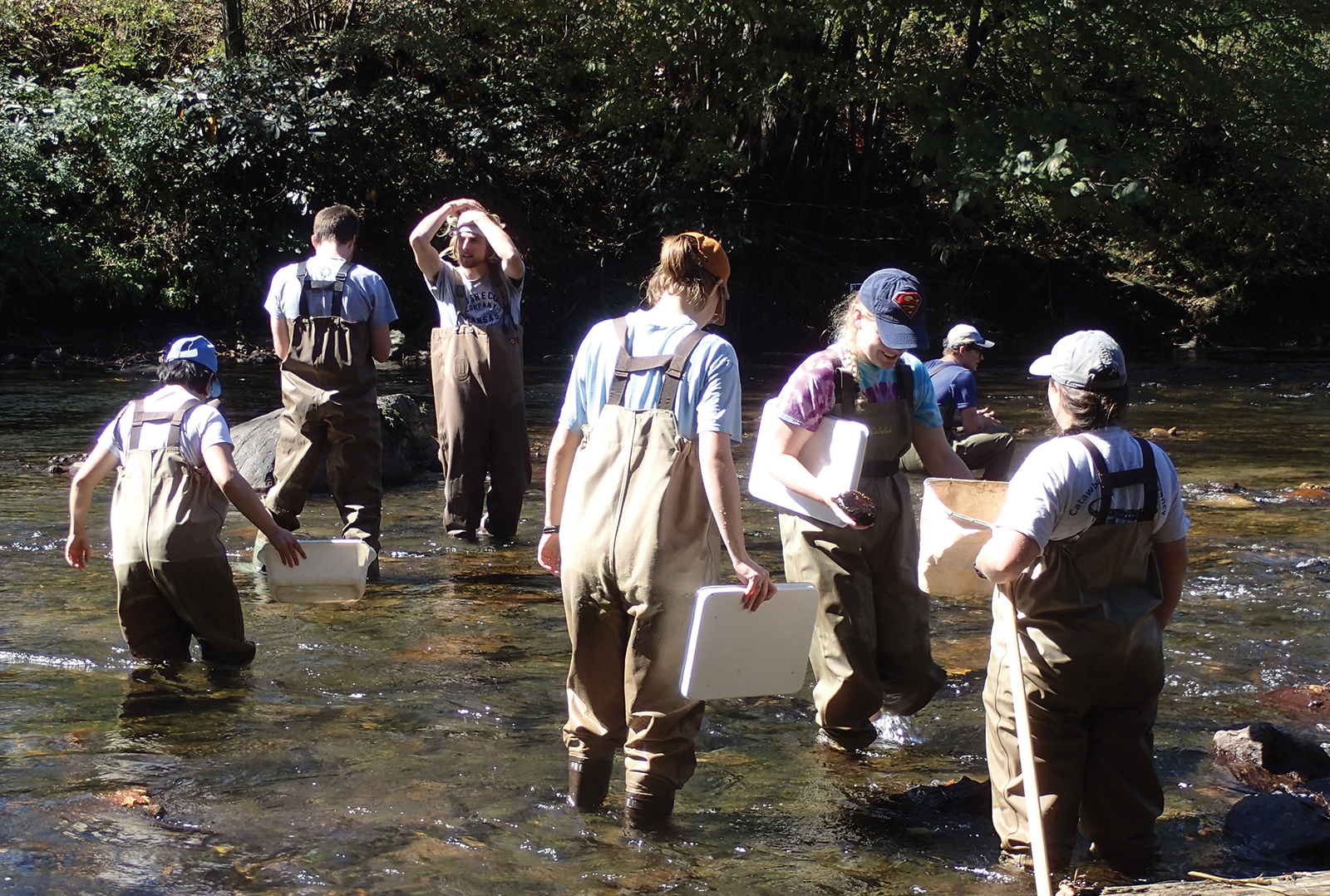 Written By: Charlotte Muir - Highlands Biological Station | Issue: 2017/12 - December
The Highlands Biological Station is currently hosting 12 students enrolled in the UNC-Chapel Hill Institute for the Environment.
With the guidance of Dr. Sarah Workman, HBS Associate Director, who serves as the Field Coordinator for the Highlands Field Site, and HBS Executive Director Dr. Jim Costa, IE students benefit from a full semester of academic and fieldwork focused on conservation science based in Highlands.
Students in the IE semester in Highlands live and study at the Biological Station from late August through mid-December. The emphasis is on fieldwork and experiential learning, from the Spruce-Fir forest of the highest peaks to the river basins of the western region of North Carolina. This year, focus is on the "Health of the Headwaters" initiative, in which students examine issues through their coursework in relation to Blue Ridge Escarpment headwater streams and groundwater dynamics.
Students in the IE program are also required to complete an internship with a local organization or an independent study with a faculty member. This mentored Research Internship provides students with a real world look at how what they are learning applies to projects undertaken by our partner organizations, such as at the Kanuga Conferences Inc. in their bog restoration and engagement in the Bog Learning Network, or with the Green Energy Park in Dillsboro on anaerobic digester technology. Other students this year are tracking rattlesnakes with the Orianne Society, investigating old growth forest habitats with the Chattooga Conservancy, looking at the effects of last year's forest fires with colleagues at Western Carolina University, and conducting a herpetological survey on the Big Ridge Preserve with the North American Land Trust.
The Highlands Biological Station, a facility for biological field research and education, serves as a research facility for top biologists and ecologists from around the nation and the world.
The UNC Chapel Hill Institute for the Environment (IE), in partnership with the Curriculum for the Environment and Ecology, established this network of field sites, like HBS, with locations in North Carolina and abroad. The Institute at UNC is praised for its network of field sites, where students can venture for a semester to undertake coursework, take field trips, hold internships, and perform group research projects.
---
---