In Pursuit of the Smallmouth Bass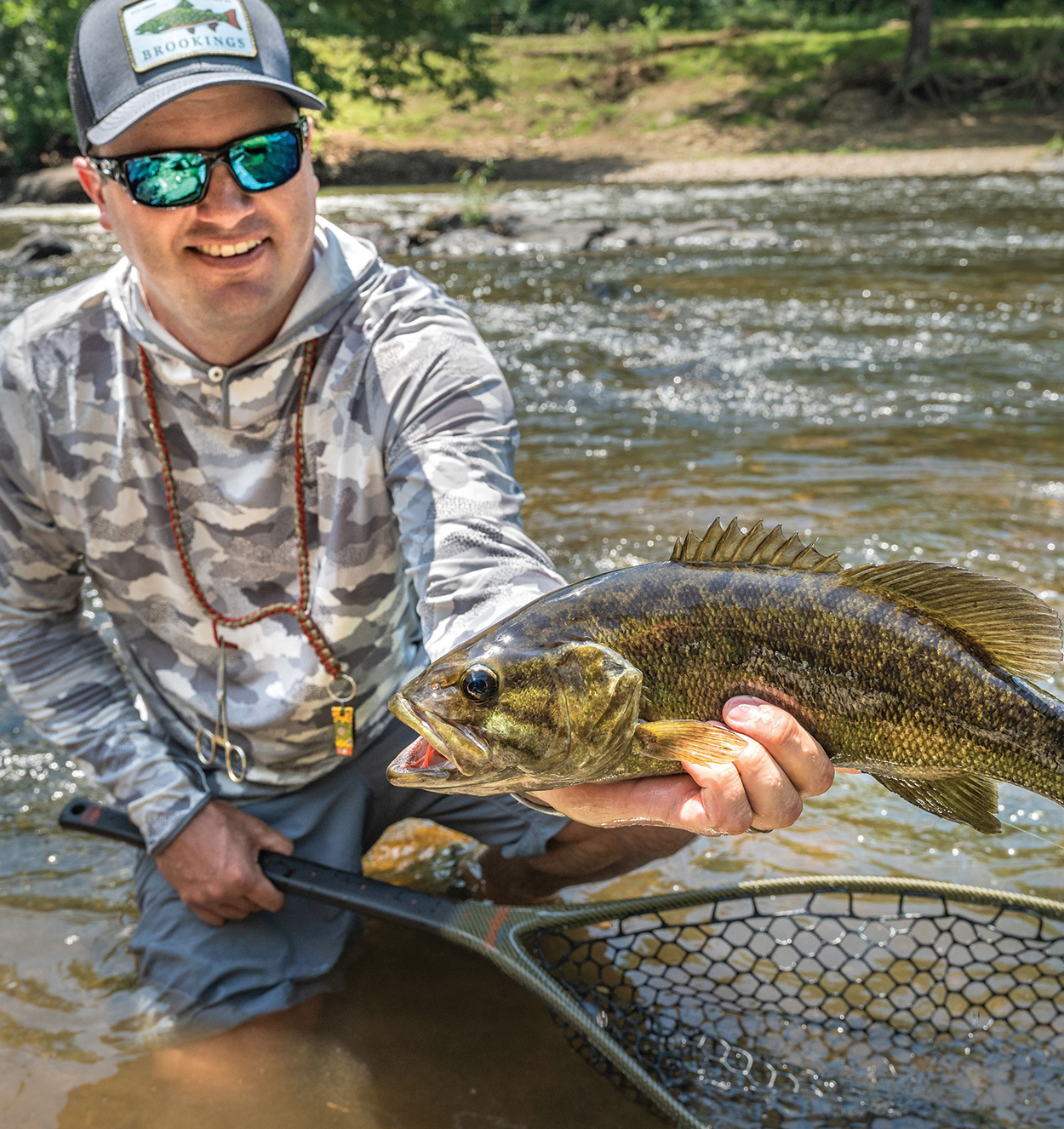 Written By: Matt Canter-Brookings Fly Shop | Issue: June 2023
There's nothing shy about them – Smallmouth Bass are looking for a fight. Matt hears their challenge.
---
As summer sets in, I anxiously await the first day that I can grab my 6wt fly rod, and a handful of popping bugs in pursuit of one of my favorite fish that swims in North Carolina – the Smallmouth Bass. Smallies, Smalljaws, Bronzebacks, whatever you want to call them, they make for one heck of a good time!
In particular, I'm referencing Smallmouth Bass that live in our local rivers and even streams (Tuckaseegee, Horsepasture, Little Tennessee, French Broad, Toxaway, Cullasaja, etc.). For me, moving water is far more interesting than still water, and pursuing gamefish that live in rivers and streams adds an extra element to the whole equation.
It's all about the current, and how the fish you are in pursuit of use those currents to live and feed.
For instance, Trout and Smallmouth Bass use current very differently.
Trout feed primarily on aquatic insects, and they use the current to bring those insects to them, and they simply stay in, or close to the current to feed on the buffet line of offerings. Smallmouth Bass are primarily ambush predators feeding mostly on baitfish and crawfish. They use current breaks such as a big rock in the river to hide behind and surprise their prey. Once you understand what to look for, the next step is making your fly or bait look like something they would want to eat.
Smallmouth Bass are as strong a fish as they come, but the ones that live in the river are even stronger because they are constantly fighting the current. The saying goes that, "if they were tied together, a three-pound River Smallie would drag a 10-pound Largemouth Bass around all day long!"
They love to jump once they are hooked as well, adding to the drama of the fight!
Both fly rod and light spinning tackle are great tools of choice when pursuing River Smallmouth. Water conditions and weather play a vital role in maximizing your experience. Here in the mountains of North Carolina, the best time to go Smallie fishing is when it's hot, and the water is low and clear. So basically, it's exactly when the local Trout fishing is at its toughest (which kind of works out perfectly).
When looking for a good place to park the car and get out and wade, you want to look for lots of current breaks and rocky shoals. Typically, those types of areas in the river will hold the highest concentrations of fish. To learn more about these overlooked fish, stop into your local fly shop!
---
---