High Falls Trail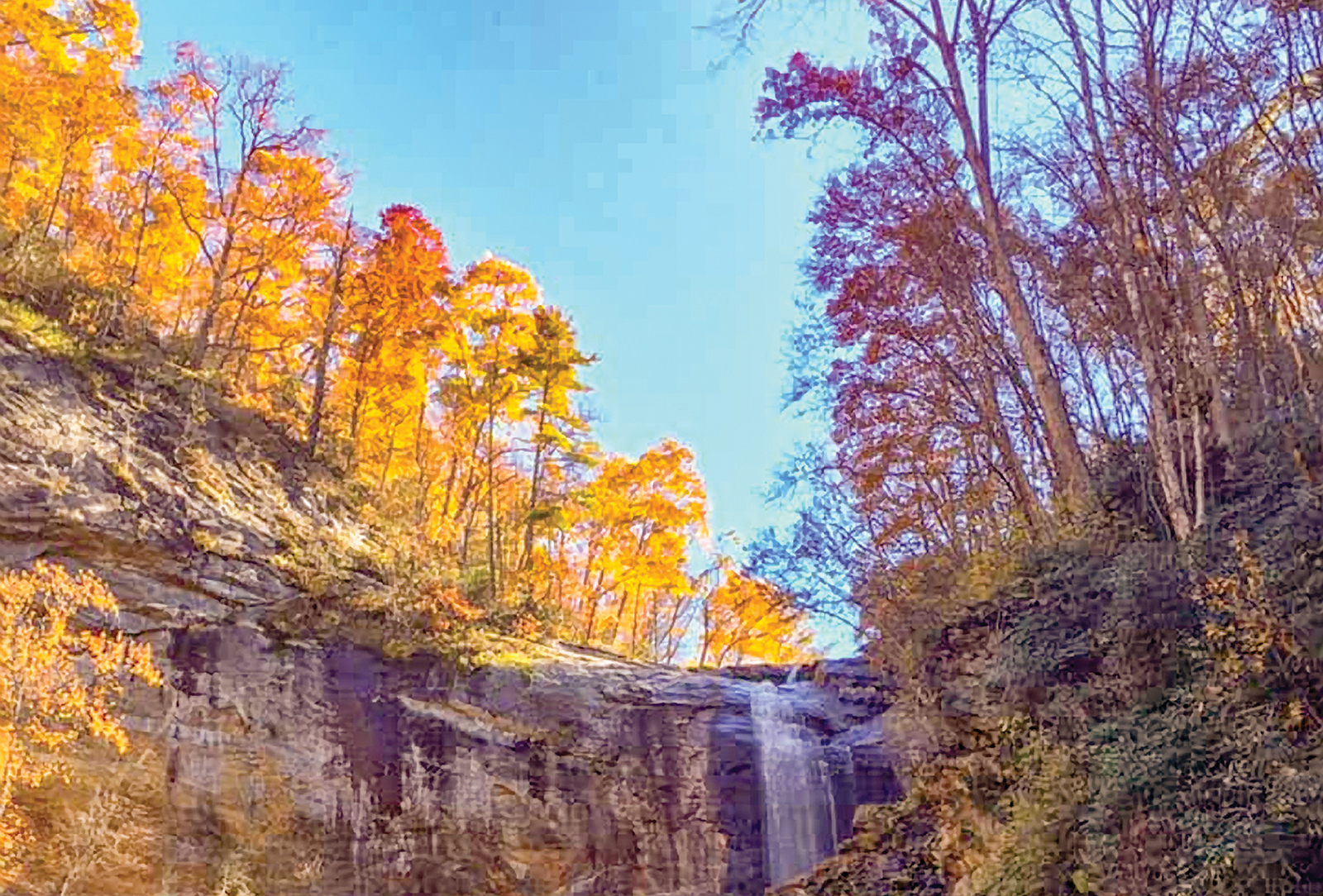 Written By: Emily Crowell | Issue: 2019/01 - Winter
Here we are, visiting a waterfall in the middle of winter again.
High Falls on the West Fork of the Tuckaseegee River is a place I've heard about for years but only visited for the first time recently. I fell in love and have already returned to it.
It was a bright, chilly afternoon at the trailhead, but as we descended, the light thinned out and the air grew colder. The sun strains to peek over the mountains this time of year. I felt like I was entering a liminal space that was both familiar and completely unknown. How often have I admired the wildness of the Tuck in fleeting glances from behind the wheel of my car on Highway 107? I've never seen it from this angle though, nor have I really stopped to listen to it. A change of perspective can open up entire new worlds.
The Irish writer John O'Donohue says of winter, "[It] is the oldest season; it has some quality of the absolute." That rings especially true to me hiking in the mountains. The long shadows, the quietude, the exposure of the mountains without their blanket of greenery – all make me feel part of something much bigger and older than myself that will continue to go on long after I'm gone.
Several people and a few pups were at the falls when we reached them. Downstream of the falls is a large expanse of rocks and boulders, and we were all scattered over them, turned to face the waterfall, watching as though we were at the movies. Of course, it was better than the movies – something about moving water allows me to sit still without the restlessness that sneaks up on me indoors. It felt a little holy to be among kindred souls I didn't know, all of us paying attention and wonder to the same thing at the
same time.
To reach the trail head to High Falls (sometimes called Cullowhee Falls), take Highway 107 North 6.4 miles from the Cashiers Crossroads. Turn left onto Pine Creek Road, and the parking area is two miles on the right, just past the dam.
---
---