Heaven's Backyard on the Bartram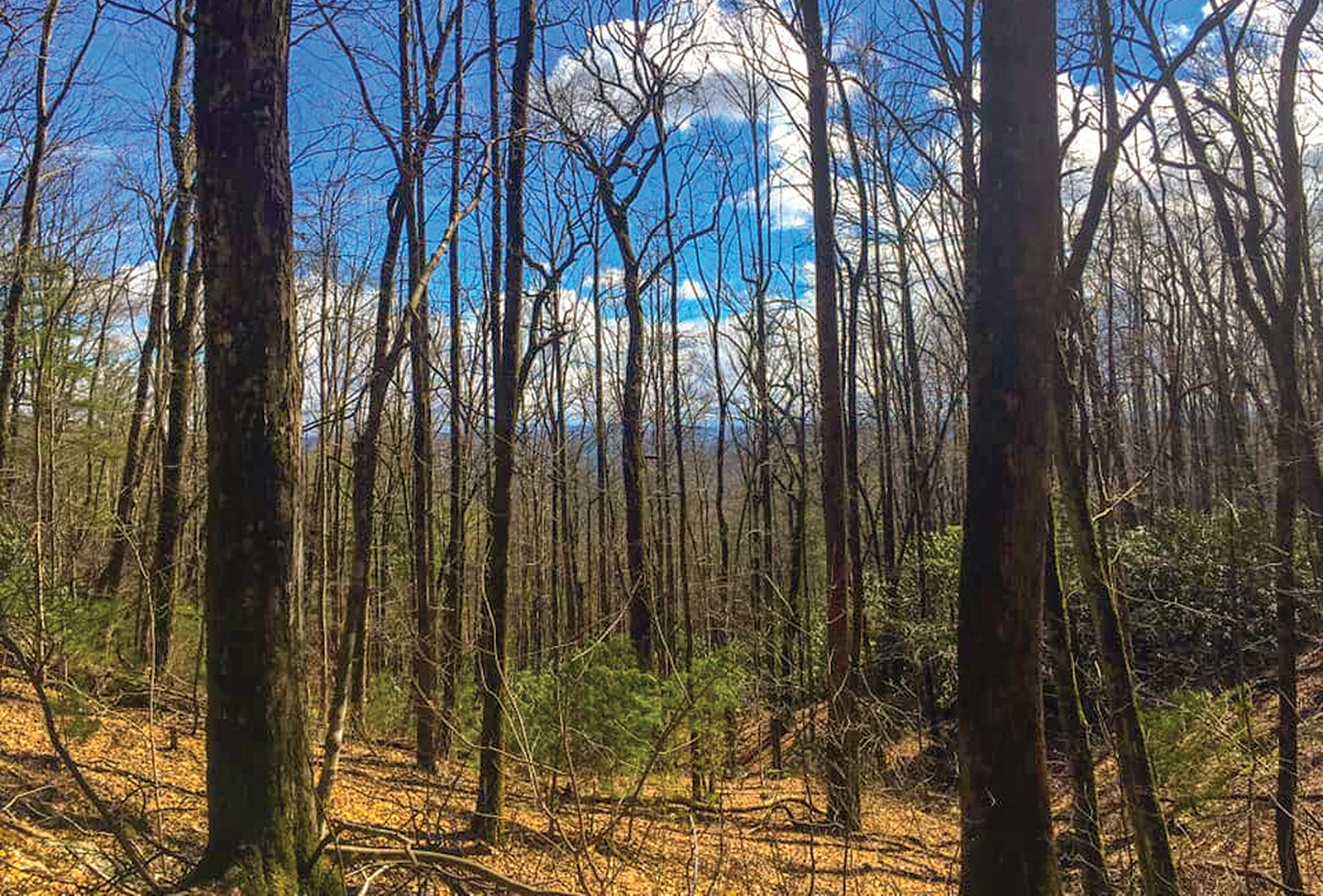 Written By: Emily Crowell | Issue: 2019/04 - April
Today – unseasonably warm and sunny when it was forecast to be cloudy and cold – my sweetheart and I were heading up to Rabun Bald, a first for both of us. It's one of the more popular hiking spots in the region, but I didn't think it would be too crowded this early in the season.
Was I ever wrong. The parking area was so crammed with cars we couldn't find a spot. Solitude was on our agenda, and we didn't turn around and drive away – we fled.
We were heading back down Hale Ridge Road when the car skidded to a stop in front of the Bartram Trail. Here was a section of trail we'd never been on with no cars or people in sight. Sold.
When I was a kid growing up in the woods, I was confined to playing within sight or earshot of our house, so I got to know my home patch of the planet well. My inner child still wants to do that some days – spend a lot of time exploring a small area, looking under rocks, searching for treasures under leaves, crouching near a stream, waiting patiently to see what darts through the water.
We didn't hike very far, maybe a mile in, and took a long time to do it, but we made friends with a new patch of the planet. I hugged a tree next to a singing creek. We spotted a tiny orange mushroom amongst the lush moss so thoroughly covering a rock that no gray showed through. On the way out, we said a brief "hello" to a garter snake basking on the sunlit trail. We ventured off-trail to follow a small stream up toward the top of the ridge until the terrain became too steep to continue. I paused for a moment at the spot where I turned around, sitting, breathing in the joy of a warm sunny day, gazing at the mountains in the distance that will be obscured by leaves shortly after this article is published.
Despite obviously being a trail-less-traveled, this stretch is well-maintained thanks to dedicated volunteers of the Bartram Trail Society. Along the way are exposed trunks of trees that have been cut away after falling across the trail, and I found myself in constant genuflection before these fallen trees, in awe of the abundant life growing on these supposedly dead beings.
Lately, I haven't been drawn to the big views or the spectacular waterfalls – maybe I've grown tired of the crowds around them, or perhaps I'm a little weary of the overwhelming emotions associated with being witness to grandeur. I'm compelled to get to know the ordinary patches of planet that I look at every day but rarely take the time to see. Wonder abounds.
Hale Ridge Road is in Scaly Mountain, a little over seven miles from Highlands down NC-106 East on the left. The Bartram Trail is a few miles down on the left after the road turns to dirt.
---
---