HBS Campus Enhancements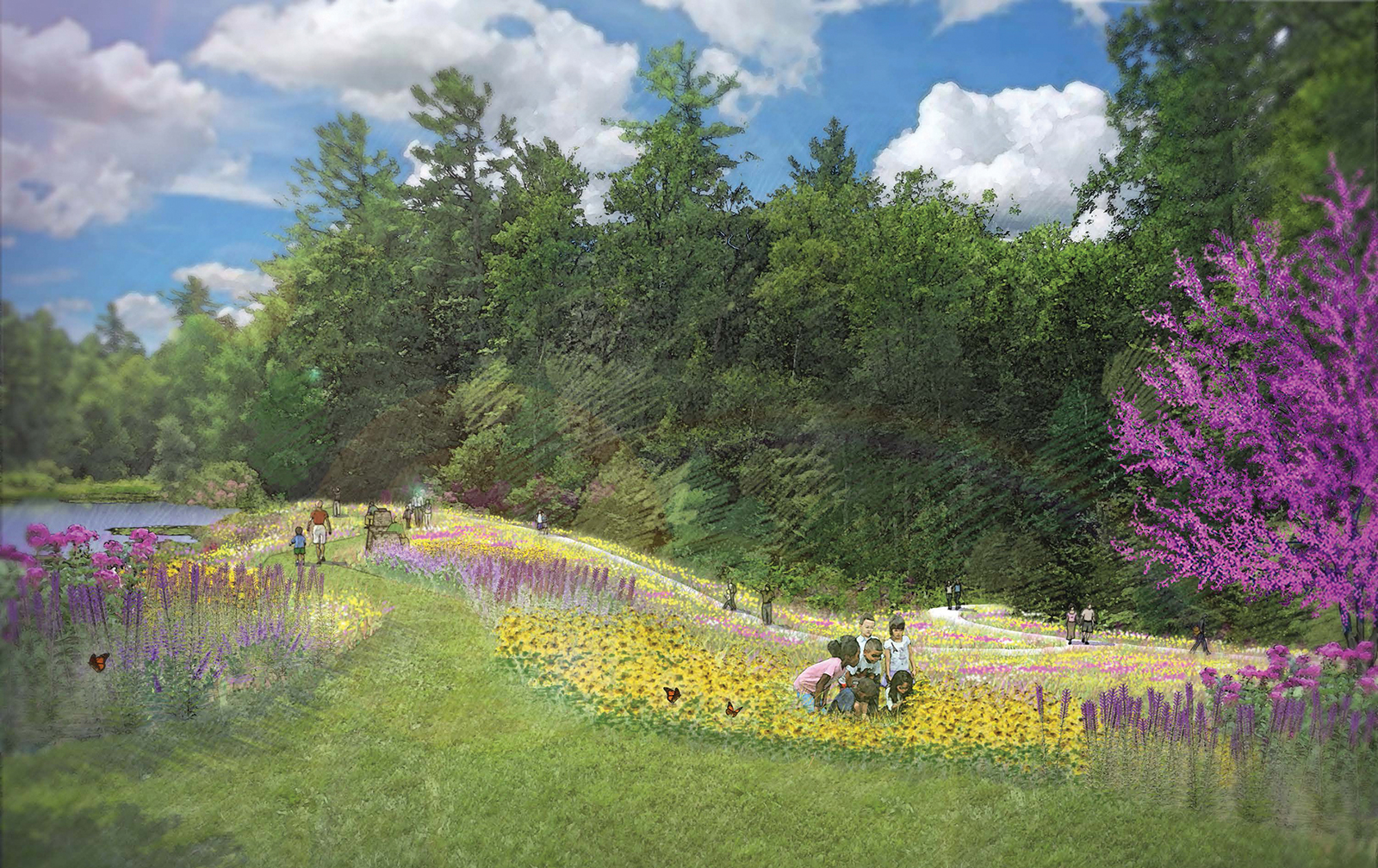 Written By: Sonya Carpenter - Highlands Biological Foundation | Issue: 2016/07 - July
The Highlands Biological Foundation is proud to announce plans to improve the north entrance of the Highlands Biological Station. The improvements to the north entrance will include an entrance gateway, a pollinator garden, a nature trail encircling beautiful Lindenwood Lake and a new lakeside teaching pavilion.
One of the most alluring features of the HBS campus is beautiful Lindenwood Lake, yet many Highlands residents are unaware of this gem located just a few blocks off of Main Street. An inviting new entrance with parking on Lower Lake Road will encourage new visitors to discover this resource and invite them to learn more about native plants, pollinator species, and the ecology of a mountain lake and bog. The entrance is the first step on an adventure to discover the beauty of the pollinator garden, the boardwalk loop around Lindenwood Lake, and the lakeside pavilion.
The pollinator garden will provide educational opportunities and new habitat for valuable pollinator species that are currently facing numerous challenges to their health and fitness. As with all of the plantings at HBS, native species of plants will be used for the pollinator garden to attract and nurture our native pollinators. To help educate our community about the vital role pollinator species play in our ecosystem, this project will include many new educational displays and exhibits in the pollinator garden. These displays will help visitors learn more about native bees and their habitat, the plight of the Monarch butterfly and hummingbird ecology.
A boardwalk will connect existing trails within the Botanical Garden that traverse the lake with the new pollinator garden to complete a loop around Lindenwood Lake. This trail will create excellent opportunities for individuals, friends, or families to share an adventure of discovery together. Educational displays focused on bog ecology, wetlands, and the wildlife they foster will enhance this nature walk. The trail will wend its way around the lake to the new outdoor teaching pavilion. This beautifully designed pavilion will provide additional classroom space for students and visiting groups as well as a peaceful location for contemplative respite. This project will create a space that honors all aspects of HBS: the deep tradition of education, appreciation for the beauty and diversity of our native species, conservation and preservation of habitat for flora and fauna, and a welcoming space for world weary humans.
Generous contributions by many individuals have already been made. All are welcome to join this effort to create this wonderful new destination in Highlands.
---
---