Greens on Your Grounds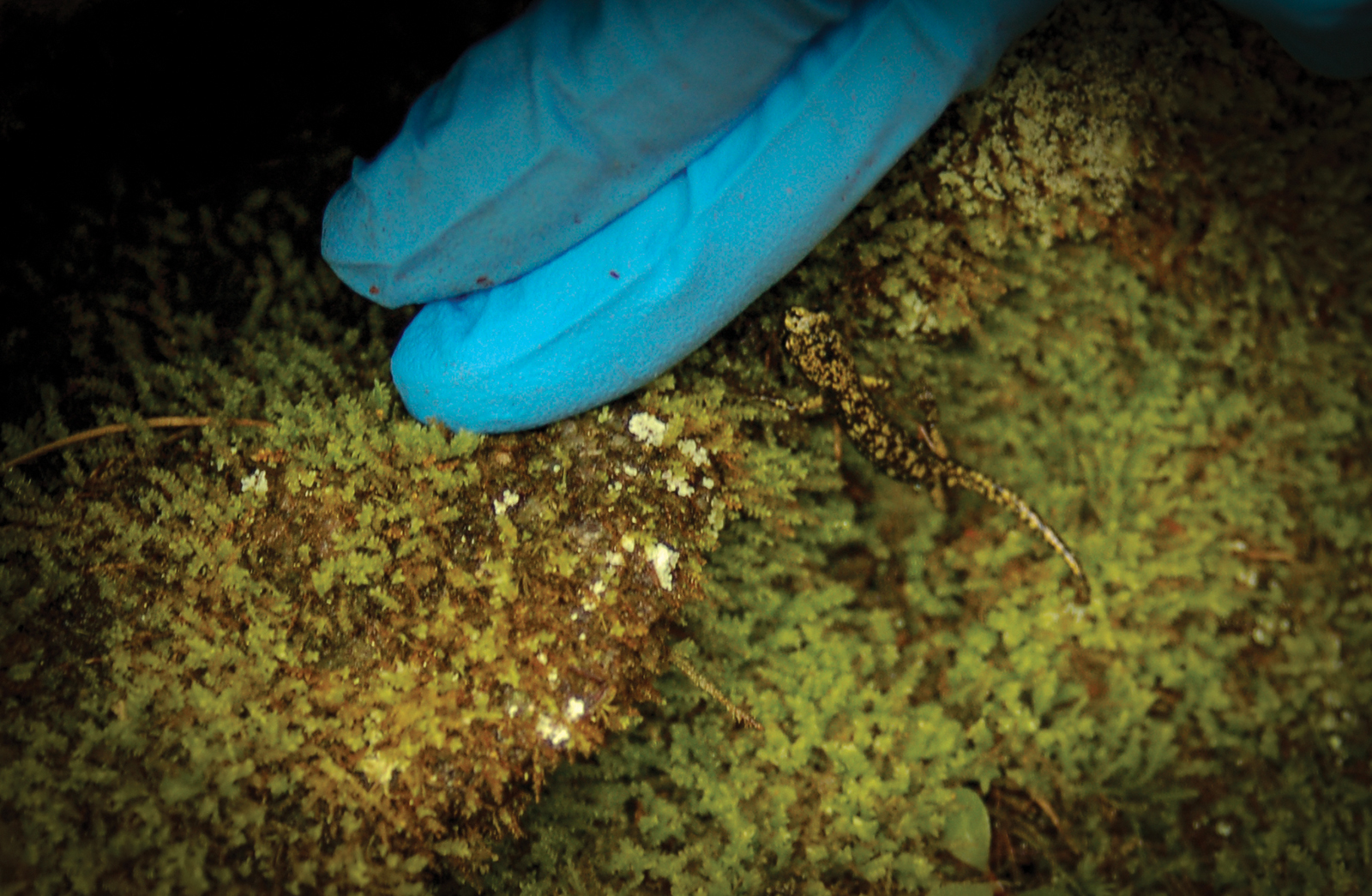 Written By: Donna Rhodes | Issue: 2016/06 - June
You don't really know how fragile amphibian/reptilian habitat is until you crawl around shaded, moist, rocky crevices that serve as mini creature caves… salamander condominiums.
If the trees that shelter this biological Eden die or, worse yet, are cut down simply to improve someone's real estate view, there goes the colony, and along with it, all the plants and animals that supported the system.
"But there's a zillion salamanders to replace these," we say, trying to justify our need to see a distant vista or clear land for an additional parking space.
No, not really. In fact, the green salamanders (named for the green lichen patterns on their backs) which Western Wildlife Diversity Biologist Lori Williams and Highlands-Cashiers Land Trust Stewardship Coordinator Kyle Purcel were hoping to show me have been so fragmented from supporting forest that there are very few populations left on the Highlands Plateau. What used to be a thriving species is now reduced to an endangered one. After hours of searching a few likely rock outcroppings, we found only one yearling. And we had to drive 20 miles out of Highlands to find that one, since none of the Highlands sites yielded a sighting.
"What's going on?" I asked my salamander experts.
"There's lots going on," said Lori. "It's a complex system that has complex problems, especially with climate change and land development knocking at these creatures' door."
"Then what can be done?" I ask.
Lori says, "The NC Wildlife Resources Commission welcomes the chance to visit private landowners to look for unique wildlife, such as green salamanders on their property… no strings attached."
Kyle added, "State biologists are required to report new animal habitat, especially of endangered species. And that's a good thing, but if you prefer to keep things private, call me at the Land Trust and I'll be happy to visit and talk to you. Reporting for us is not required."
You might be lucky enough to have greens on your grounds. To find out, contact Lori at [email protected] or Kyle, [email protected]. You can also call the Highlands-Cashiers Land Trust at (828) 526-1111.
---
---