Glen Falls – Worth the Hike!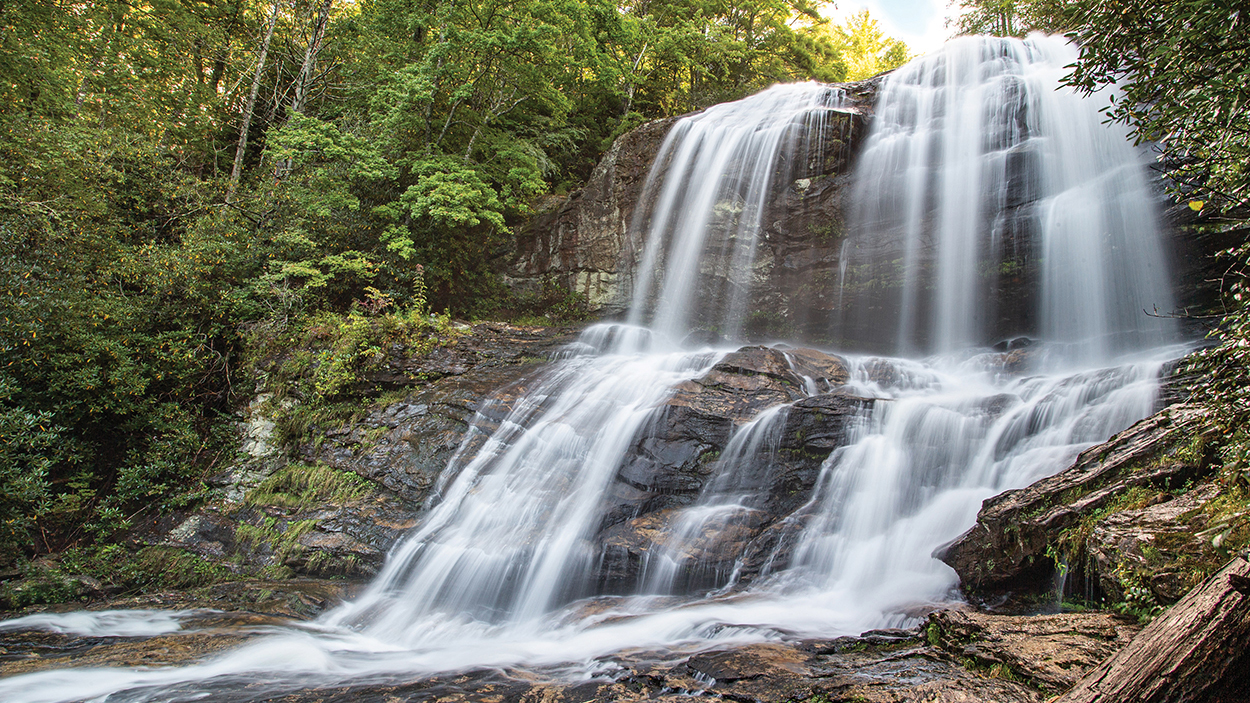 Written By: Ed and Cindy Boos | Issue: 2021/06 – June | Photograph By: Ed Boos, Photographer
Glen Falls generously rewards those who make the trek to her three cascades.
---
With Glen Falls being three separate waterfalls, if you can only do one waterfall in Highlands, this one would be a good choice.   
The upper and middle falls are quite spectacular, especially during rainy times when the level of East Fork Overflow Creek is normal-to-high.  
For those in good physical health the two mile in and out hike should not be a problem.  Since we are both now in our 70s and in relatively good shape, we found it necessary to stop and take breathers a few times on the way out due to the steepness of the trail.  Nevertheless, the beauty of these falls is well worth the hike.
Trailhead Directions: From the Highlands Post Office, at the intersection of US 64 and NC 106, drive 1.7 miles west on NC 106.  Turn left at the sign for Glen Falls.  Immediately after turning left bear right on Glen Falls Road and drive 1 mile to the trailhead parking area.  The trail begins to the right of the kiosk.
Hike Description: The trail is rated 3 of 5, with 5 being extremely difficult.  Except for the first short section leading from the parking area, the trail is completely downhill, descending about 600 feet to the lower falls.  There are many steps built into the trail and you will want to watch out for exposed roots.  About 0.2 miles from the trailhead there is a short trail to the right leading to the platform overlooking the mountains and the top of the upper falls. Stay left and proceed about 0.3 miles to the upper fall's platform.  Continue down the trail for another 0.2 miles to reach the middle falls and another 0.2 miles to reach the lower falls.
---
---