Eastern Phoebe | Highlands Plateau Audubon Society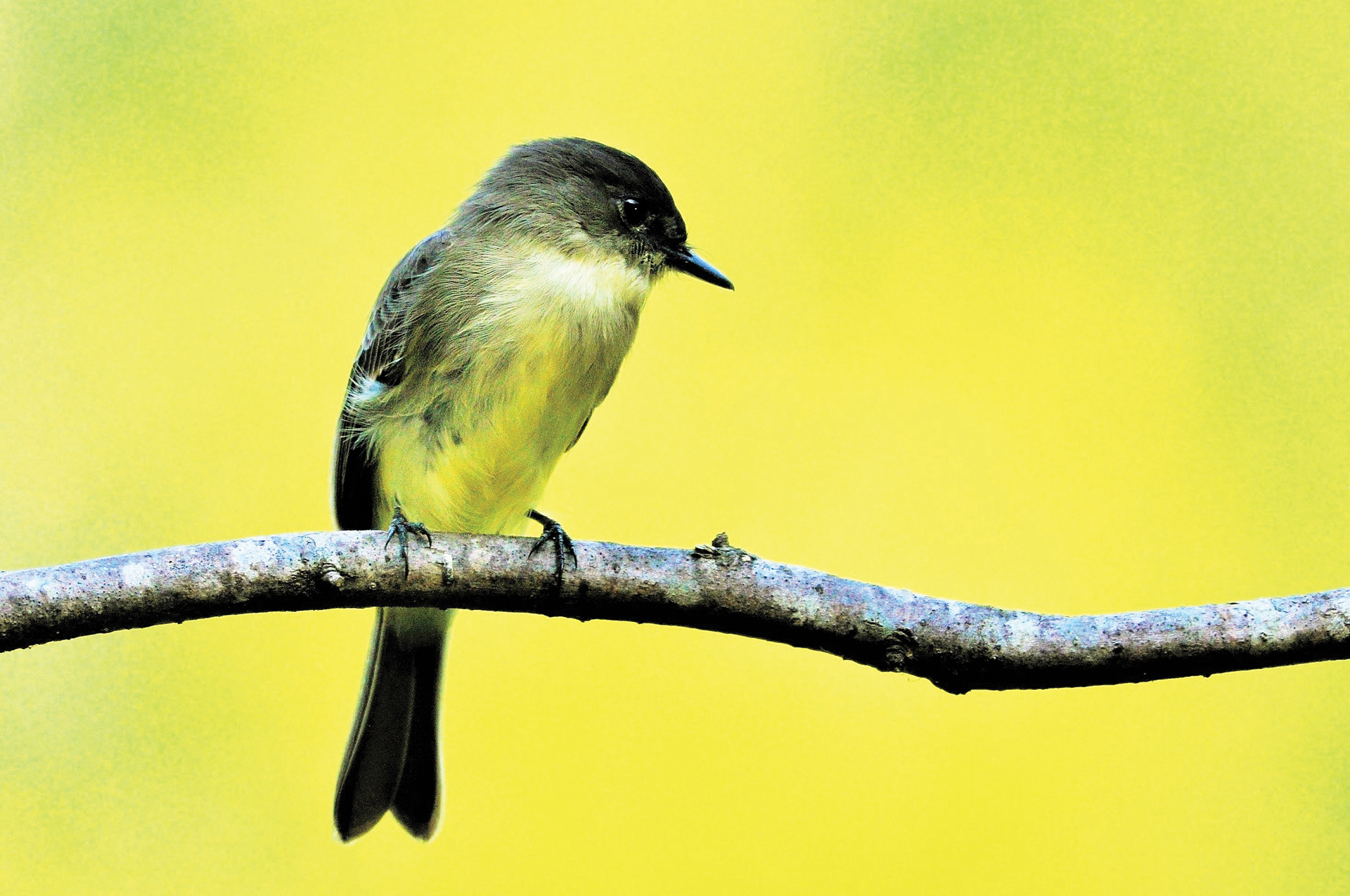 Written By: William McReynolds - Highlands Plateau Audubon Society | Issue: 2020/10 - October | Photograph By: William McReynolds
A member of the flycatcher family, this songbird is about the size of a Titmouse, with a dark head, white breast and belly, and dark gray-brown wings. The Eastern Phoebe (Sayornis phoebe) calls its name in a raspy voice. Compared to the slower, two-part call of the Chickadee, this "fee-bee" is fast, scratchy and less flute-like. 
Phoebes are a largely migratory species that spend the winter in the Southeastern U.S. and coastal Mexico and breed in the spring and summer in the northeastern U.S. and Canada. Those in Western North Carolina are year-rounders who don't migrate with the seasons.
Look for Phoebes in deciduous woods near water and openings in the forest. They characteristically perch upright on low branches and "wag" their tails. From their perch they nab flying insects such as flies, wasps, moths and midges. They also eat spiders, ticks and seeds. 
Their nests are made of mud and grass, about five inches across with a 2½-inch cup. Nests are located well off the ground in protected nooks and overhangs of houses, barns and other structures. Some nests are reused from year to year or the phoebe might renovate nests built by robins and swallows. The nests are built or renovated by the female who will run off  the male after mating.
On her own, with the male defending their territory from a distance, the female lays 2-6 white eggs that are incubated around 15 days. Hatchlings fledge after 16 to 20 days. The pair might parent two broods in a season.
These birds tend to return to the same nesting site year after year. The oldest known Phoebe, a banded bird, was 10 years, 4 months old. John James Audubon was one of the first naturalists to band a Phoebe.
Happy October birding from the Highlands Plateau Audubon Society.  
Listen for this bird's musical name calling to announce its presence. 
The mission of the Highlands Plateau Audubon Society is to provide opportunities to enjoy and learn about birds and other wildlife and to promote conservation and restoration of the habitats that support them. HPAS is a 501(c)(3) organization, a Chapter of the National Audubon Society. Visit highlandsaudubonsociety.org for information on membership and
all activities.
---
---