Dirty, But Beneficial, Job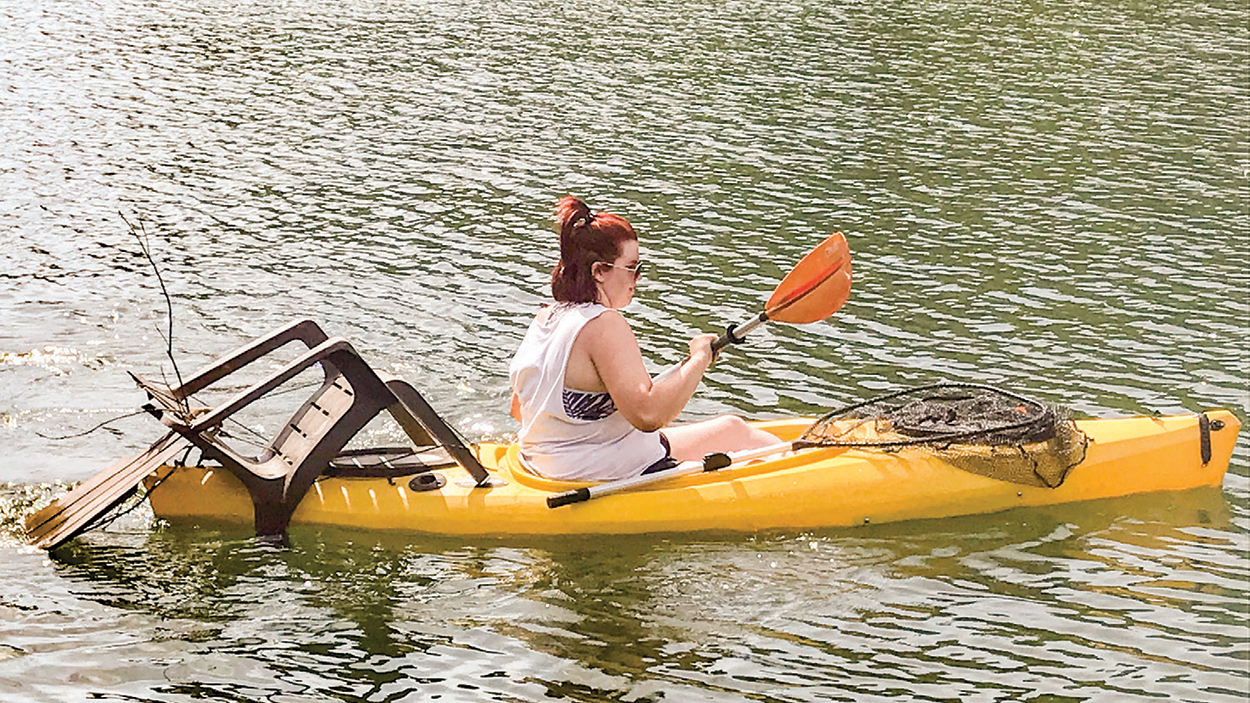 Written By: Deena Bouknight | Issue: June 2023
Lake Glenville gets spruced up with its annual Clean Up – 9:00 A.M. Saturday, June 3. You're invited – visit friendsoflakeglenville.com.
---
It may be the ickiest event on the Plateau, and it is one event that does not require fashionable attire.
Beginning at 9:00 A.M. on June 3, volunteers will gather to partake in the Friends of Lake Glenville 2023 Annual Lake Glenville Clean-up. Individuals, groups, and families walk, boat, jet ski, wade, and more to pick up and drag out trash that has accumulated over the last 12 months.
"Friends of Lake Glenville, founded in 1985, is an advocacy group that was founded to Preserve-Protect-and-Educate for the long-term survival of beautiful Lake Glenville," explained Marianne Smith, vice-president of FLG. "We have been conducting an annual lake cleanup almost since our inception, over 30 years."
She added that the clean-up is wholly a volunteer community effort led by an FLG director, who this year and for the past several years has been Rebecca Wiler; she organizes volunteers, provides materials to assist in the cleanup, facilitates communications, and arranges for a dumpster and a crane to pull out heavy materials. The crane has been voluntarily provided and manned by Bryan Simon, owner of Glenville Sawmill.
"We also provide an appreciation lunch for the volunteers following the event, with donated prizes to award extraordinary efforts," said Smith.
In the past, the clean-up has attracted upwards of 75 volunteers. Typically, they use their own boats, kayaks, jet skis, etc., to tow floating debris to the designated area (this year at Pine Creek Boat Ramp) where it is pulled out by other volunteers and the crane.
"Additionally, Signal Ridge Marina, Mountain View Marine, and Mountaintop Club also send their own boats and crews to assist in the efforts," noted Smith, "and Duke Power arranges to have the debris then hauled away, as part of a cooperative partnership with FLG."
While FLG appreciates any assistance on June 3, it makes clear on its website – www.friendsoflakeglenville.com – that there are a number of rules and guidelines for safely and efficiently cleaning up the lake. Anyone interested in volunteering is advised to read the rules and guidelines before hitting the lake.
"Fluctuating lake levels and heavy winter and spring rains cause many pieces of floating docks to come loose, and docks are one of the primary things that we collect, along with pieces of plastic, bottles, assorted trash, etc. We may not remove anything that is attached to the shoreline, but may move objects that pose a safety risk to boaters, skiers, swimmers, etc. Safety at Lake Glenville is our primary objective!"
To register for the clean-up, visit friendsoflakeglenville.com or text (407) 719-0050.
---
---