Create a Natural Garden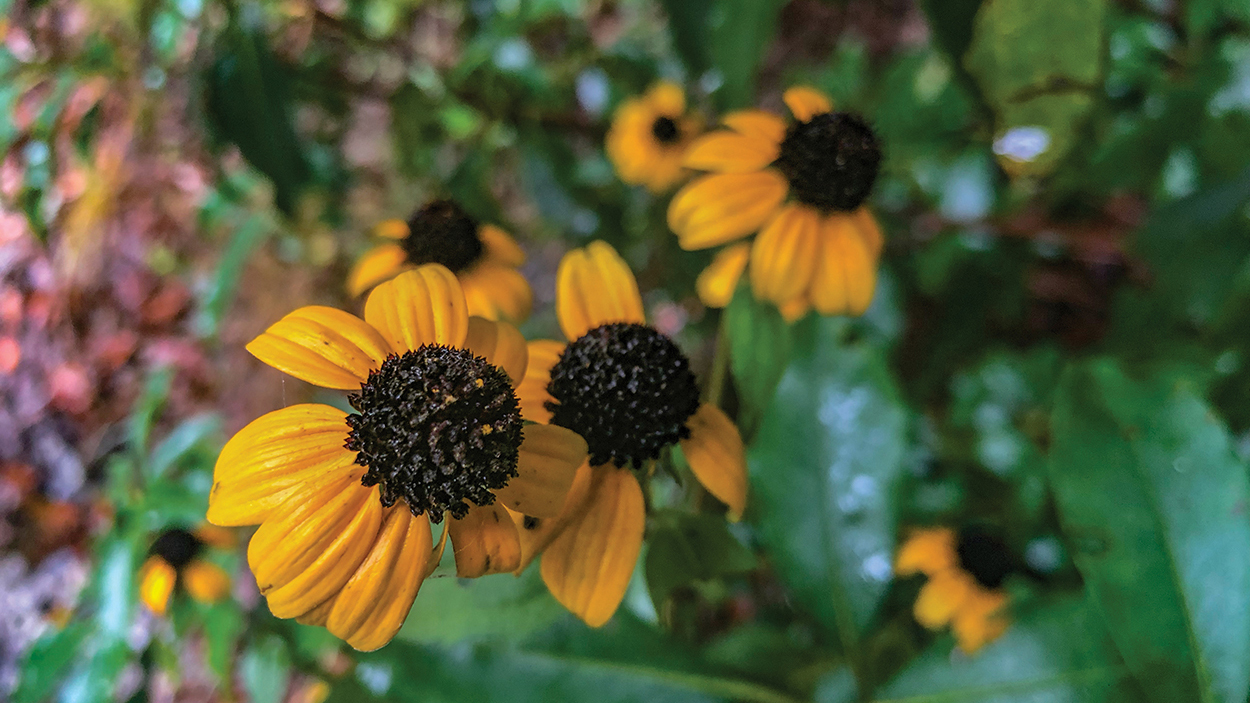 Written By: Marlene Osteen | Issue: 2021/10 – October | Photograph By: Marjorie Christiansen Photography
There's nothing shy about the Brown-Eyed Susan, casting its bold-colored blossoms to the sunshine in meadows, gardens, and clearings across the Plateau.
---
The last few weeks of summer were certainly taxing times on the Plateau. Heavy rainfalls, flooding, and gusty winds caused by Tropical Storms Fred and Ida made it difficult for man and beast.   
The plant world had its challenges as well.  
And while some plants succumbed, others thrived.  Among those that came through with their heads held high are the native plants.  Their survival is argument enough for growing plants that are indigenous to our region.  
Perhaps now is the time to create a natural garden, one that works with nature rather than against it. Indeed, our lovely October days are an inducement to work outdoors.  
And though it's not always recognized as so, Autumn has become a vital planting season.  The secret to success is a well-thought-out plan, determining what to do with the remains of the spring garden and preparing the soil.    
The key to a patch that mimics nature is choosing flowering plants that appear to have grown together naturally – like the Brown-Eyed Susan (Rudbeckia triloba), and last month's featured plant, the Tall White Beardtongue. 
Similar in height but with different flower colors and foliage textures, they are handsome companions.  With its "Van Gogh Orange" flowers born on multi-branched stems, the Brown-eyed Susan provides a welcome splash of color to the garden and a striking contrast to the tubular white flower of the Beardtongue.
A member of the Aster family, the Brown-Eyed Susan, is a prolific late wildflower loved by pollinators. Its botanical name refers to the three sections of its leafy stems.  
Sometimes confused with the more common Black-Eyed Susan,  there are a few differences between them. Brown-Eyed Susan's flower a bit later, bloom longer, grow much taller (up to 5 feet), and have smaller blooms.  
Blooming in profusion, they have a showy display and thrive in a variety of habitats.  Reasonably drought-resistant, they are ideal fillers in the garden and are sure to look fabulous alongside the Tall White Beardtongue.  If they get very tall, they may need a bit of support to keep the flowers visible and upright, but they will also rest upon the foliage of other plants in a more crowded garden.  
Once established, the Brown-Eyed Susan is easy to maintain, and other than occasional watering and deadheading, there's not much to do other than enjoying their vibrant color. They are drought-tolerant, and though they prefer full sun, they will adapt to partial shade and thrive in a wide range of temperatures.  
---
---