Climbing Whiteside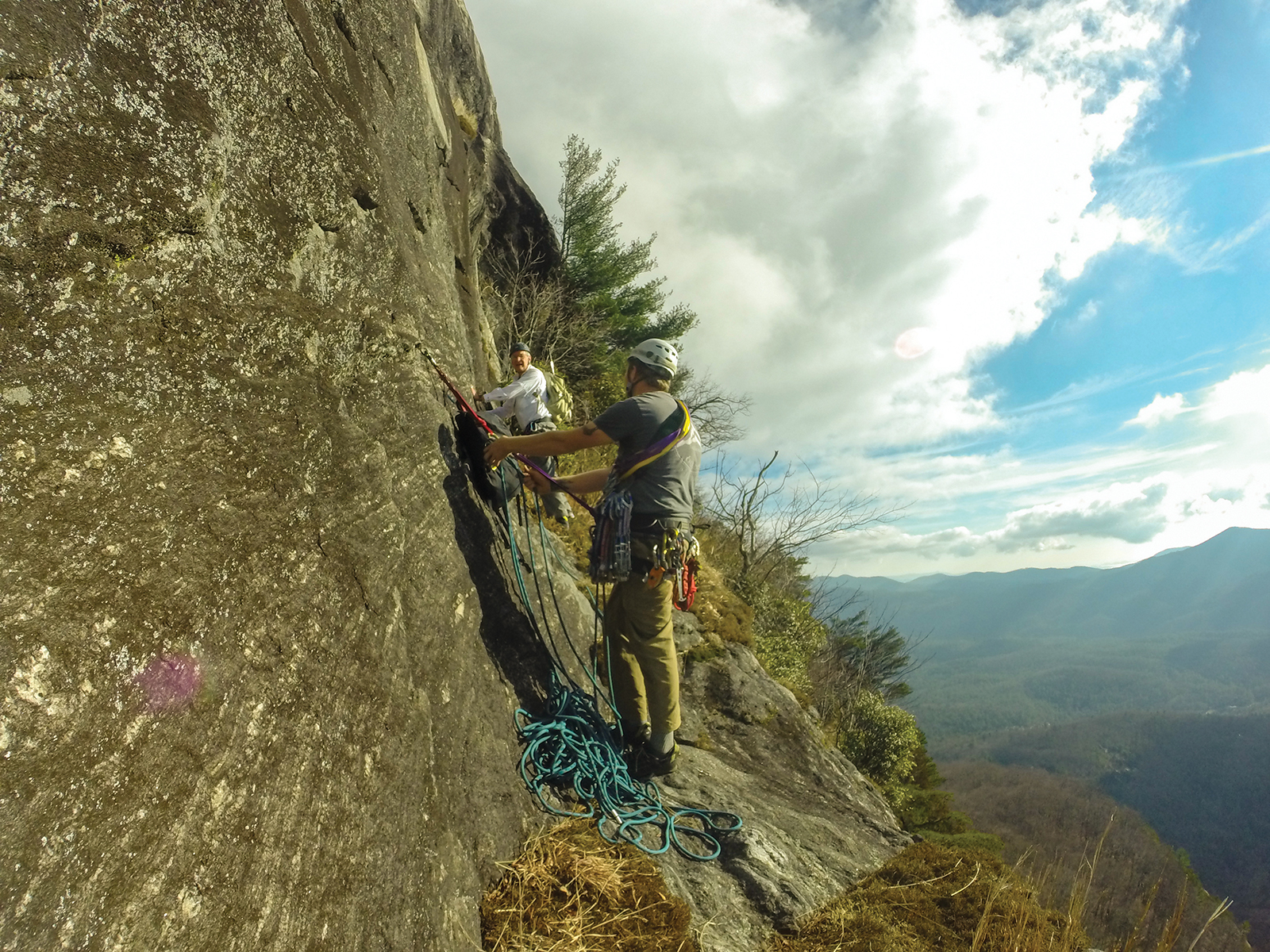 Written By: Alex Foltz | Issue: 2016/06 - June
Towering 4,930 feet above sea level, Whiteside Mountain has fascinated those living within reach of its peak for hundreds of years and with the magnificent scenery this incredible mountain offers there's no sign of that stopping any time in the near future.
There are several legends as well as impressive acts of heroism that allude to the dangers of this mountain, but if its boundaries are respected there is an abundance of truly amazing sights and experiences available to anyone. There are many ways to traverse this gem of Mother Nature – it's one of the best mountains for climbing in the Southeast as well as a popular hiking destination. Both routes of exploration of Whiteside Mountain will provide amazing scenery and a chance for a connection with nature that so many have sought over the years.
To find the main trailhead for Whiteside Mountain from Highlands, travel about five miles on US 64West towards Cashiers and turn right onto Whiteside Mountain Road. The parking lot is one mile on the left. Given that this is a very popular destination, the turns are well marked and the main trails are well maintained. From the parking lot there are two main trails to explore. The most popular is a two-mile loop trail that follows an old road bed and leads hikers along the 700-foot cliff face, and also provides access to the climbers' trail for the main face. This loop trail is the easiest trail on the mountain while gaining a fair amount of elevation. On the far side of the parking lot from the entrance is the trail head to Devils Courthouse. This trail is a little over two miles in length one way and is more difficult to navigate than the main loop trail. Devil's Courthouse is recommended for more experienced hikers as it's easier to get off track in this area and the overlooks do not have railings to protect those daring enough to explore. In addition to the hiking trails, the climbing areas are a must for any serious climbers. There are nearly 50 routes to be explored, including many impressive and challenging multi-pitch routes. Currently there are some route closures for falcon nesting until August 15.
With various routes of enjoyment on the mountain, it's perfect for exploration by adventurers of all ages and a wide range of ability levels. There is a $2 fee for parking, so don't forget to bring some change. For an opportunity to experience a mountain of such immaculate beauty, it's well worth the small fee. So take the journey and see what treasures the Blue Ridge Mountains hold at Whiteside Mountain.
---
---