Christmas Memories | Highlands NC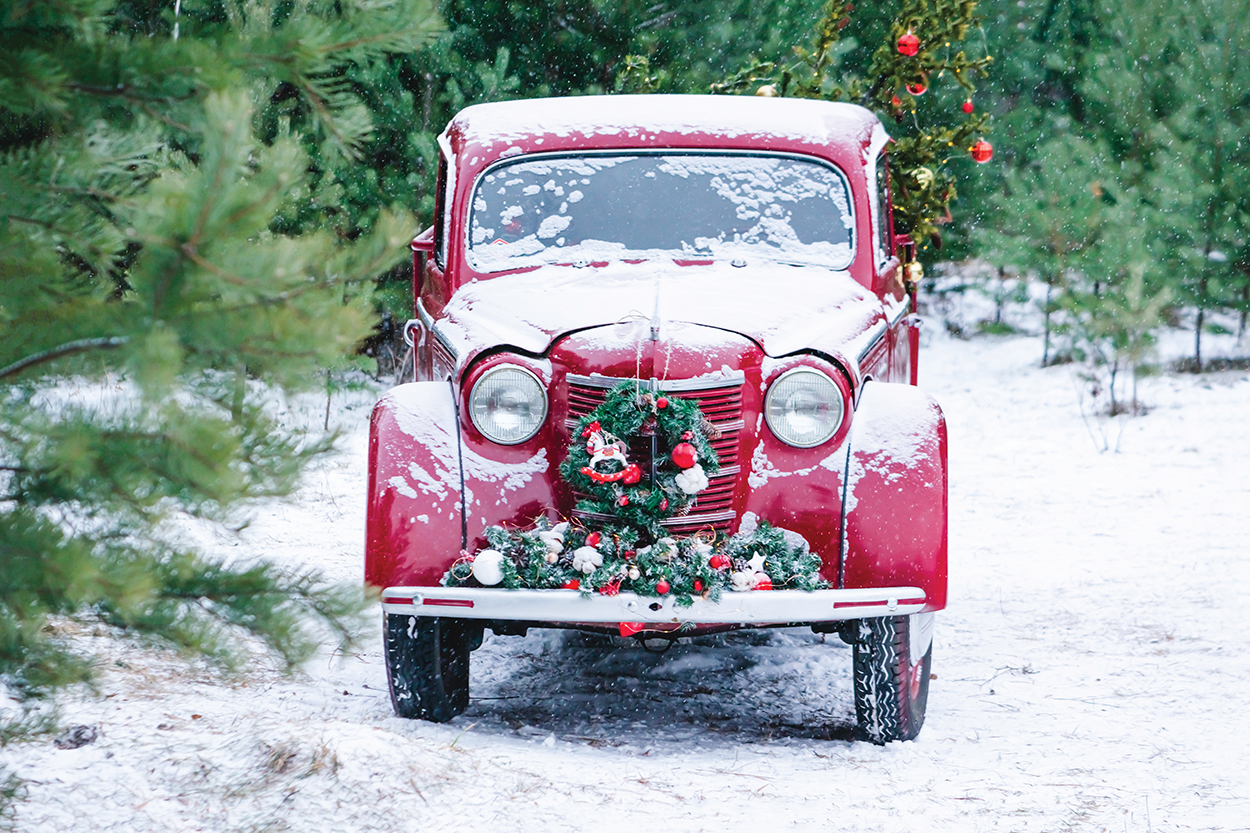 Written By: Mary Jane McCall | Issue: 2021/12 – December
The hunt for the Perfect Highlands Christmas Tree could take you down some unexpected routes.
---
Cruisin' for Christmas trees.  
Yep, that's what we did in the good old days before Christmas tree farms dotted the landscape and artificial trees became acceptable. 
For every tree you see atop an SUV these days, its early and modest predecessor was unceremoniously loaded into the trunk of a sedan the size of a football field and taken home to be nailed to a wooden stand and bedecked with lights the size of golf balls and shiny tinsel. 
These trees, while precious in our sight and memories, were undoubtedly the inspiration for Charlie Brown's Christmas tree. Most likely they were white pine and they were, to put it kindly, sparse.  Mom, being from South Carolina, always dreamed of finding a cedar, but white pines prevailed.
Getting there was part of the adventure.  
Where would we look?  Most often it seemed we'd head to Blue Valley, though admittedly on more than one occasion we might have strayed onto private property. This particular year we ventured in an entirely new direction.  It was early on a gray morning in December when Mom and I took up the mantle of finding the tree.  We loaded a handsaw in the trunk of the trusty blue and white Ford Galaxy and headed to Brush Creek.
Why there, I have no idea, but down the remote gravel road we traveled, Christmas carols playing on the AM radio, eyes peeled for the perfect tree, when what to our wondering eyes should appear but…a young man we knew happily bopping out of the woods as though it was the most common occurrence in the world. 
The three of us continued down the road and after a few false starts we finally found our tree. Our Christmas guest happily scaled the side of the mountain, sawed the tree down, loaded it in the trunk for us, and headed back on his merry way, off on whatever adventure we had interrupted.
These days I have an (gasp) artificial tree but make no mistake, I can't pass a young pine tree without sizing up its potential as a Christmas tree, or remembering the sweet smell.
by Mary Jane McCall
---
---