Birdfeeders are Good for Our Birds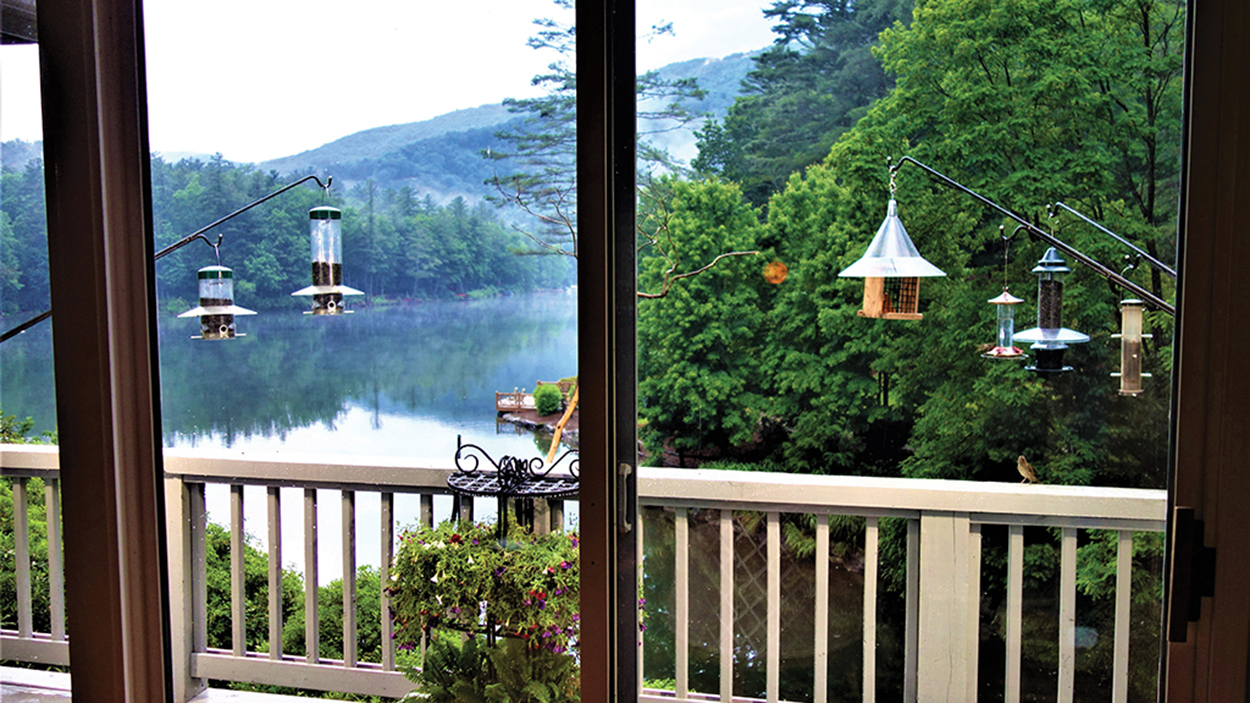 Written By: William McReynolds - Highlands Plateau Audubon Society | Issue: November - 2022 | Photograph By: William McReynolds
For the Plateau's winged residents, birdfeeders are vital for survival.
---
Every part of the woods has its own resident birds. 
Locally, they're a mixed flock of perching birds that eat seeds and bugs and sing out their identity and location. If you live in a wooded area, the mixed flock in your area comes as a gift from a Nature's Bounty. You get to enjoy them, live among and with them. They are our neighbors and our wards.
Birdfeeders are a great benefit to your birds. Birds will grow stronger and heathier if you feed them.  A reliable birdfeeder in winter could stave off starvation within your resident flock. Don't worry about not putting your feeders out for long periods when you are gone. Your birds are stronger for your having fed them and are better able to fend for themselves when the feeders are not available. 
Done most beneficially, maintaining one or more birdfeeders is a daily practice, a discipline or praxis. Because bears and racoons will raid and destroy your feeders at night, feeders survive only if you bring them in every evening. It's not much of an imposition once you form the habit.
What you get for your diligence in setting them out in the morning and bringing them in at night is close acquaintance with nature's winged songsters. The last step in the praxis is wash your hands. Always wash your hands after handling your feeders.
If you are interested in having a birdfeeder or two on your property, what are your choices? First, basic type of feeder: there are seed feeders, suet feeders, nectar feeders and more. As a start, get any squirrel defeating seed feeder that can hold a reservoir of black oil sunflower seeds. These seeds are favored by the flashy songbirds. The best seed feeders have perching posts or a perching ring, so the birds don't stand in their food. 
Place your bird feeders where they can be seen at a distance from inside the house. Birds need their space. Ideally, you can glance at and watch the feeders from afar while moving around the house. You might need to put decals on your glass to reduce collisions. The feeders must be accessible and easy to bring in at night. 
Use an app or bird book to identify your guests. Expect American Goldfinch, Rose-breasted Grosbeaks, acrobatic Nuthatch, stunning Purple Finch, flaming Cardinals, wrens, sparrows, warblers and more. Every bird sight and sound are part of our rich Natural Heritage. 
Happy bird watching from the Highlands Plateau Audubon Society. Visit us at highlandsaudubonsociety.org. 
---
---